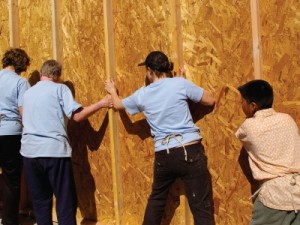 Want to really put everyone at your party in a positive mood? Focus on a charitable event, and you'll impress guests, inspire goodwill and help others all while celebrating your engagement.
If you're a couple who met through a charitable effort, or if working for a specific cause is part of your lifestyle, your engagement party is a great way to share that with friends and family.
And if you're just getting started, Justgive.org lists charities that always can use a few extra hands.
"This type of party is really popular, since many couples don't want the party to be 'all about us,'" wedding expert Shannon Naylor said. "They'd rather the group gather to accomplish something great for others."
How to do it
For this event, you'll want to plan well in advance, since many organizations require volunteers take an orientation course before getting involved. You may even want to host a casual dinner when guests gather for the orientation—after all, you're asking a lot of your friends and family,whether they'll be building a house, serving at a soup kitchen or running a 5K for charity.
On the day of the main event, plan to work first and party afterward at an affair that feels festive and reflects your gratitude. (You also could extend the party over a weekend, with guests arriving on Friday evening to relax before working during the day on Saturday and partying at night.) After the workday is done, a gourmet barbecue is one great way to say thanks, and, in keeping with your theme, you could use local, sustainable and organically farmed ingredients. (Honey cornbread drizzled with local clover honey, anyone?)
Serve drinks in mason jars, decorate tables with mini hay bales and wheatgrass buckets, and book a bluegrass or country band to entertain the crowd. You even could hire a line dance instructor to make sure guests get on their feet and enjoy themselves. When working for charity is on the agenda, it's important to spell out plans for your engagement party in your invitations. But make sure no one feels obligated or overwhelmed.
We recommend giving everyone the option of attending the party without working first. That way, guests of all ages and abilities will know they're welcome and wanted at your unconventional engagement celebration.
-Heather E. Schwartz