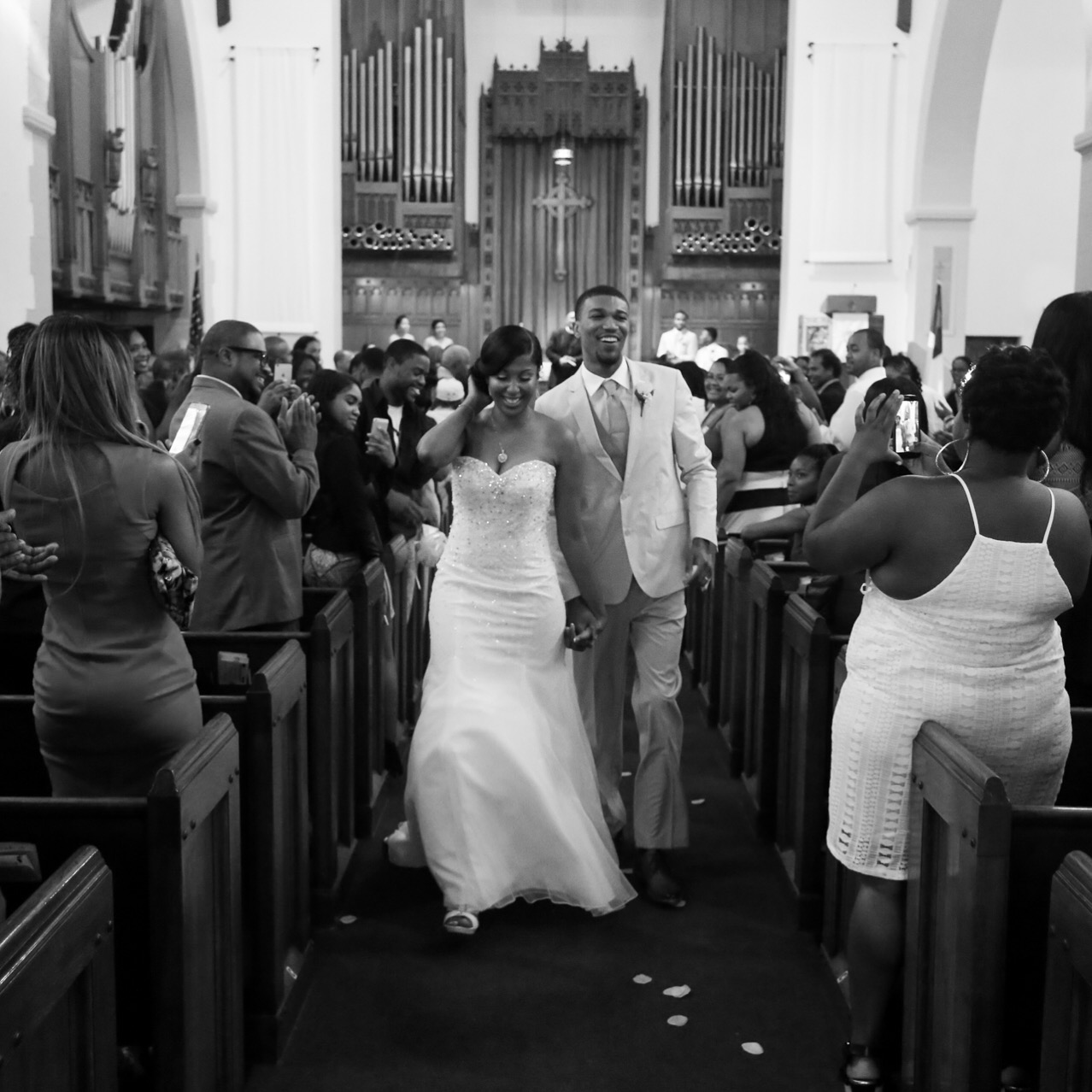 Patricia and her husband on their wedding day
During Vegas Jewelry Week in June, I was a guest for a JCK Trends panel with Patricia Carruth AKA Your Personal Jeweler. Having followed Your Personal jeweler on Instagram for a while, it was great to meet Patrician in real life and to be able to see some of her rings up close. Patricia is very talented, it is no coincidence that she just won the BIJC Together by Design Competition as creating bespoke engagement rings for couples in love is her focus and passion.
Thanks for taking the time to answer our questions Patricia so we can properly introduce you to the Engagement 101 community!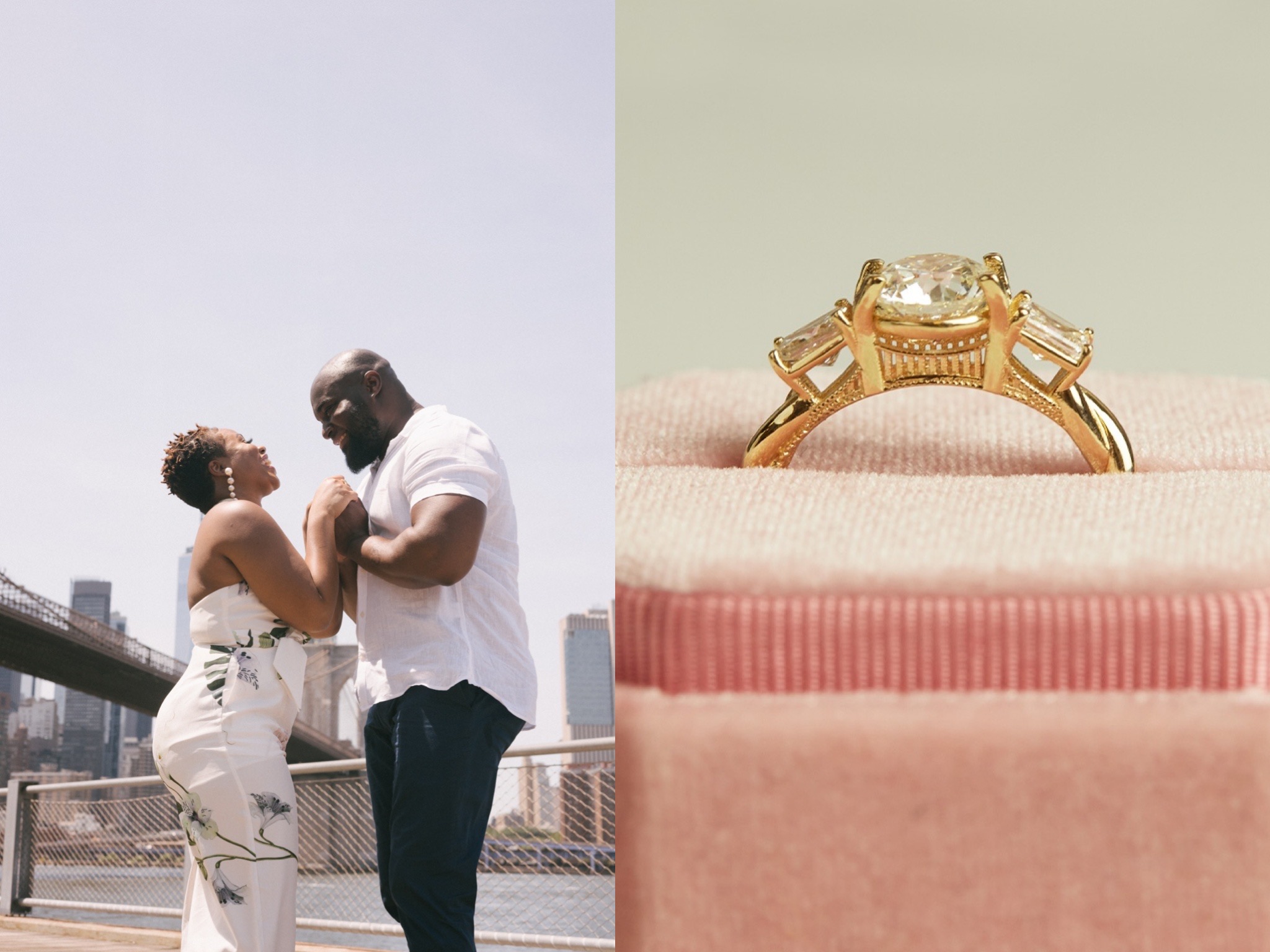 Photography Rashida Zagon  –  BIJC  Together By Design Competition winners
Tell us about your background and why you decided to become a jeweler?
I grew up visiting & eventually working at my grandad's jewelry store. For as long as I can remember I've loved jewelry and the stories behind it. When I was a younger I would look at the pieces of jewelry that people brought into my granddad's shop and make up stories. Like who the ring once belonged to, what their life was like, especially when things like dates & initials were engraved inside. During college I had a part time job at a jewelry store that turned into a full time gig. The owner had MS and relied on me to run a lot the business for her. At the time my goal was to become a Wedding Planner. However, after planning my own wedding I decided that path wasn't for me and felt a bit lost. My husband was actually the one that pushed me down this path. He told me, "Why are you putting so much energy into someone else's business when you could be doing it for yourself" It's weird because even though I'd grown up in jewelry and always gravitated towards it I never really considered it a career path until that moment. Ultimately, I decided to combine both my passions of the wedding industry & fine jewelry and specialize in engagement rings. So I enrolled in GIA & got my graduate Diamonds Diploma. In 2019 I opened up my first physical space, a design studio in downtown Royal Oak, MI. We just celebrated our 3 year anniversary there and it's such a wonderful feeling seeing how far we've come over such a short period of time.
Your brand name is Your Personal Jeweler. What kind of unique service and products do you offer? 
My primary service is custom engagement rings & wedding bands because I love telling couple's love stories. I also do heirloom re-designs, have a curated collection you can shop online, as well as virtual & in person private jeweler services. If you need help finding the perfect fine jewelry piece or want help updating your jewelry wardrobe we'll meet and I'll then curate options for you. If your perfect piece can't be found, we'll custom make it for you. I work mainly in gold & platinum and offer diamonds (both natural & lab), moissanites, and colored gemstones. I'm currently loving working with fun stones like teal sapphires, unique fancy cuts like hexagon & kites, and non traditional diamonds like salt & pepper. 
Why do you love focusing on designing engagement rings?
I love, love. Being around love fills my heart. And designing heirloom pieces that will hopefully be around long after I'm gone is really special to me. I enjoy listening to my clients unique love stories and finding ways to incorporate aspects of their stories into their rings.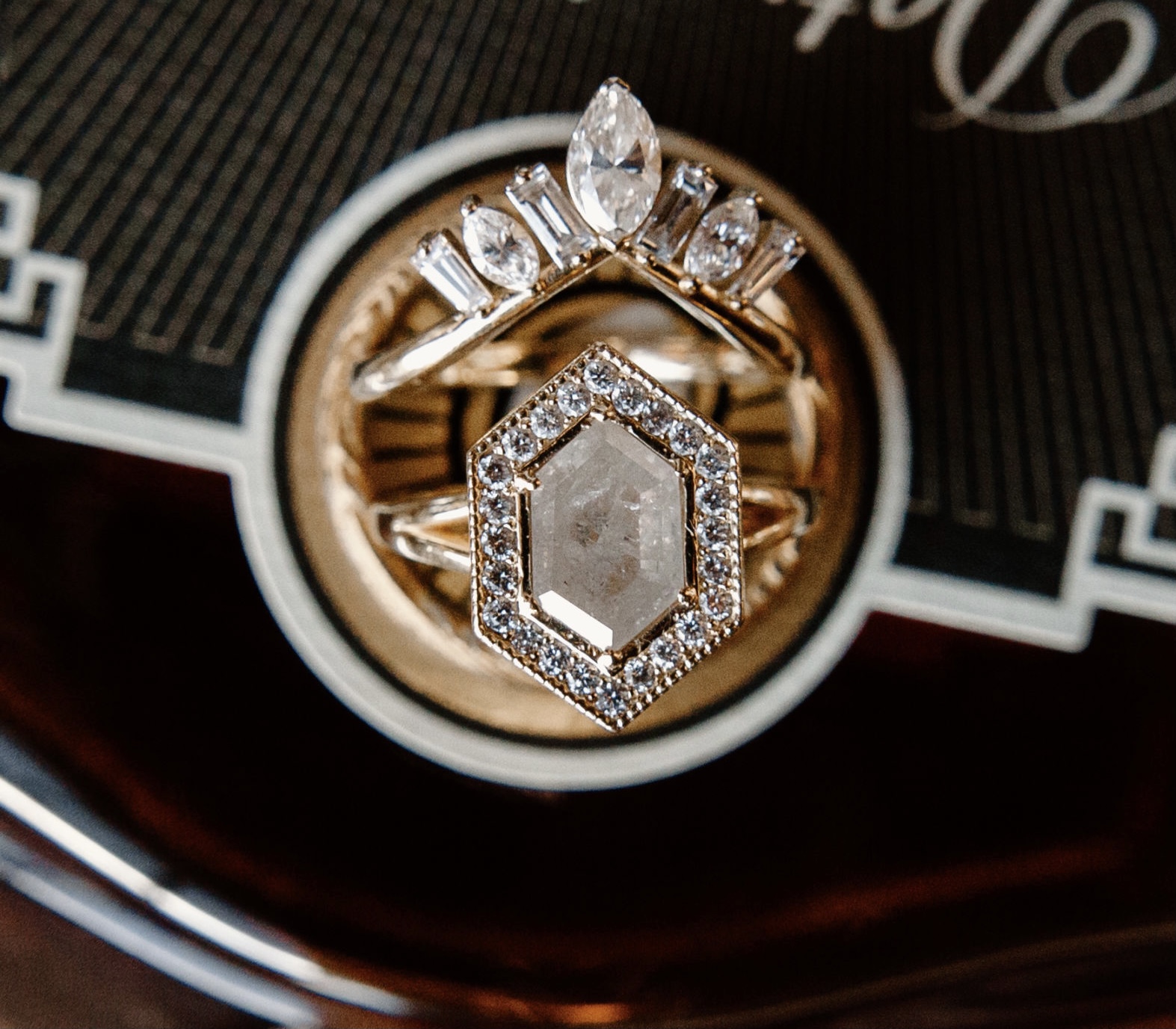 Tell us about your process for custom engagement rings? 
I have an initial consultation to go over design details, budget & stone selection. From there a Computer-Aided Design is made to give my clients a visual representation of how the finished ring will look. Any tweaks or changes that the client wants is handled in this stage. Once the design is approved I print a resin sample for my client to view so they know proportion wise how the finished ring will look. From there we move to casting & stone setting. And in as little as a few weeks their dream ring is made a reality. I think what people are most surprised at is just how affordable custom can be. For one it's custom so we can get the essence of a 20K ring you saw but design it for a 5K budget by tweaking the materials used & playing with proportions. What also keeps my prices competitive is keeping a low overhead. I don't really pay for advertising but instead rely on word of mouth and organic reach like on Instagram. Instead of having a large showroom & the expensive rent that comes with it I have a small design studio. And because I save so much on these I am able to spend on things that enhance my client's experience without having to charge them a fortune. My engagement boxes come with a light up ring box, ring cleaner, travel jewelry case & a personalized bottle of wine. I stand by my work so I offer a complimentary 2 year warranty & give them the option to upgrade to a lifetime one. 
You just won the Black in Jewelry Coalition engagement ring design contest. This is so exciting, tell us more!
(Using only a couple's love story as inspiration, the BIJC competition challenged Black jewelry designers to sketch a bespoke engagement ring and enter a design contest. Patricia Carruth won the competition, then, BIJC and their sponsors provided the stones and material to make the ring. The design  was a surprise for the couple who themselves had won a contest to get their engagement ring made for free.)
It was such an honor for me to win BIJC's Together by Design contest. the Black in Jewelry Coalition is a nonprofit organization dedicated to uplifting Black professionals in the gem, jewelry and watch industry. It was the first time I got to design a couple's engagement ring before getting any input from them about the design. To have the full artistic rein to interpret Rom and Samantha's love story was so fun. And then to have both industry leaders and the couple love the design was an amazing moment for me. As an artist you're driven by the love to create but it can be scary putting your art out there to be judged. Ultimately after meeting with the winner we decided to make one small tweak to the design which I was totally on board with as I wanted the ring to be something they both loved. The winner expressed that his soon to be fiancé loved radiant cut diamonds and I had designed a 3 stone ring with all rounds. Because the center was set in stone (pun intended 😉), a round 1.31-carat GIA-graded diamond that was generously donated by Leo Schachter, I changed the side diamonds from rounds to radiants. Which was a combo I'd probably never have thought of. It really made the ring look even more unique & I'm glad we were able to incorporate what she wanted into the design.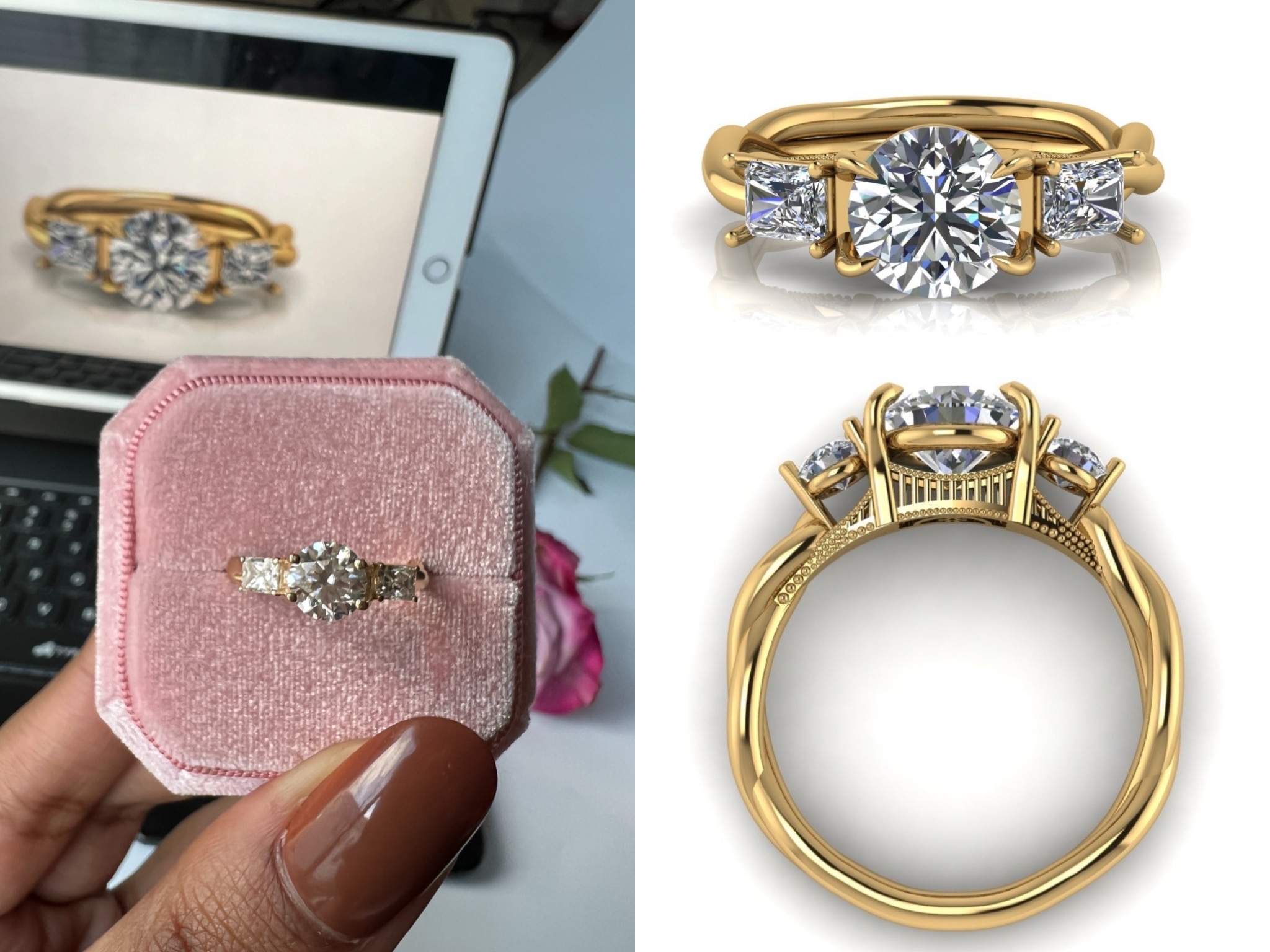 Because of the disconnect between many African Americans with their African heritage, I chose to include an African adinkra  symbol as a nod to African history & culture underneath the ring. This adinkra symbol reflects the harmony that exists in the bonding of marriage. The fact that the ring is a 3-stone ring (past, present, future) is also a nod to the hidden adinkra moon & star symbol that represents love, faithfulness and harmony. The Brooklyn bridge featured on the under-carriage is a very important location for the couple. So important that Rom was planning to propose there. This is my third revision for incorporating the Brooklyn Bridge. Originally I wanted the bridge to be grand & the main highlight of the ring. So I designed the entire side profile in the likeness of the bridge with a square bottomed shank and large curved arches underneath the 3 main stones. UltimatelyI settled on a much smaller and scaled back version of the bridge to respect the couples simple & classy not flashy personalities.
What were the highlights of the experience of designing for the Black in Jewelry winning couple? 
My highlight was seeing the proposal. Seeing Samantha admire her ring was the best feeling as an artist. To create & have my creations enjoyed is all I've ever wanted. He proposed with the Brooklyn Bridge in view and even matched in Brooklyn Bridge socks. 

You showed me a brand new collection of preset engagement rings featuring teal and green sapphires at the JCK show. When did you decide it was time for you to create a line?
The BIJC's Together by Design contest is actually what gave me the desire to freely create. Up until then I was happy exclusively collaborating with couples to design their rings. Which is still my primary joy but creating with only my own creative influence is so special to me as well. I fell in love with teal sapphires last year. I saw a rise in clients wanting colored stones and a sweet couple I designed for picked out the most beautiful elongated cushion cut mermaid-y teal sapphire (shout out to Sarah & Nate!) and as they say the rest is history! My line is available on my website www.thepersonaljeweler.com for retail purchase & if you are interested in purchasing wholesale you can email me at info@thepersonaljeweler.com.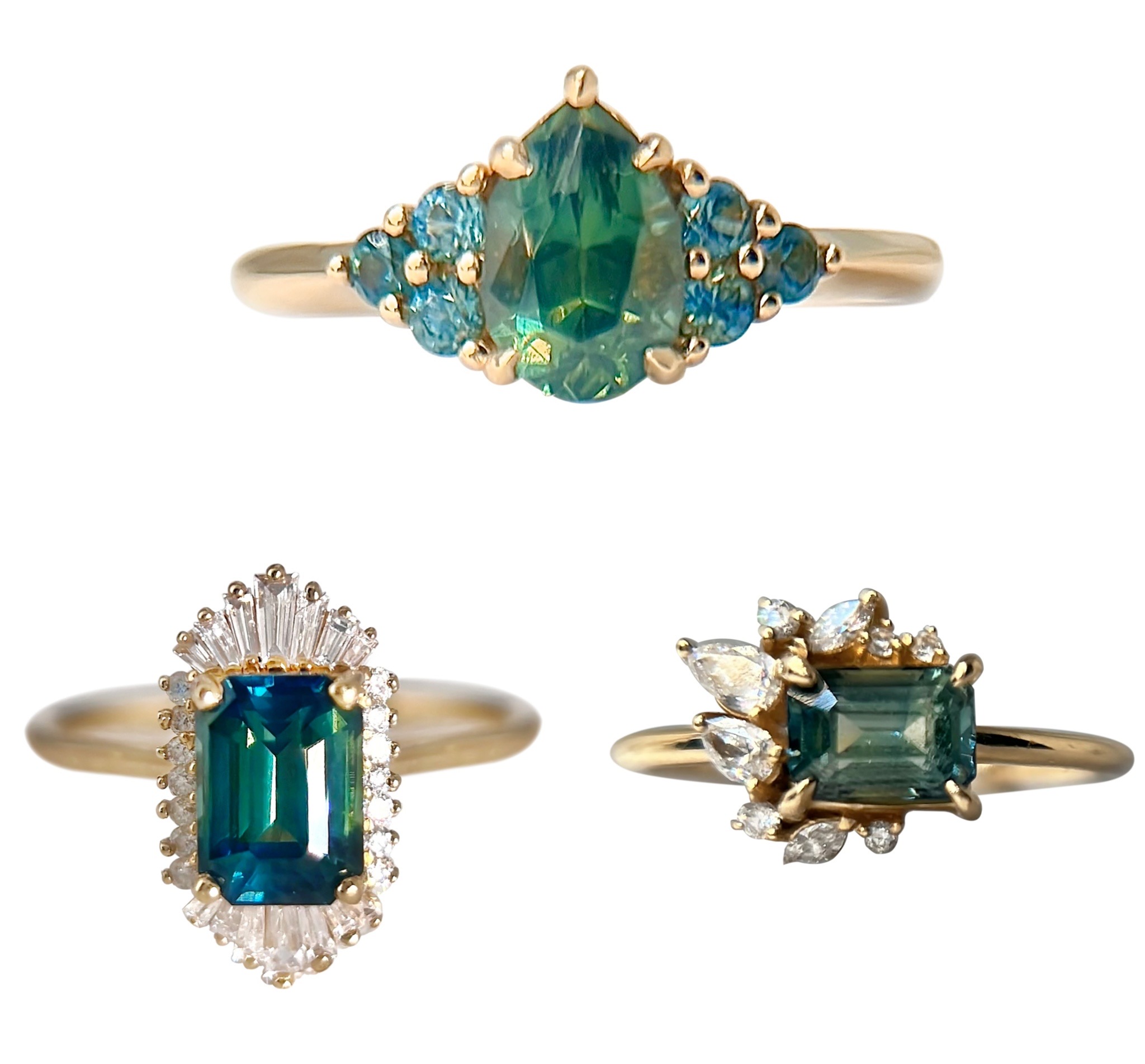 What's next?
I mentioned earlier that when I was younger I wanted to be a wedding planner. Even though I decided that path wasn't for me I still love everything about weddings & engagements. So, I decided to add proposal planning as an add on service available to those who get their engagement rings from me. I'm so excited to be able to be even more involved in couples love stories.