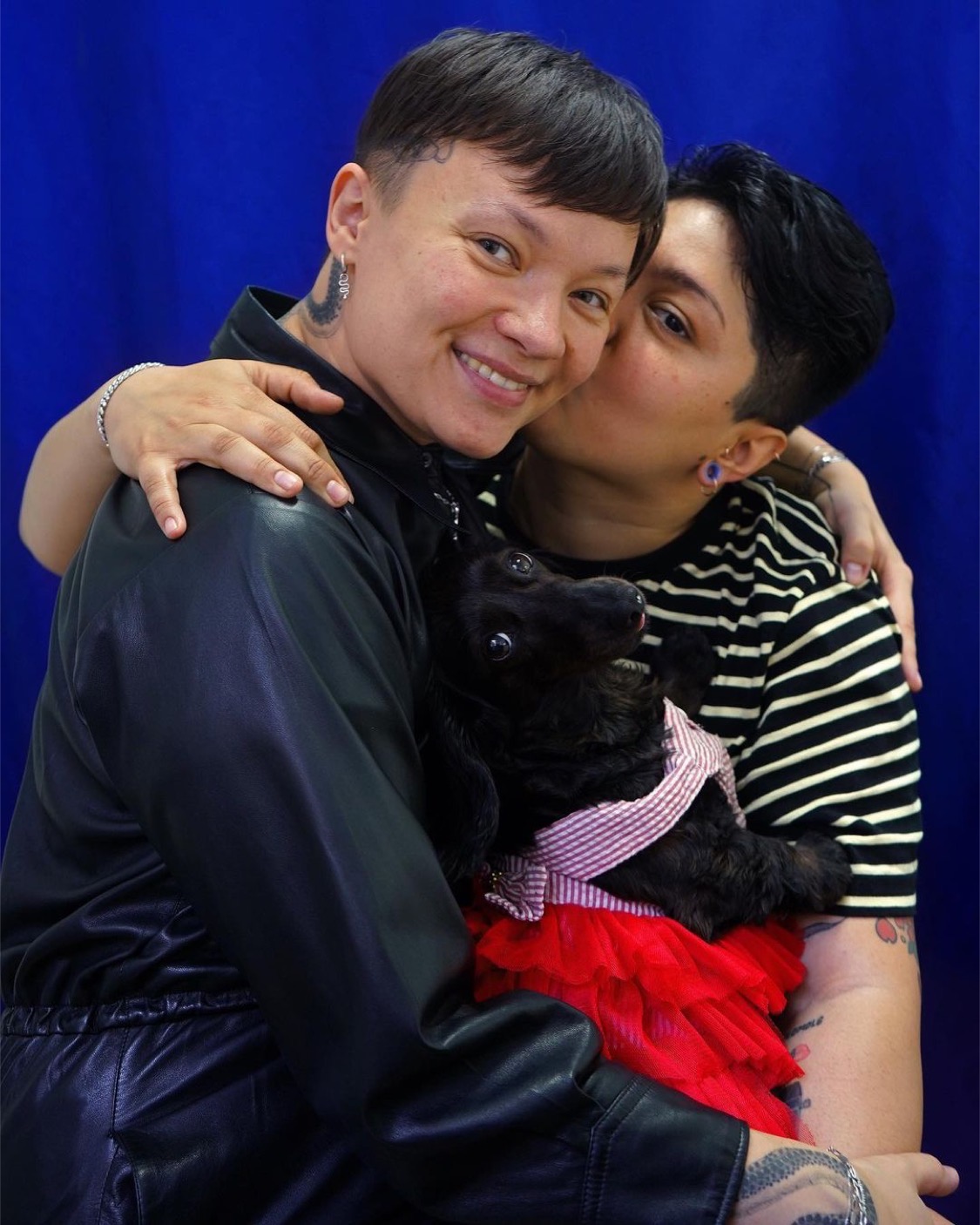 AL Sandimirova, Angel and Luna
Mutual engagements are trending. The evolution of gender identity, the need for sustainability and size inclusivity are already changing the jewelry industry. 20% of Gen-Z identify as LGBTQ+. This data is bound to have a big impact on the future of committed relationships and wedding jewelry design. Queer couples and designers are at the forefront of all these changes and leading the way for new traditions and trends.
Automic Gold is a queer owned and operated jewelry business based in New York. We have shared several awesome Automic Gold couples stories this past year and love the bespoke engagement rings they created for each couple.  It was great to catch up with AL Sandimirova, the owner of this fast growing brand.
Why are queer couples usually wearing 2 engagement rings?
It really depends on the personal style and the couple's budget. I had many queer couples go with two engagement rings, many with just wedding bands and many with one engagement ring!
In your experience, do both partners in a relationship come together and mutually propose or, is one taking the lead and commissioning 2 rings?
Both scenarios happen. Some couples contact us together. We also have many cases where one proposes, and after that, the other reaches out to propose back. And rarest, but my favorite, I love when both reach out at about the same time to propose to each other secretly.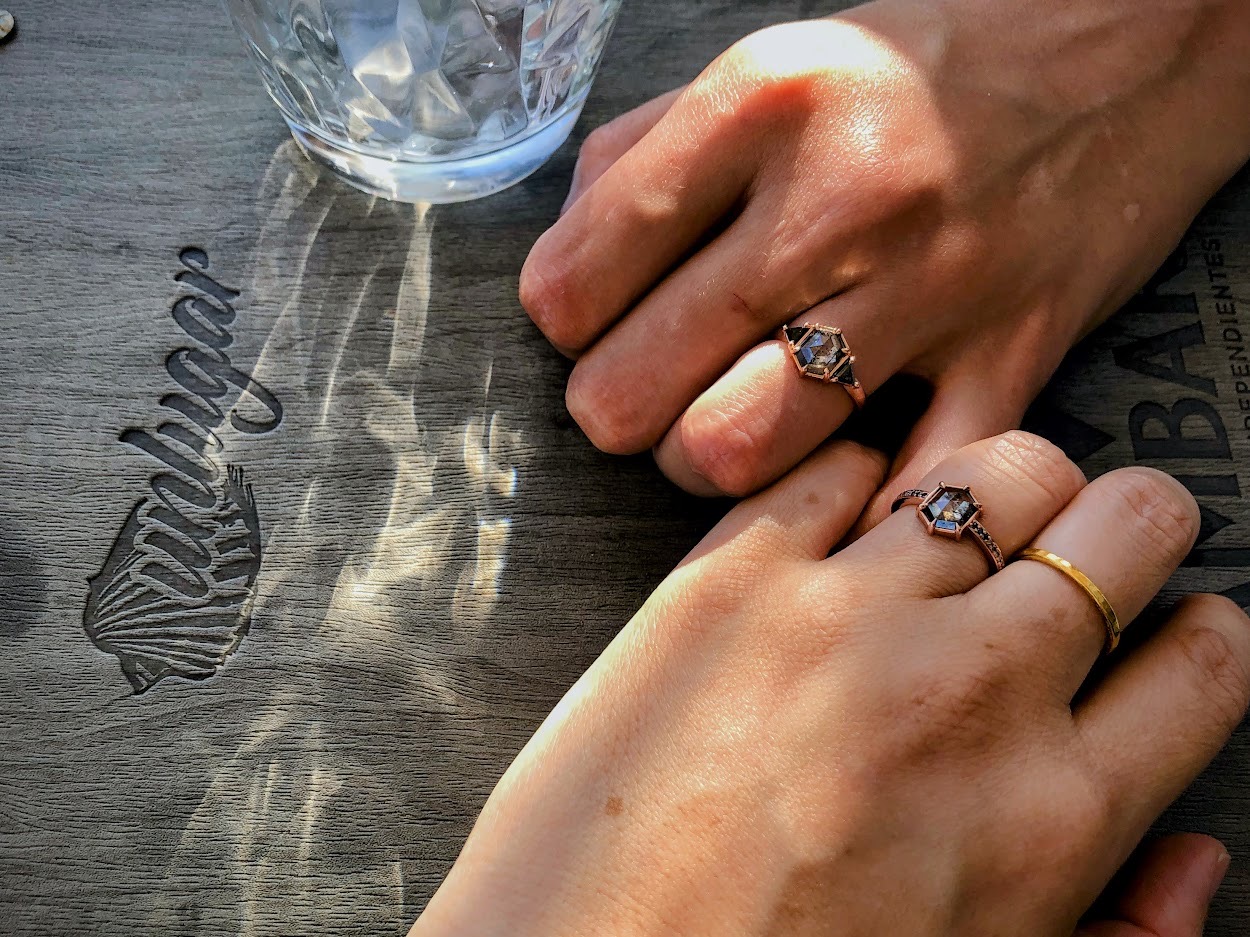 Day Falls Photography
You make unconventional and beautiful custom engagement rings. They often follow a design theme inspired by the couple's story. However, each ring design is unique to the wearer. Tell us about your process.
I work closely with couples, sometimes for months to make sure we deliver personalized rings which they are most happy with! I love to discover people's styles, personalities, what they like and the details/themes they want to incorporate into the ring designs. Recently, since both customers wanted something low profile and comfy for everyday wear, I suggested a pair of twin salt and pepper diamonds I had been holding on to for such a purpose. They loved the idea and then we added personalized touches. The bands had a different width and the settings included different side stones. One of them chose trillion-cut black diamonds and a thicker band, the other picked a black to white pave diamond gradient on a thinner band. Both rings are made of 14k rose gold and the center diamonds are set with claw prongs (both rings are featured in the above picture).
If you were to propose to Angel, what type of rings would you make?
I would design salt and pepper diamond and platinum rings for us.
In your opinion, why are heterosexual partners embracing the trend of double and mutual proposals?
I see it still rarely, but there is a trend of women proposing to their boyfriends and they love to do it with a custom high end wedding band.
Why being size inclusive was a priority for your business?
People come in many sizes – so do all our products. We offer rings in size 2 to 16.
Some cultures and communities are still not accepting queer love and women's empowerment. Do you see a future when all people will be equal and able to live with the partner they chose without fear? Or is it utopia?
How can we help to build this future? Yes, for sure! We are going there – it is the future.  Everyone can help by taking a stance for equality!
Thank you Al! Make sure to visit the Automic Gold website to browse some radical jewelry!