Each of the couples featured in this article proposed in their own unique way, in different locations… yet, they all chose platinum for their ring settings. Platinum is enduring, like true love that lasts a lifetime. It is the perfect metal pick for heirloom pieces such as engagement rings and wedding bands.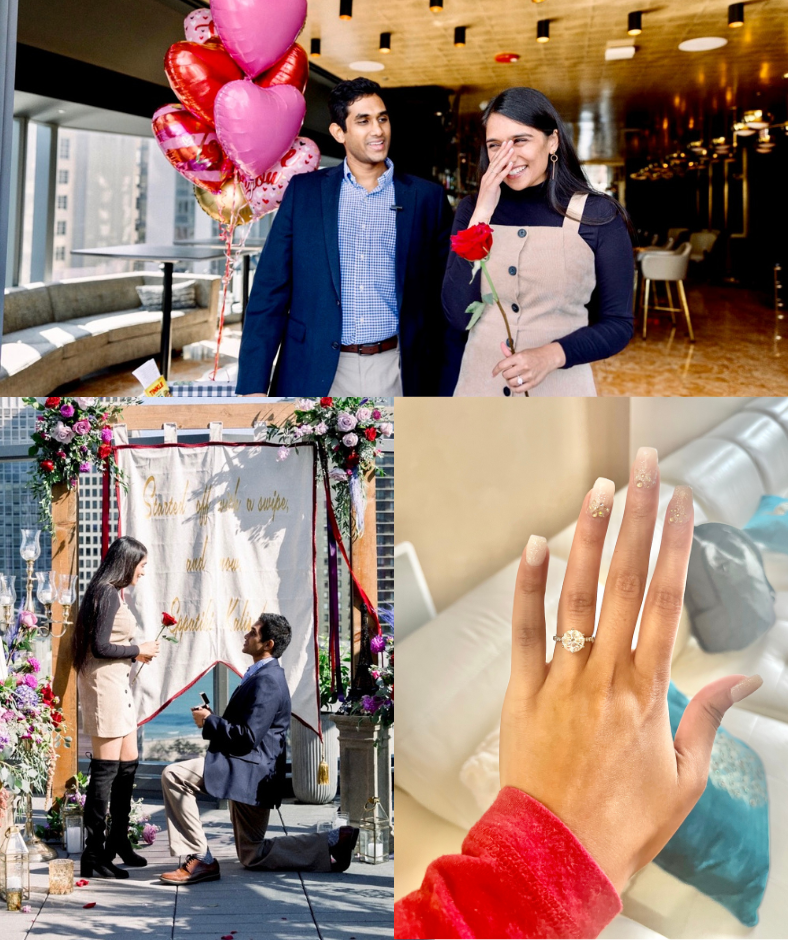 Photos: Mandalette Photography  Proposal Planning: Pop The Knot  The Heart Bandits
On a family trip to Chicago, Nayanika texted Vijay, "I wish you were here". Little did she know, he was! And Nayanika's mom was in on the secret. She played the role of a masterful actress, staging phone calls with aunties to keep up the ruse. So when Nayanika walked onto the rooftop of the Viceroy hotel in downtown Chicago, she thought she was going to brunch with family friends. But what she saw before her eyes wowed her… The man she loved had created the most beautiful setting she had ever seen! Vijay had contacted planners and vendors for months to create the perfect proposal for Nayanika in her favorite city. Vijay thought of everything from including Nayanika's favorite flowers — orchids and roses — to her 2 favorite colors, purple and red.
The couple had joked about visiting Paris, which they both knew could could not happen yet with the time constraints of school. So instead Vijay brought Paris to Chicago with an Eiffel Tower figurine and Nayanika's favorite Parisian macaroons. A display of photos showed special moments between the couple and led up to a sign: "Started off with a swipe, and now… Eppatiki Kalisi." Nayanika's eyes teared up as she read their very special phrase, which meant "Together Forever" in Telugu. Vijay shocked and stunned Nayanika with a proposal far beyond her wildest dreams. The ring was custom designed at Adiamor. It is a stunning 3 carat natural diamond with the highest quality cut. It is set with 6 thin prongs with more diamonds along the 2 mm pavé precious platinum band. This large center stone will be securely held by platinum.
---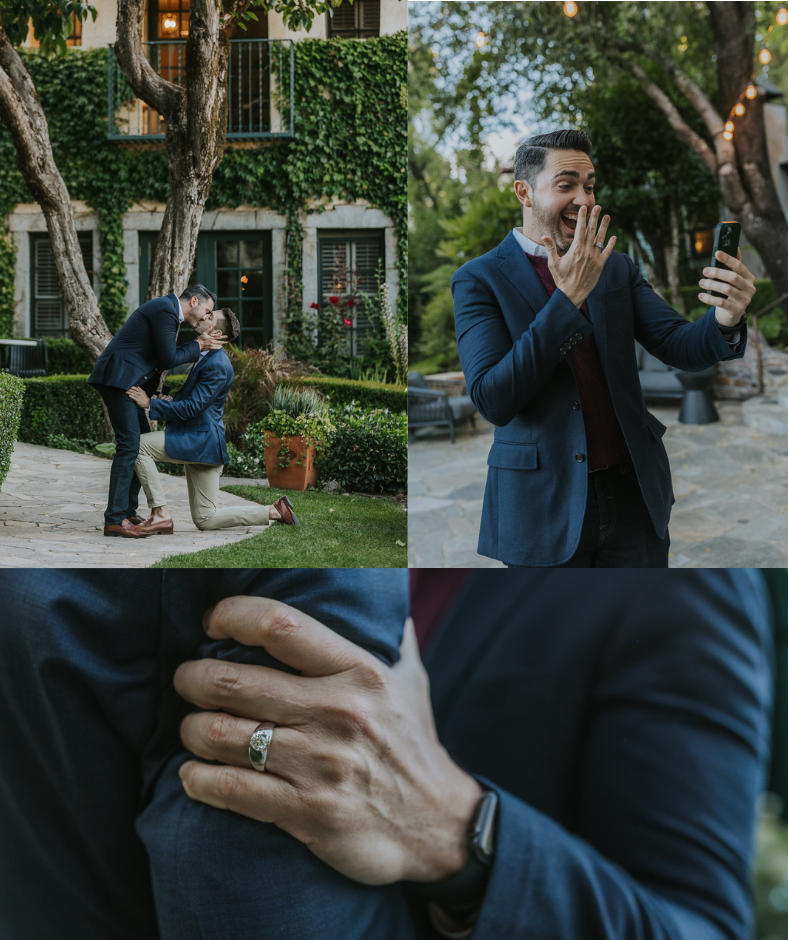 Photos: Rebecca Skidgel Photography
Nickolas planned all the details of his Napa Valley proposal remotely, with the help of local photographer Rebecca Skidgel. Once Nickolas and his boyfriend Sal had arrived for a "weekend getaway" in celebration of an important date for the couple. They started with a private wine tour and a first dinner.  The day of the engagement, Nickolas had arranged for the couple to have a spa day. The day was casual and relaxed.  Nickolas told Sal that they had dinner plans that evening and it was going to be a "nice" dinner. As they got to the lobby, Nickolas grabbed Sal's hand and they started walking to a beautiful tree.  As they got closer, Nickolas asked Sal to put on his jacket for dinner.  They continued to make their way to dinner and then they stopped in front of the tree, as planned, then Nickolas got down on one knee and proposed. Rebecca was there to catch this very special moment.
Sal knew he wanted a platinum ring because it is naturally white and has a good weight to it. "I like that it can take the scratches of daily life and still not be damaged," he says. "A little polishing and it's back to showing what is always is: true, strong and beautiful . . . much like what we want a loving marriage to be." Nickolas reached out to Mirta de Gisbert who Sal knew from university and began designing the ring. They  discussed various options and styles but really wanted something unique and special to the couple.  Nickolas told Mirta that Sal regularly wore his class ring. Together, they decided on a signet-style ring, which incorporated the class ring style and had room for the diamond Nickolas wanted. Mirta added Sal and Nickolas's birthstones on the inside of the ring.
---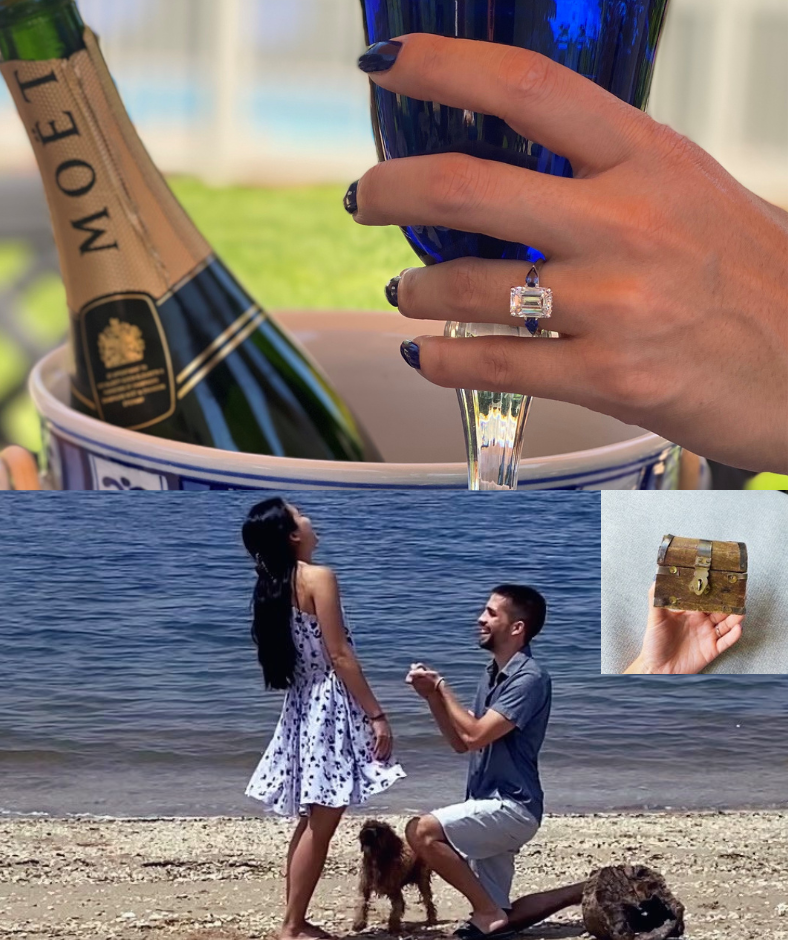 Kevin brought Myra to the beach they used to visit when they first met. They brought their puppy and their metal detector and got started treasure hunting, something they loved to do together. Under a log, Myra heard the metal detector beep. They started digging and found a small old wood treasure box with a note inside. It was a riddle. Myra thought they had finally found a real treasure, and she was right! Once Myra had pondered the riddle, Kevin got down on one knee and proposed. Myra said yes to her favorite pirate.
Kevin chose platinum for the ring because of its timeless beauty. He'd had a vision in his head of the ring design, and Stephanie Occhipinti was able to bring it to life. Kevin wanted a three-carat emerald-cut natural diamond with pear-shaped blue sapphire accents; blue was Myra's favorite color. On the platinum shank they added a small infinity twist. Platinum's durability and its crisp white appearance perfectly enhance the colors of the diamond and the sapphires.
---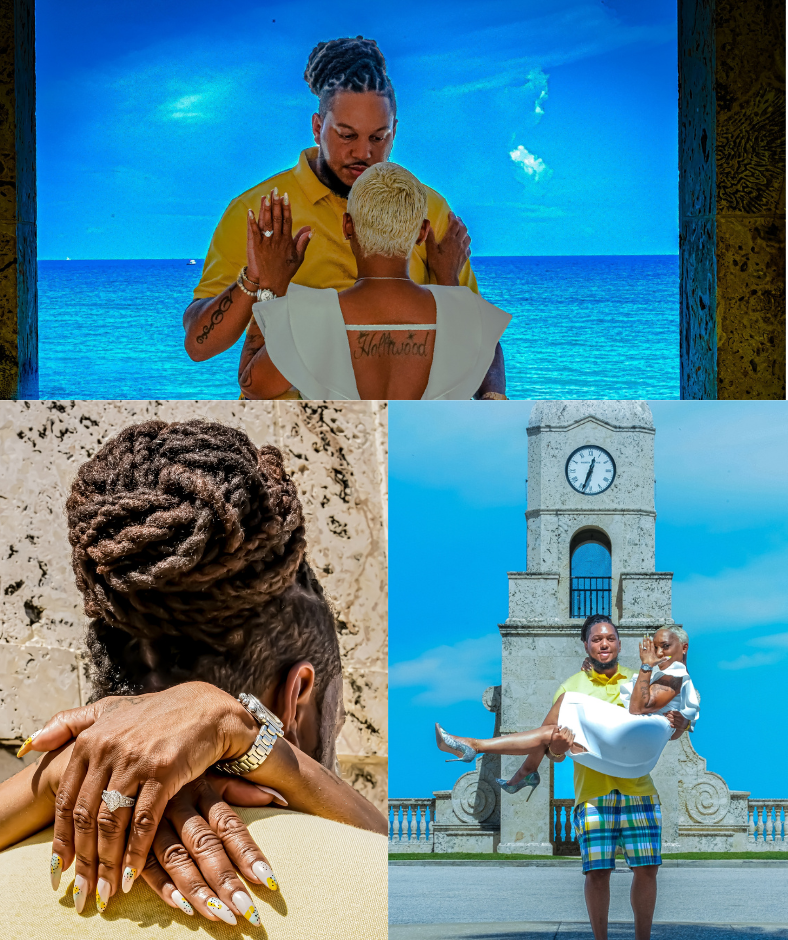 Kenneth Mitchell photography
Nisha and Kenny met on Instagram three years ago. When Kenny was ready to propose to Nisha, he decided to incorporate the proposal into a vacation in Florida with family and friends. Kenny rented a 10-bedroom, 10-bathroom house. Everybody who came on the trip knew Kenny was going to propose — but they all kept the secret from Nisha! Three months prior to the engagement, the couple had started looking at rings. After they had done some window shopping and tried on some styles at the mall, Kenny distracted Nisha by telling her to go do some shopping at the Sephora next door. While she was there, he went back into the jewelry store and secretly bought the ring Nisha had fallen in love with.
After a fun trip to Universal Studios, Nisha wanted to relax and get in the pool, but Kenny asked her to run an errand first. When she came back, candles were lit on the floor. Everyone handed her flowers as she walked up to Kenny, who was down on his knee singing a proposal song. Nisha still can't believe Kenny selected her dream ring — a precious platinum setting with a beautiful pear-shaped center diamond and diamond baguettes.
---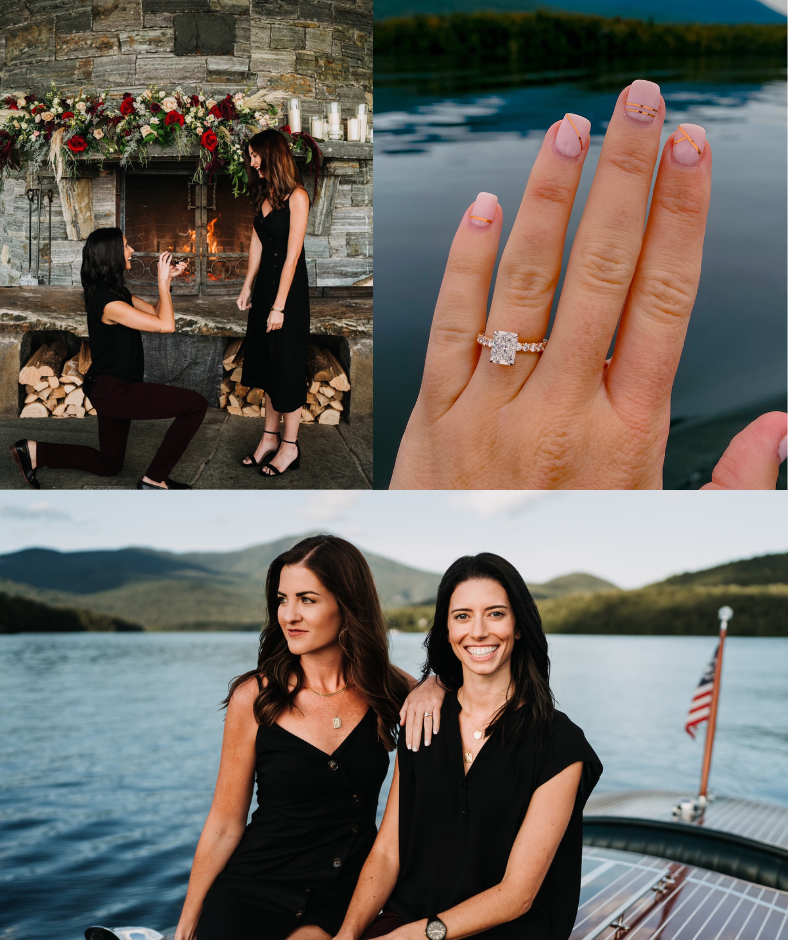 Photos: Due West Photography Proposal Planner: VanBee Co.
Amy surprised Brittany with a trip. They traveled from California to the Adirondack Mountains in upstate New York, where they checked into a beautiful lakefront cabin at the five-star Lake Placid Lodge.Amy led Brittany to the balcony of the lodge, which was adorned with gorgeous flowers, lanterns and candles. She showed Brittany a video she'd been editing; it featured clips from the past two-plus years of their relationship. Little did Brittany know, Amy's parents and Brittany's parents (who flew to New York from Texas) were standing right behind them. Amy got down on one knee and, in front of a gorgeous fireplace on one side and a sweeping overlook of mountains and lake on the other, asked Brittany to marry her. Brittany said yes!
After the proposal, Amy and Brittany were whisked away on a wooden boat across Lake Placid to explore the picturesque mountainside, with the trees turning to stunning fall colors. The night ended with a beautiful lakeview dinner with their families, stargazing, and s'mores. Later they went to Amy's hometown in upstate New York to see her beloved grandparents (who were 100 years old) and celebrated with a memorable engagement dinner filled with family and love. Brittany couldn't have asked for a more perfect proposal, a more unforgettable moment in time, or a more thoughtful and loving fiancée.
The gorgeous engagement ring has a rose gold band with pavé diamonds and a platinum crown to hold in place a radiant-cut diamond. The platinum crown is the piece that holds the stone on the ring. Platinum enhances the color and size of the center diamond while keeping it secure.
---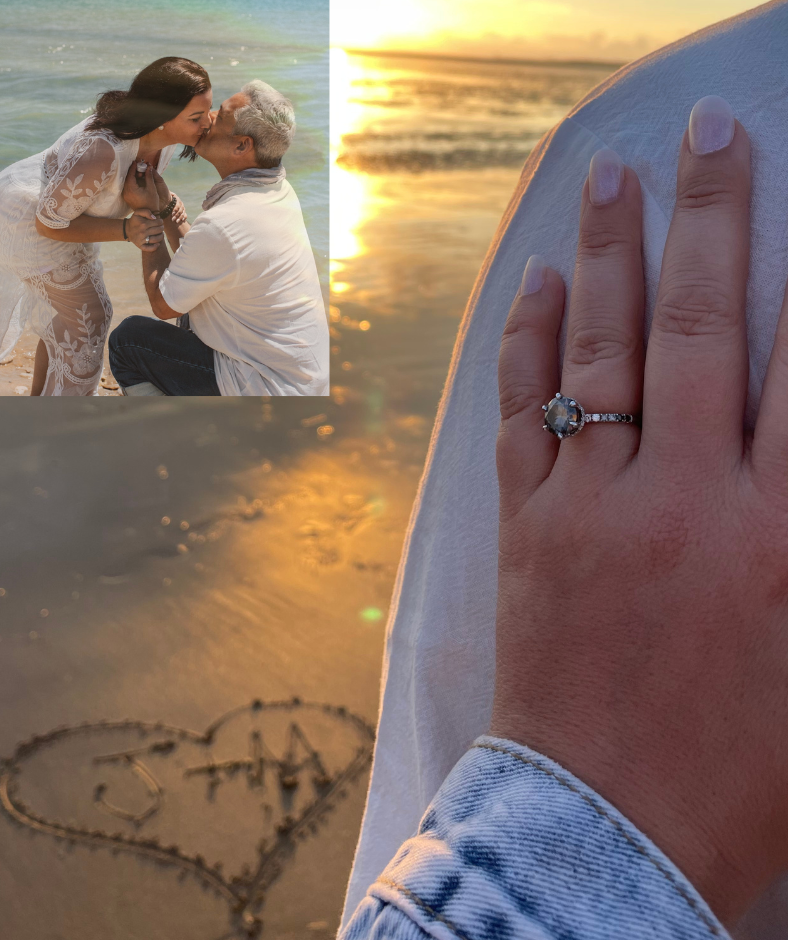 After 2 years of confinement without seeing their family, Marie Lebourgeois and Joe finally reunited with their loved ones in France. Joe's proposal was a romantic and unexpected surprise. It happened during a family photo shoot in the heavenly island of Île de Ré — an event that Joe had secretly set up to capture their engagement.
Marie, a jewelry designer, wanted a ring that was unique, beautiful, and unconventional, and that's exactly what she got. Her ring features a fancy dark grey diamond that is over 3 carats and has hues of blue and violet. The diamond is set on a platinum mounting to complement all the beautiful shades in the gray stone. 23 diamonds were set on a hidden halo, and the shank featured an ombré of diamonds, from black to salt-and-pepper to colorless. It is a ring as special as the bride.
In collaboration with platinum jewelry