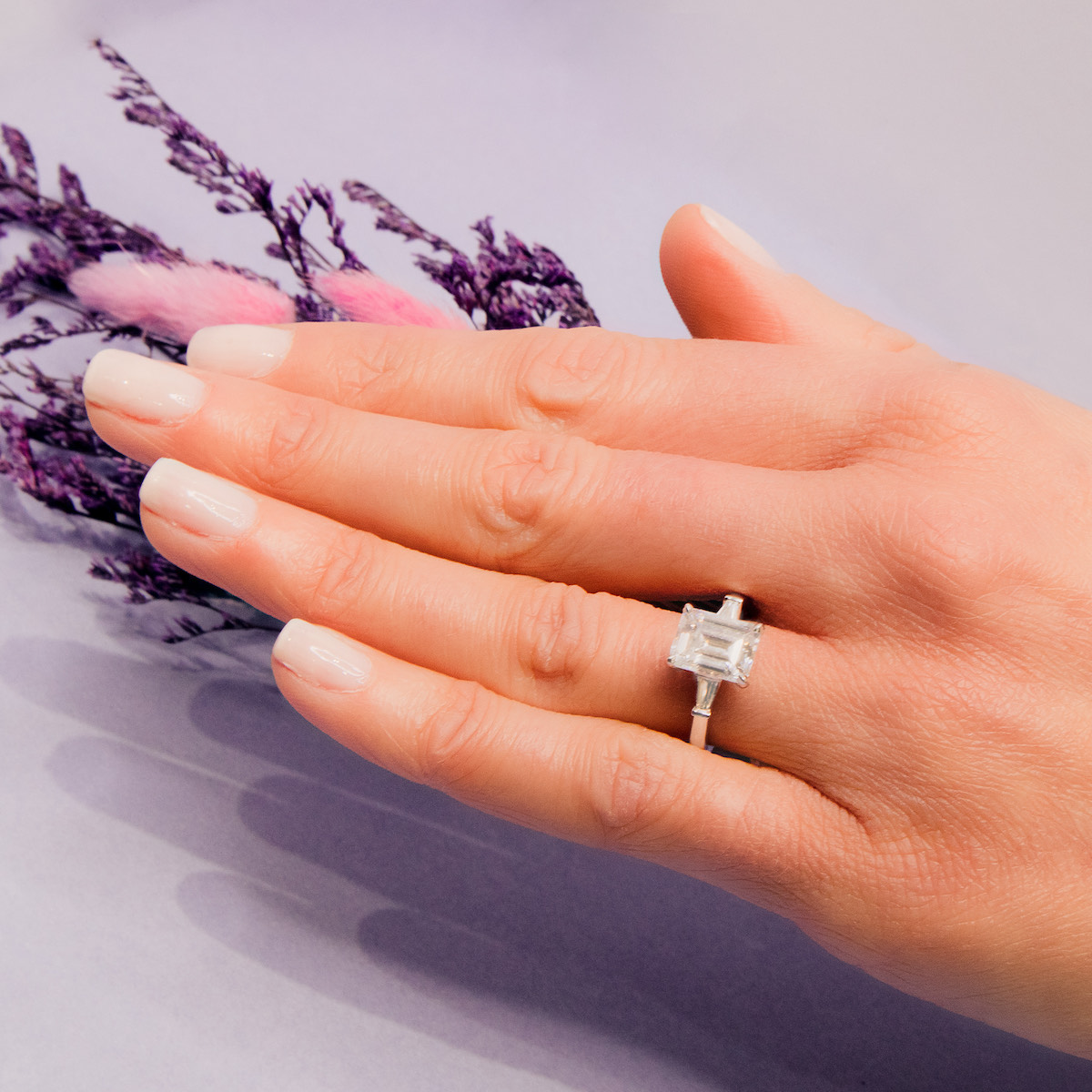 When it comes to fancy diamond cuts, ovals are still trending. However, there's a rising number of step-cut lovers who want to channel old Hollywood timeless glamour and embrace square and angular diamond shapes.
Emerald cut diamond engagement rings were one of the hottest new trend we spotted during Vegas Jewelry Week. You can see in the video below some of our favorite styles. We love bezel settings for angular cuts as they protect seamlessly the pointy ends. We also are big fans of the versatility of mixing or matching side stones with multi-stone engagement ring settings.
Brands featured in the video: Noam Carver, Christopher Designs, Kirk Kara, Henri Daussi and Rahaminov.
Right before going to Vegas, we visited our friends at  H.L. Gross (both the rings styled with lavender backdrop were photographed at their store and are also available on their website).  Christina Dellaccio, sales manager at H.L. Gross, gave us these 4 great tips if you are shopping for an emerald cut diamond.
Clarity is very important when selecting an emerald cut diamond. Due to the cut of the stone 'step-cut' inclusions are less forgiving. We recommend sticking with a VS2 or better.

Color doesn't show as early as in some of the faceted cut diamonds. Meaning you can go lower without seeing warmth in the stone. Our recommendation is I color or better.

Shape is a personal preference. You will want to make sure you know if she wants an elongated emerald cut or a squarish emerald cut. Some like the elongated, slender look while others like a chunkier looking emerald cut diamond.

Make sure to never buy an emerald cut without seeing at a minimum a video of the stone. Due to the nature of the cut, you want to make sure the stone has LOTS of life!