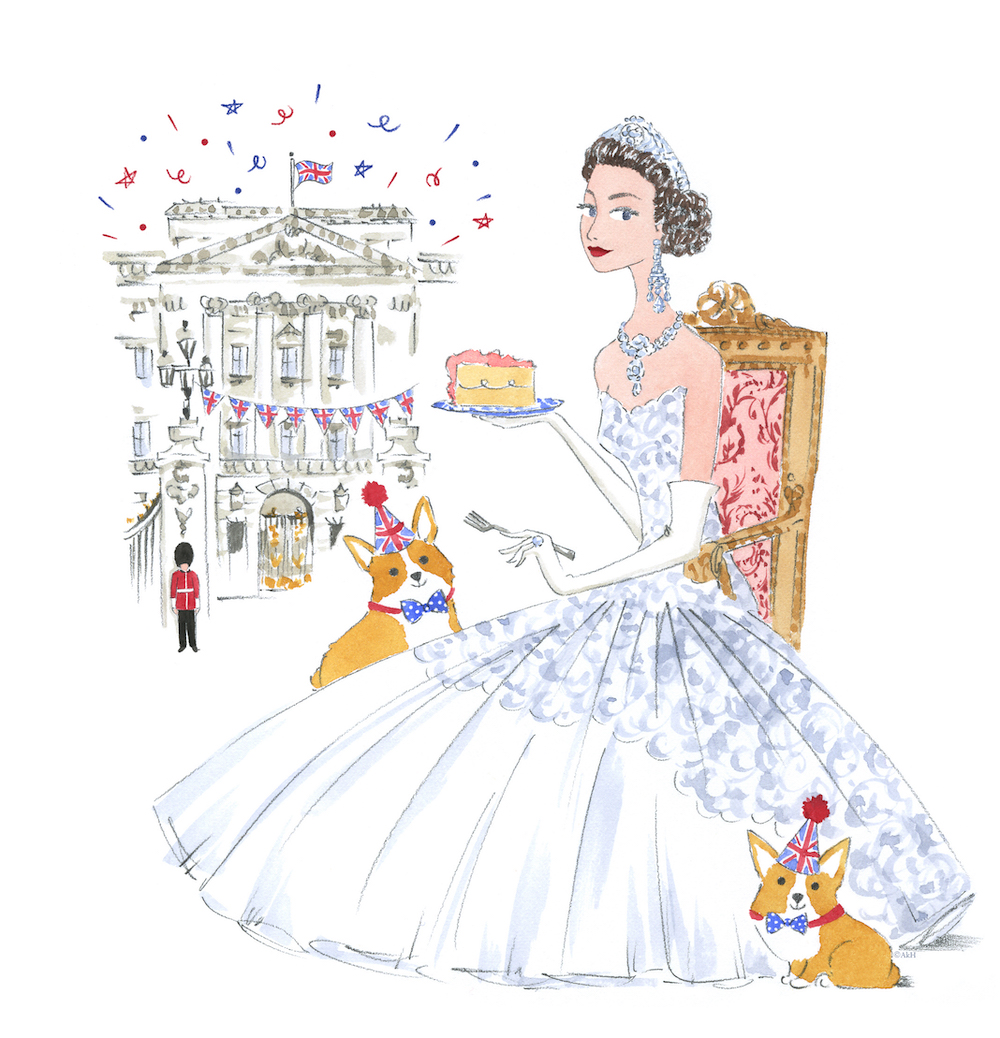 What if we were British Royals planning a 2022 wedding and we had access to The Queen's fashion and jewelry closet? Wouldn't it be wonderful?
The year 2022 is a special one for everything platinum —  Elizabeth II of England is celebrating her Platinum Jubilee. Queen Elizabeth has been on the throne for 70 years and is still doing her duty at the impressive age of 96! In many cultures, platinum is the precious metal of choice synonymous with the commemoration of special occasions, and traditionally symbolizes a 70th anniversary.
Her Majesty's collection of platinum jewelry is quite impressive, and we would be delighted to borrow any of her precious jewels. So what would we choose for our royal wedding? Since we are playing pretend, we decided we should go big. While we were at it, we also picked a gown and something perfect for grooms.
All the illustrations in this article are by the very talented Anne Keenan Higgins. The images are courtesy of the Royal Collection Trust ,  The Royal Family Instagram account and official portraits and images released by the Royal Family to the press corps.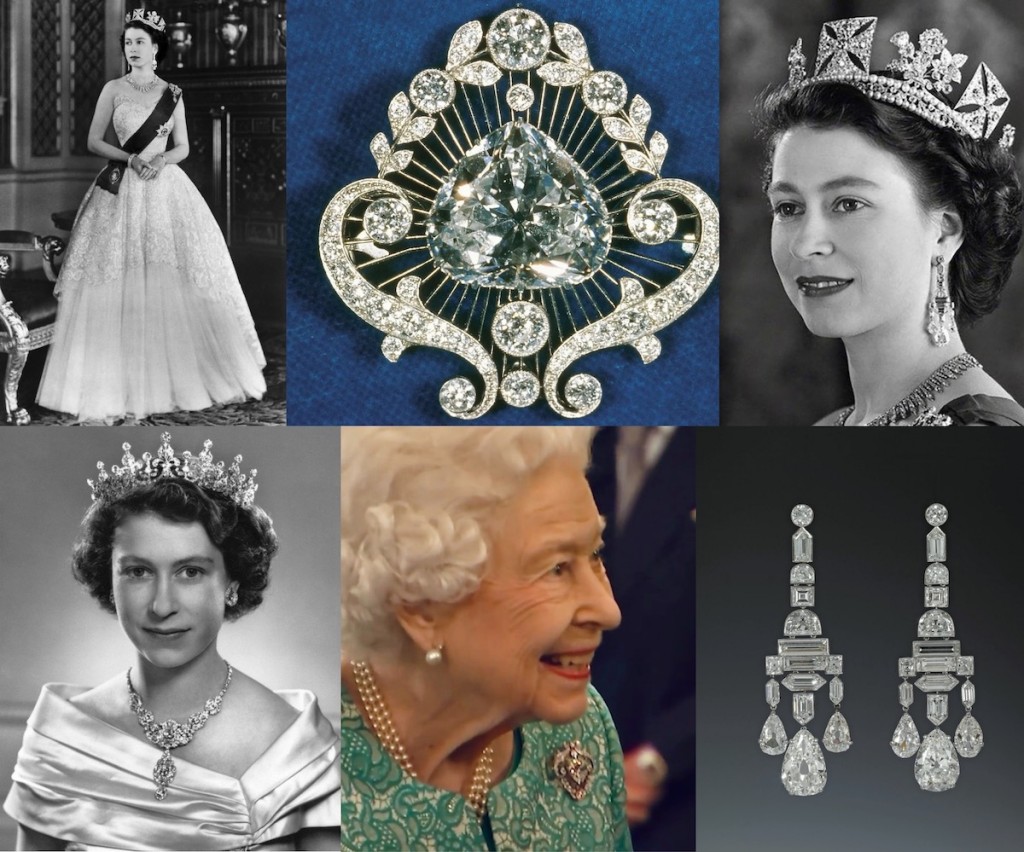 Our pick for a dress comes from the 1950s, a period in which Queen Elizabeth enhanced her beautiful figure with fitted, on-trend gowns. Her passion for lace reached its pinnacle during this period. We would love to borrow the gown featured in one of her official portraits from 1953, with its sweetheart neckline and lace overlay (top left in our photo collage). It would be perfect for a 2022 wedding and would look great on all bodies.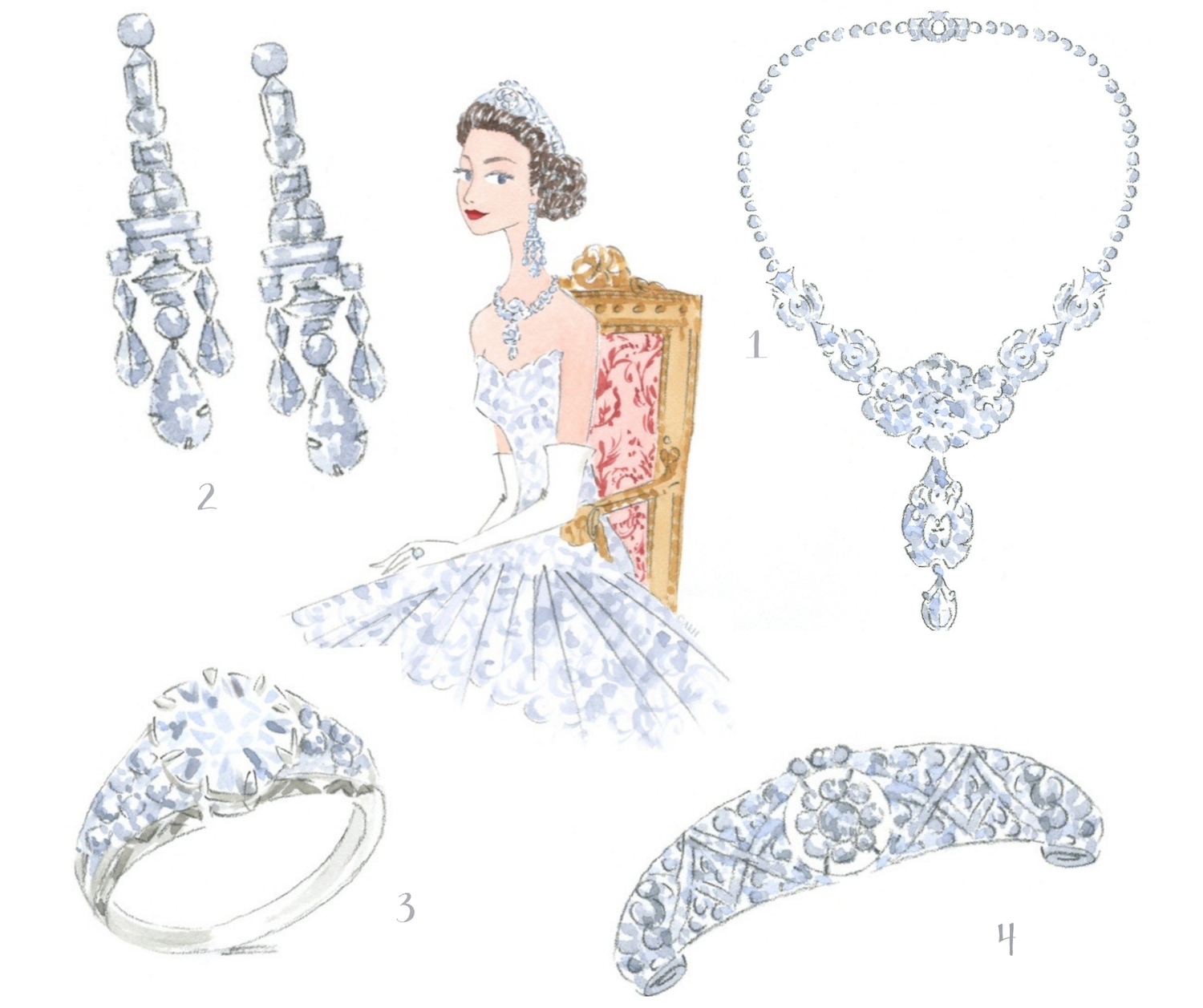 A strapless sweetheart neckline is meant to be adorned with amazing jewelry! Our pick is the most extraordinary platinum and diamond necklace the queen owns: the Nizam of Hyderabad (1). It was gifted to Queen Elizabeth II by the ruler of Hyderabad, a princely state in the heart of India, for her wedding.
This diamond necklace, the most expensive piece of jewelry from the Queen's collection, is currently appraised at around $88 million. It was created by Cartier and features 50 diamonds of different shapes — emerald cuts, pear cuts and brilliant cuts. Platinum is trusted to securely hold the necklace's many diamonds. Duchess Catherine of Cambridge borrowed it for an event in 2014.
With such a statement necklace, you need statement earrings. The Greville chandelier earrings (2), also created by Cartier, were given to Queen Elizabeth by the Queen Mother. Platinum has an inherent heirloom quality, and platinum jewels are often passed down from generation to generation within families.
According to the Royal Collection Trust, each earring is set in platinum and includes a trio of pear-shaped diamonds, plus baguettes, emerald-cuts, half-moons, trapezes, batons and square-cuts. We find the look very contemporary with a deco vibe. They are simply stunning.
A timeless platinum engagement ring adds elegance to every style, and it's essential to complete this look. We like the beautiful platinum engagement ring (3) that Queen Elizabeth always wears.
Prince Philip proposed to Elizabeth after the war in 1946. His mother, Princess Alice of Greece, provided the 3-carat diamond center stone, which once adorned her wedding tiara. The setting of the ring — a platinum crown surrounding the center diamond with 5 smaller diamonds on each side — is timeless. Her Majesty never upgraded the ring, and it still looks amazing. It is a testament to the longevity of platinum.
Finally, what royal bride could get married without a tiara? Queen Mary's Bandeau Tiara (4) is a family heirloom that was passed on to Elizabeth from her grandmother. This tiara was famously loaned to Meghan, the Duchess of Sussex, on her wedding day.
The intricate platinum design reminds us of the lace in the gown we picked. It's a perfect fit. We also love the headband shape. It feels more contemporary than a princess-style tiara.
The center part of Queen Mary's tiara used to be a brooch. The royal family loves to play with their jewelry pieces and often restyles them. This trend of restyling jewelry has gone mainstream in recent years in America, with the help of talented designers who embrace the challenge of creating something new with something old.