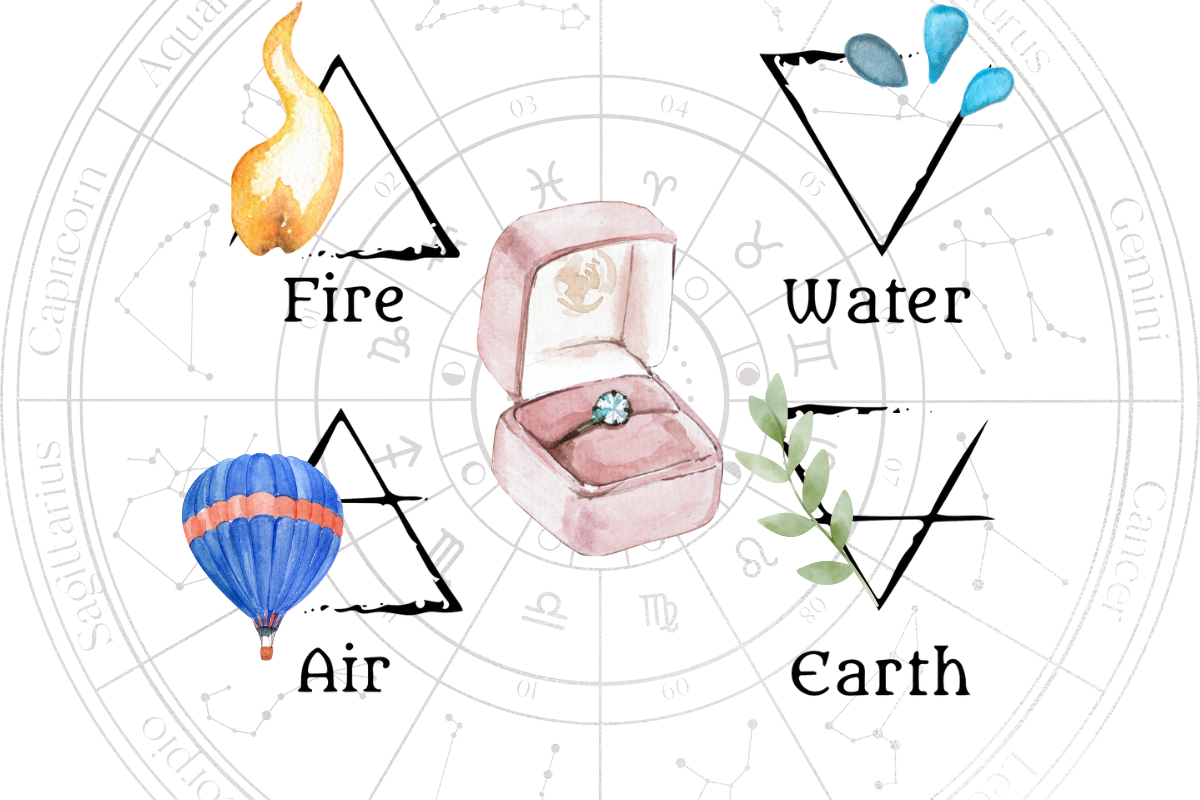 Sponsored by Platinum Jewelry
Solitaire settings, halo engagement rings and oval diamond rings are still very popular and timeless trends. However, this past engagement season, it's been a breath of fresh air to see recently engaged couples  –including celebrities –  pick such an array of unique platinum engagement rings.  We believe that for the foreseeable future, couples will still look forward to committing to each other with unique and personalized rings. Are there any new engagement ring trends emerging in 2022? Oui! We love these 4 new original ideas and think you should consider them with your or your partner's zodiac sign in mind.
Earth Signs: 2022 Will Be Pear-fect
Move over oval-cut diamonds, the new popular diamond shape is The Pear. Its length to width ratio elongates the finger. The mix of curves with an angle gives this stone cut so much personality. The traditional way to wear a pear-shaped ring is with the end pointing outwards. However, introverts might feel more centered when wearing it in the other direction. Like the fruit, pear diamonds come in many shapes and sizes. Earth signs (Capricorn, Taurus and Virgo) are very attuned with our planet, they are grounded and also sensual. That's why we feel this is such a perfect diamond shape for them. You should always set a pear in platinum, a metal that is strong and will protect and hold this uniquely shaped stone.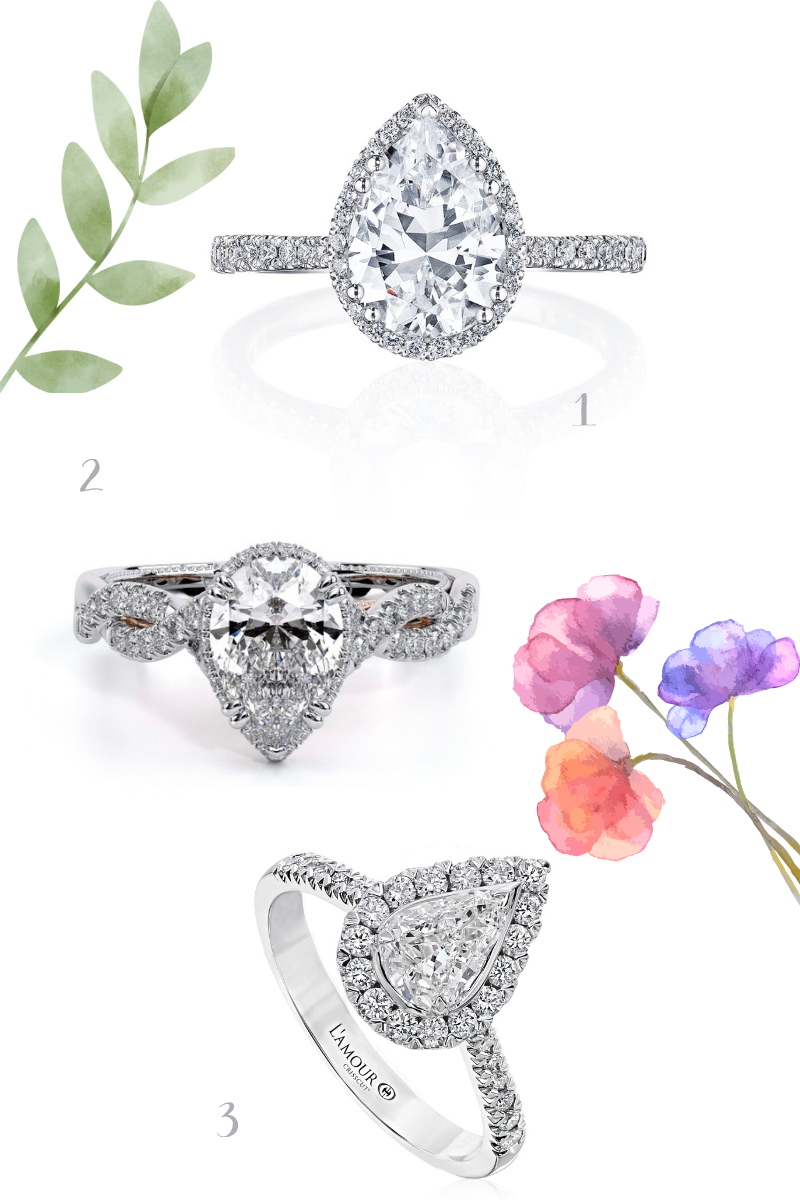 1. A juicy pear diamond (note how wide the stone is) set in platinum by Tacori, this design is part of their Bloom collection 2. A beautiful pear-shaped diamond is the "plat-de-resistance" of this intricate platinum setting with a twisted band by Verragio. 3. An elongated L'Amour Crisscut pear-cut diamond (a special cut designed to appear up to 50% larger) set in a platinum bezel is surrounded by a pear-shaped diamond halo.
Air Signs: Embrace the Free Spirited Fancy Eternity Band
Air signs (Gemini, Libra and Aquarius) love to make unique fashion choices. If you are committing to a person with an air sign, consider an eternity band with fancy-shaped diamonds in lieu of a classic engagement ring. Many jewelry designers and brands have just released spectacular new styles including – and even mixing – diamond shapes such as emerald cuts, cushion cuts, marquises, pears and ovals. An eternity band symbolizes eternal love between 2 people. Traditionally, the diamonds are set in a continuous line. However, for budget and comfort reasons, eternity bands are also available in versions where the hidden part is simply metal, these rings are called half-eternity bands. Whichever style you pick, make sure it is made in platinum. Platinum will contribute to the illusion of diamonds floating in the air because of its whiteness. A diamond eternity band is valuable and makes for a great piece of jewelry to pass throughout generations. Platinum will last and hold its value as heirloom jewelry.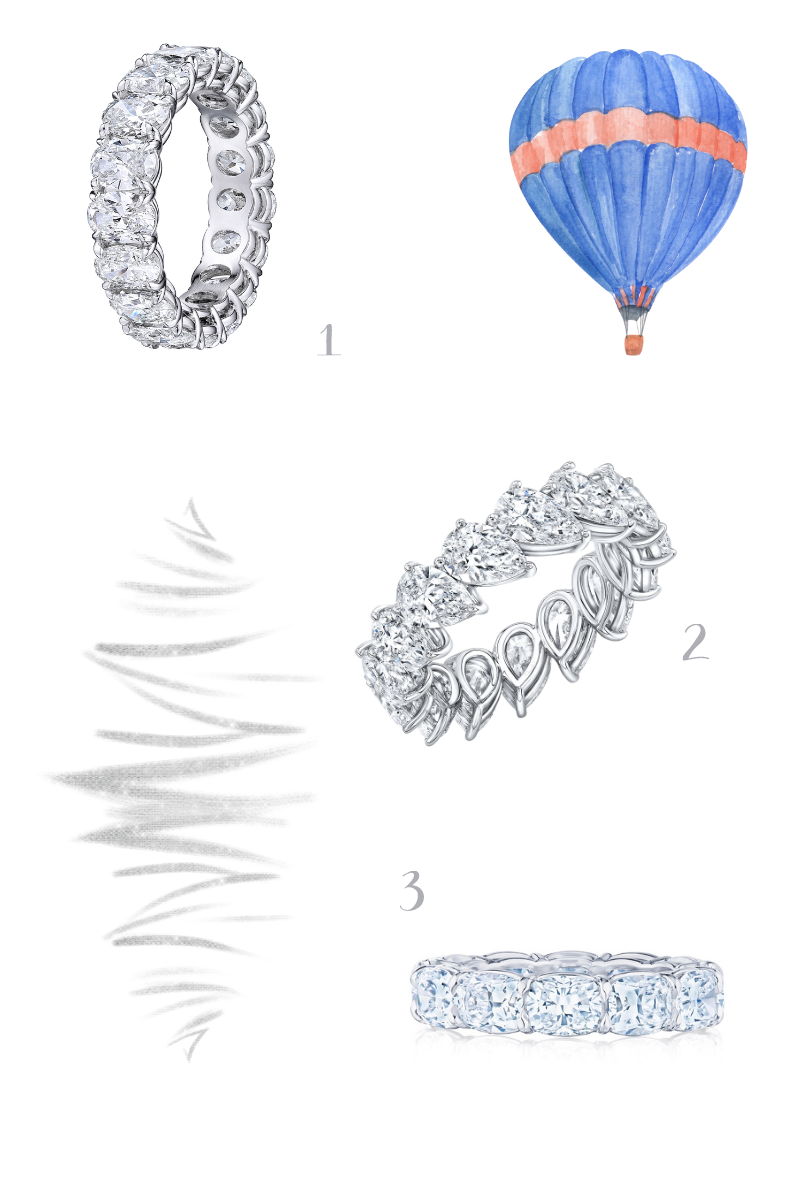 1. Beautiful Galleon eternity band with oval-cut diamonds in platinum by Simon Ardem. 2. Stunning platinum band with 15 pear-shaped diamonds by Uneek . 3. Beautiful ring with signature Kwiat cushion cut diamonds set in platinum with an East-West orientation.
Water Signs: Propose to Your One and Only Mermaid with A color Changing Sapphire
Engagement rings featuring color changing sapphires are perfect for water signs (Cancer, Scorpio and Pisces). These signs are often going through a roller coaster of emotion, their intuitiveness is mysterious and somewhat magical. Sapphires come in many mesmerizing hues across the color spectrum. Some of the greenish/blue ones found in Montana and other parts of the world will take on many different shades depending on the light and weather, like the sea. That's why they are often called "Mermaid" sapphires. To enhance the beauty of these extraordinary stones, you should always pick a platinum setting. Platinum is pure and will not cast any yellow or pink.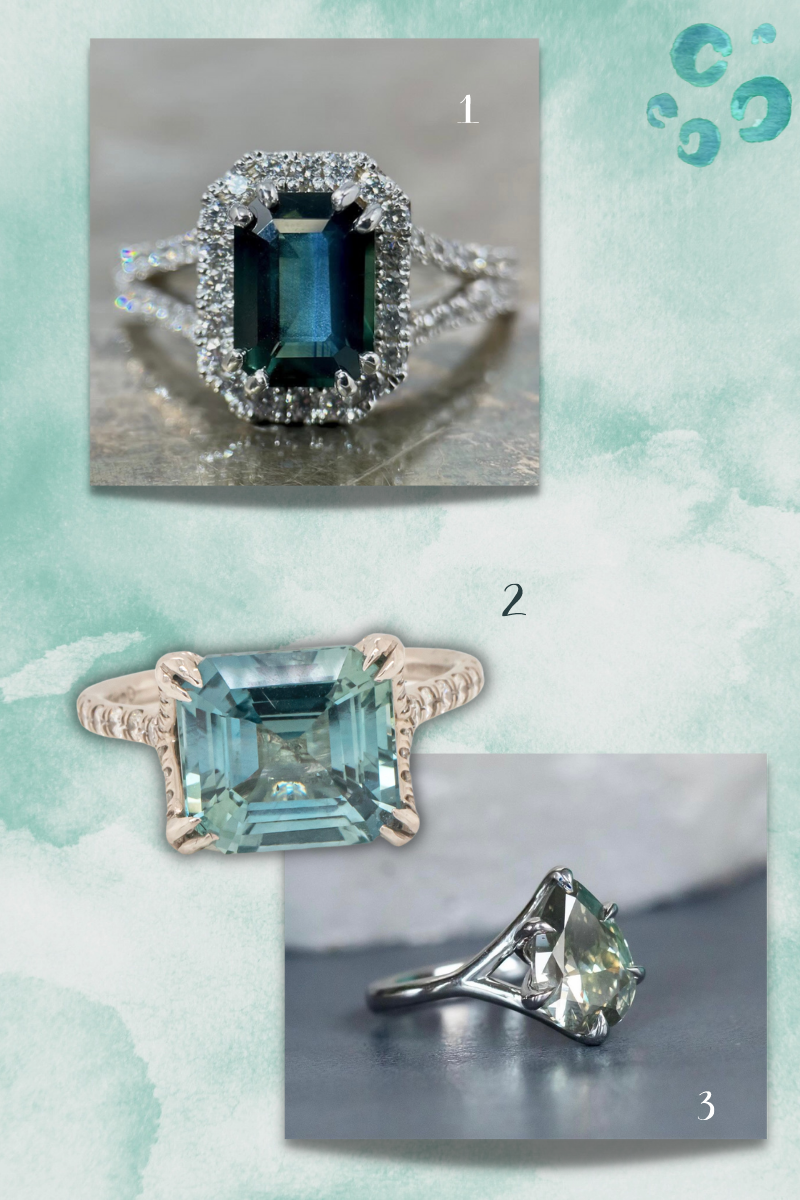 ---
1. We've seen this platinum sapphire ring by Sholdt in person and it revealed to us 3 different colors depending on the light.  2. Soho Gem has an amazing selection of sapphire engagement rings in hundreds of hues! This teal sapphire ring is one of our favorites. 3. Though Anueva offers an extended collection of rings featuring mermaid color changing sapphires, this ring's stunning center stone is a grey green diamond that reminds us of a water stream. It is set in recycled platinum.
Fire Signs: Pick A Platinum Crown for Your Bold Partner
Fire signs (Aries, Leos and Sagittarius) have big personalities. They are high energy passionate beings who crave attention, which is why they are the stars of the Zodiac. An engagement ring for a fire sign needs to make a statement, you should consider picking a design that includes a Platinum Crown. A Platinum Crown is an entirely platinum setting that sits on top of an engagement ring and secures the diamond with its prongs. It can be added to a platinum or gold setting. 2022 is a special year for everything platinum, Her Majesty The Queen of England Elizabeth II  is celebrating her platinum jubilee. In many cultures, platinum is the precious metal of choice synonymous with the commemoration of special occasions and traditionally symbolizes a 70th anniversary. Like all royals, Queen Elizabeth favors platinum jewelry, especially when it comes to her crowns and tiaras.  Your fire sign queen deserves a crown too!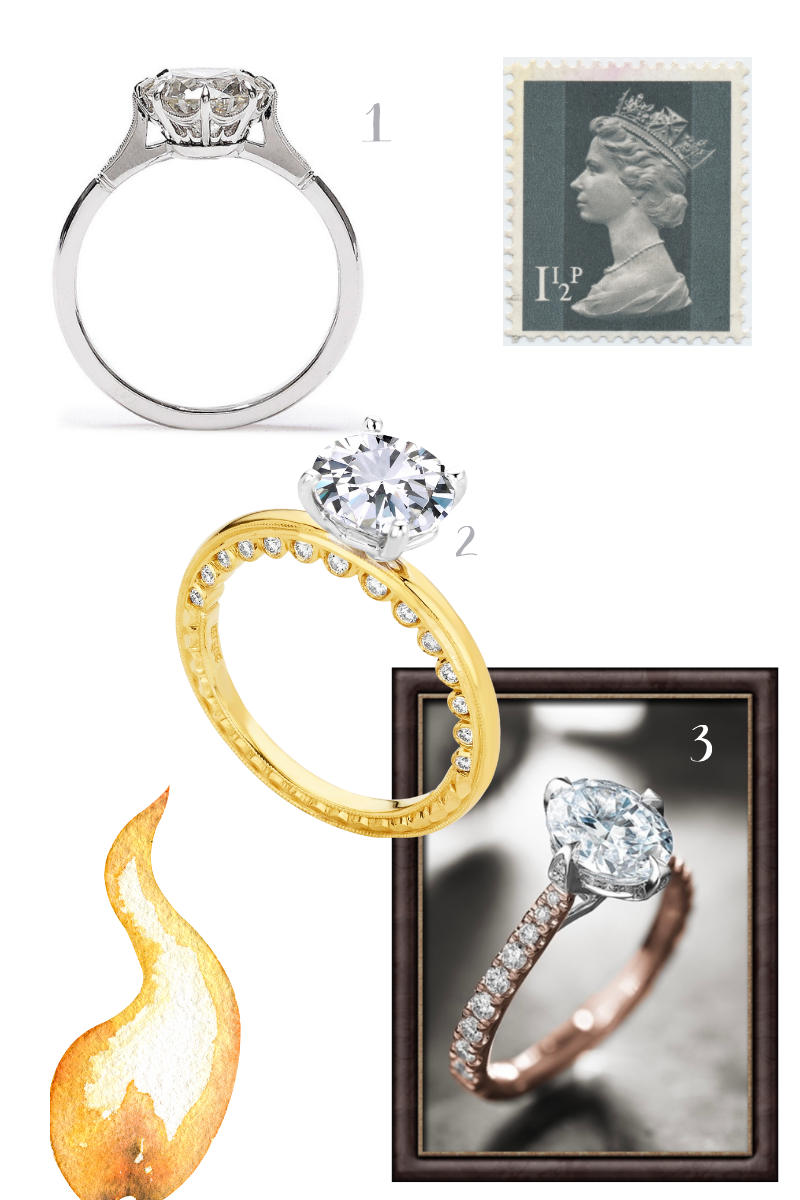 1. This Erika Winters ring featuring an old European cut diamond and found at Greenwich St. Jewelers is very regal! Click here to see the top view.  2. Fresh from the bench, this new two-tone ring by Jack Kelege features a platinum crown. Jack advises any bride considering a yellow gold ring to always request a platinum crown. 3. Made in Canada – which is part of  the Commonwealth of England – this beautiful oval-shaped diamond ring was designed by Noam Carver and is part of his Atelier collection.