Colson Baker AKA MGK AKA Machine Gun Kelly AKA the Champion Proposer nailed his "Secret Garden" proposal. I do enjoy looking at very big and rare diamonds. However, celebrity engagement rings often fall short of wowing us beyond the big bling effect. The proposal images and videos feel rehearsed, the planning is often delegated to a planner/stylist or the celebrity's team. I love how Colson genuinely channelled his love and artistic soul in order to create a magical proposal for his one true love Megan Fox.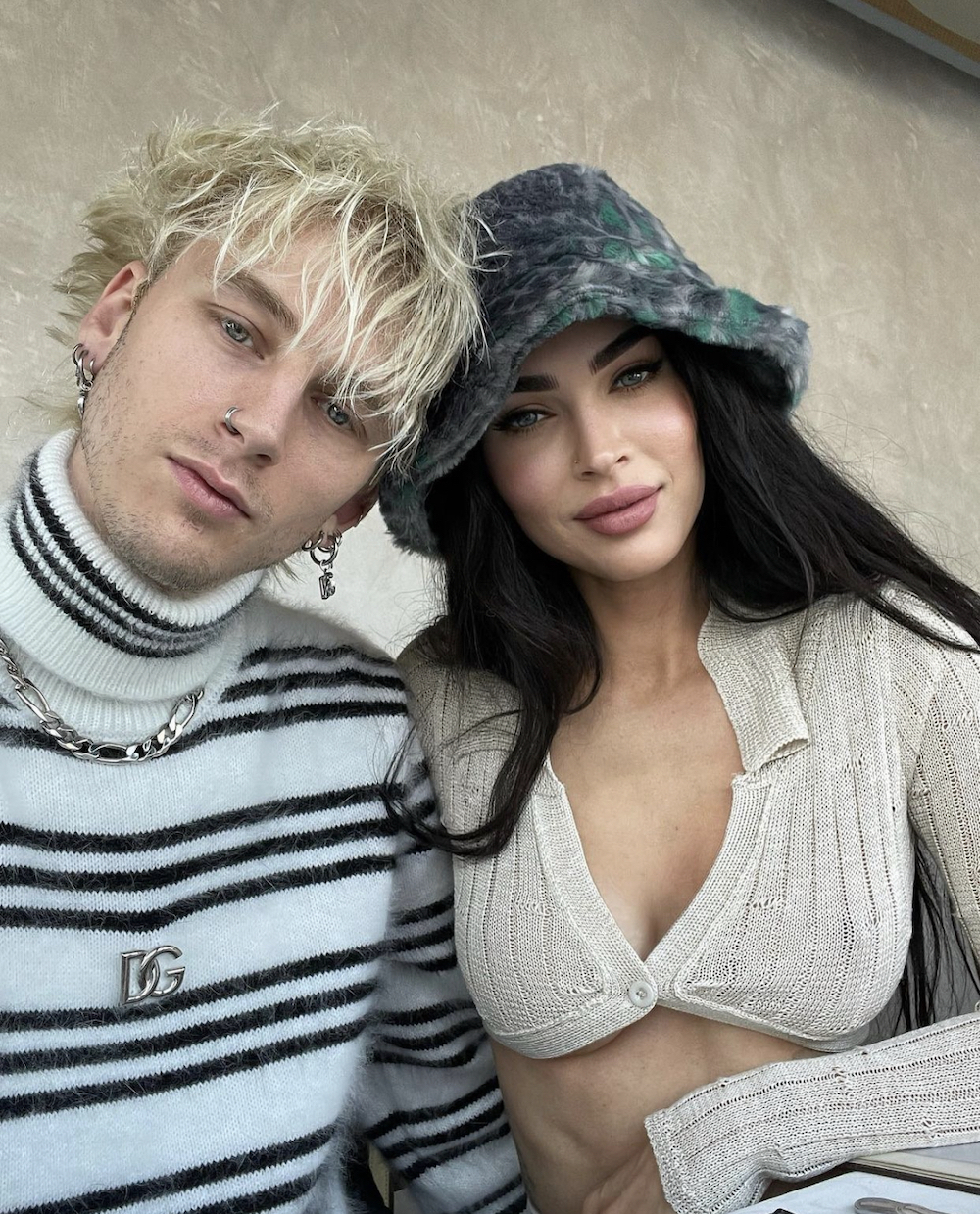 instagram
The PROPOSAL

1 The timing was right
Megan is the mother of 3 children with ex-husband Brian Austin Green. Colson waited for her divorce to be finalized before proposing. He had most probably been ready to propose for a while but respected this important family boundary.
2 He found the perfect proposal spot
Those of you who are in a relationship with an artist know the ups and downs these creative souls go through. After reading and listening to interviews of the couple, you get the feeling that Megan understands these struggles and has brought some peace and balance to Colson's life. The intimacy of the garden where he proposed is symbolic of what she is to him. Moreover, it is a place that is very meaningful to their relationship.
3 There was some blood drinking involved
And so what? Gothic and pagan traditions make mainstream people laugh. It makes you wonder why these same people watch vampire movies! Sacred blood pacts and offerings have been around for centuries and are always connected to important oaths, which include love commitments. As long as all parties are adults, willing and safe, what's wrong with a little blood drinking?
4 The matching manis
Colson made sure that him and Megan had matching manis on the day using a beautiful chrome effect, most probably from his brand new gender free line of nail polish UN/DR LAQR.
The RING
5. MGK picked the best jewelry designer for this project, UK star jewelry designer Stephen Webster.
MGK  has been a jewelry wearer and collector since his early days as a rapper.  He has impeccable and daring fashion sense and knows his jewelry. Stephen Webster would have been my top choice for Megan's ring too. Webster is an icon himself, talented and clever with a wicked sense of humor. His jewelry is a touch alternative and his ethos always "rock and roll".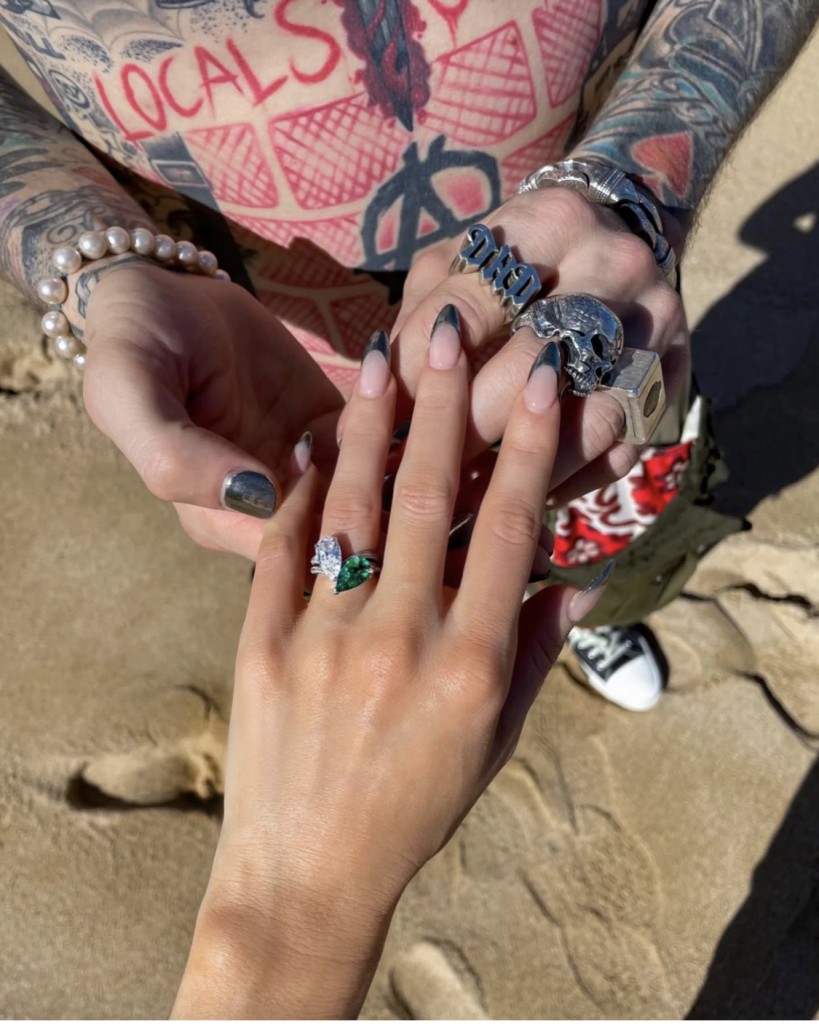 6. He chose a Toi et Moi ring
Two-stone engagement rings are called Toi et Moi rings. Each stone represents one of the souls in love. Napoleon was the first famous man to propose with a Toi et Moi ring (a pear-shaped diamond set with a pear sapphire design). In America,  JFK proposed to Jackie with a bypass two-stone ring featuring an emerald cut diamond with an emerald. Since then, this type of engagement rings had fallen out of style, until a few years ago, when the trend was restarted by Emily Ratajkowski. She chose a Toi et Moi engagement ring with a pear-cut diamond next to a princess-cut diamond. MGK and Megan often talk about being Twin Flames, this ring design is the obvious perfect choice for them.
7. He personalized the ring the best way possible
The ring MGK designed for Megan with Stephen Webster is reminiscent of the Thorn floating solitaire from the Stephen Webster "No Regrets Chapel" collection. Pain is part of love, life, and the struggle of the artist. Machine Gun Kelly's tattoos are legendary. Including a Thorn setting must have been a no brainer when they started on the ring concept.
However, the design of Megan's engagement ring is customized to include details specific to the relationship. First, each stone is a birthstone (emerald for Megan and diamond for Colson). Second, Colson zeroed in on two pears with a similar shape, set together they look like two sides of a heart. Lastly, though the ring looks like a two-stone ring, it is actually made of 2 rings stacked, each made in magnetized sustainable gold. They represent everlasting attachment and attraction, it is all quite romantic.
A+
Sev
You can watch our 2016 movie Punk's Dead (co-produced by me , directed and written by my love James Merendino)  starring MGK on Amazon here