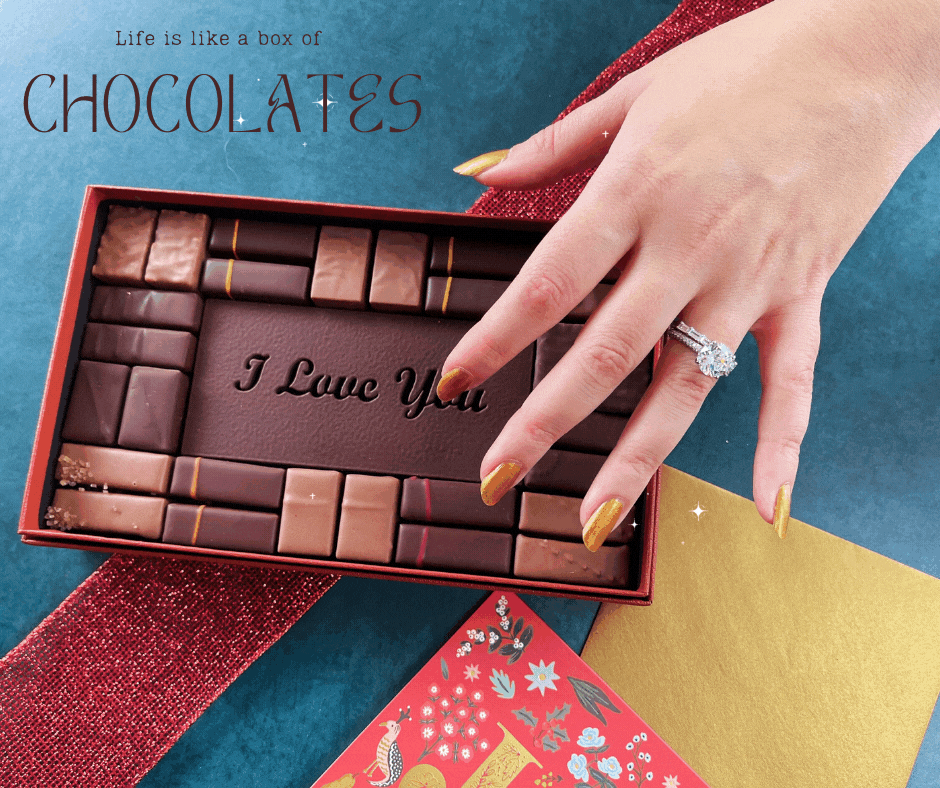 It's "Engagement Season", the time of the year when there's an uptick in proposals. Just an excuse for us to play with some gorgeous Sylvie wedding sets and La Maison du Chocolat beautifully packaged chocolates.
In the intro picture you can see we mixed Sylvie's Maryam solitaire in white gold with a baguette band, and in conclusion of this article, we paired it with a modern vintage style wedding band in rose gold. We love La Maison du Chocolat new coffret assortment with an engraved dark chocolate plaque that says "I Love You", such a great gift for someone very special in your life! We were not able to see Sylvie in person this year but were able to chat for a quick interview about jewelry, chocolates and the holidays!
Why is there such a boost in engagements during the holiday period?
Sylvie When one plans a proposal, they want their immediate family members from both sides to be present for such an important event. The holidays are usually celebrated with families, so it naturally makes it easier to plan a proposal when all are already gathered during the festive time of the holidays!
Are the holidays a cherished time of the year for  you and why?
Sylvie Very much so, my family is so important, I feel my best when we all together. My children are always home with us on Thanksgiving, Christmas, and New Year's!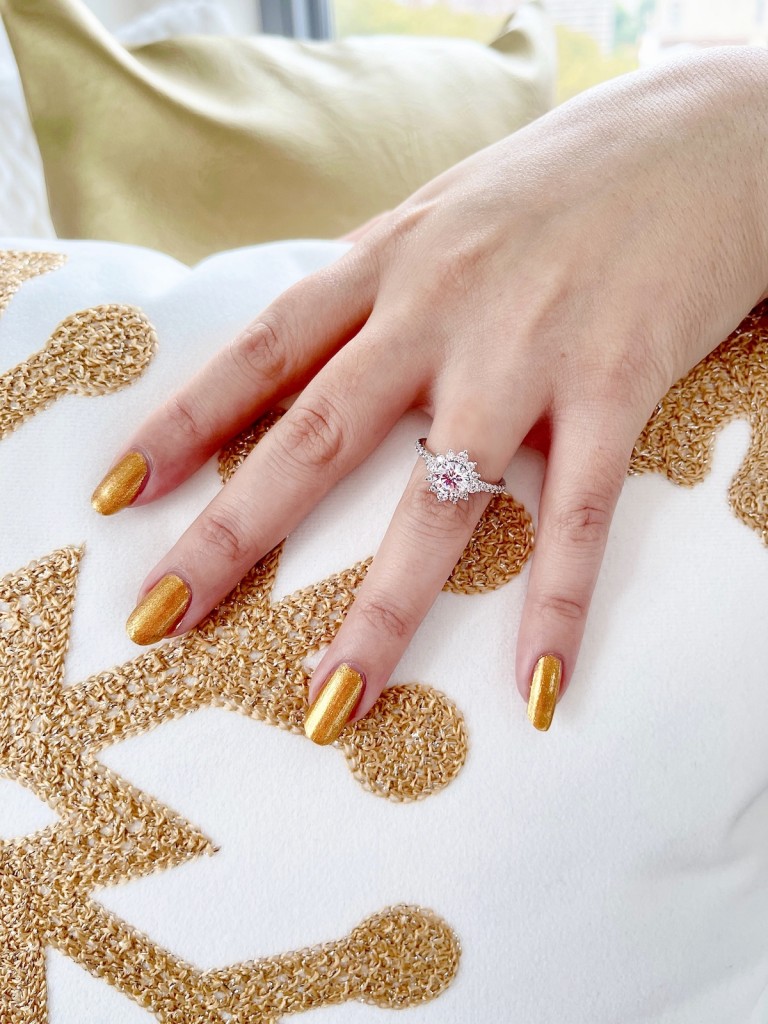 In the new collection, what is the ring that symbolizes the most the Holidays?
Sylvie The Farrah ring (S2601 pictured above)  because of the different size stones in the halo. The shape created looks like a snowflake.  This type of halo also reminds me of a sunshine which makes me happy, and holidays are such a happy time! 😊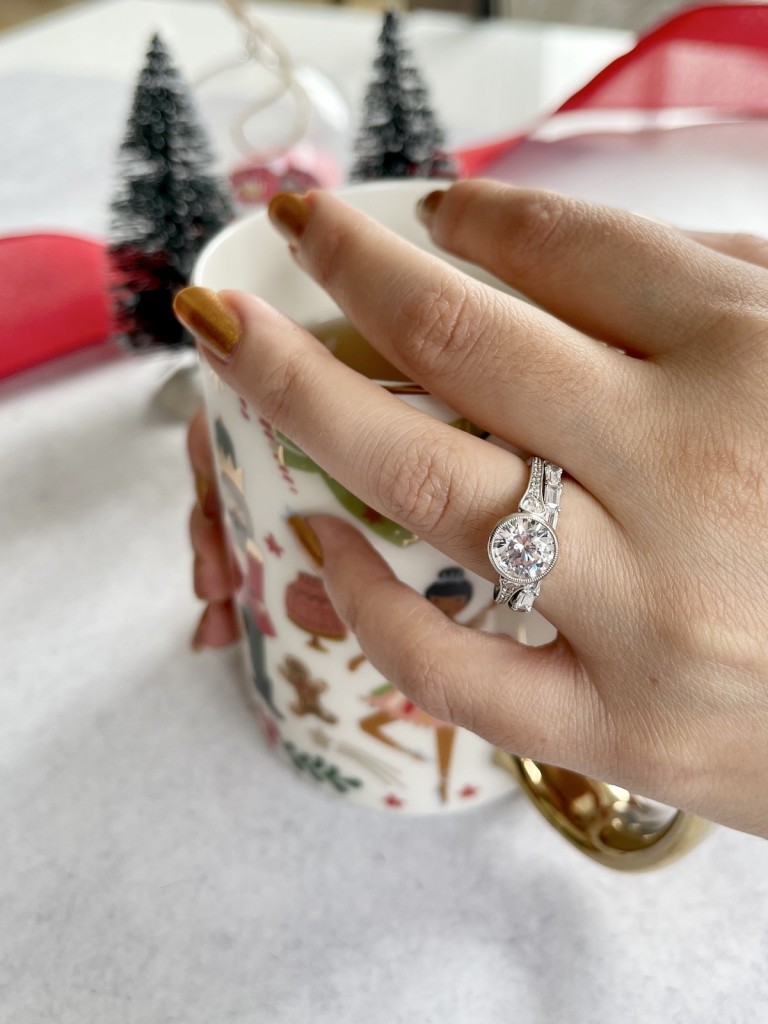 I love the fact that you have added new styles with diamond baguettes, as the Holidays are traditionally when people wear a lot of sparkly outfits. Why have they risen in popularity?
Sylvie They are part of the rising trend of fancy shaped accent stones. Brides want very simple mountings, and adding baguettes allows me to make the mounting interesting yet keep it simple!! (pictured above the  S2504 – Esmeralda engagement ring with a diamond baguette band).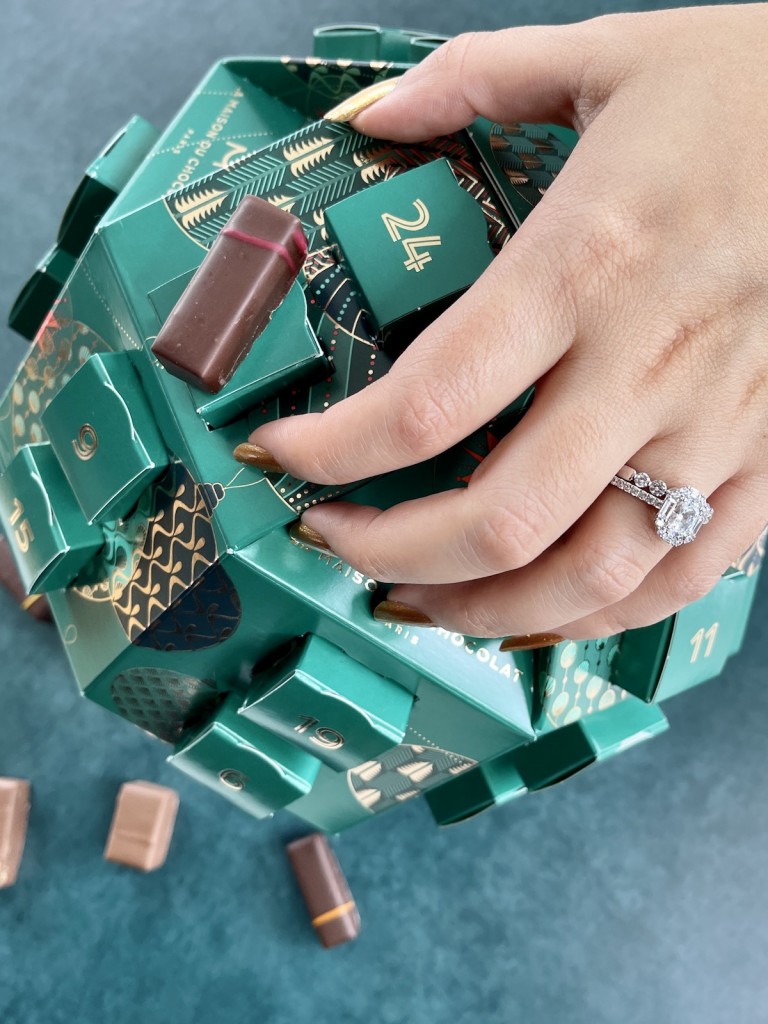 Chocolates and advent calendar La Maison du Chocolat, S2658 – Presley engagement ring with emerald cut diamond center and a halo made of a mix of round and diamond baguettes. Diamond band by Sylvie too.
We used a lot of chocolates as props for the shoot. Sylvie, you are originally from Belgium which is one of the 3 countries with France and Switzerland where you can find the best chocolates in the world. Do you like eating chocolates?  
Sylvie I am a "chocoholic". I looove chocolates and am particularly picky and like my Belgian chocolates!! I love milk chocolate with nuts, Côte D'Or is my favorite!! (Note from Severine, send Sylvie some La Maison du Chocolat chocolates ASAP though Côte d'Or chocolates are pretty good, I concur.)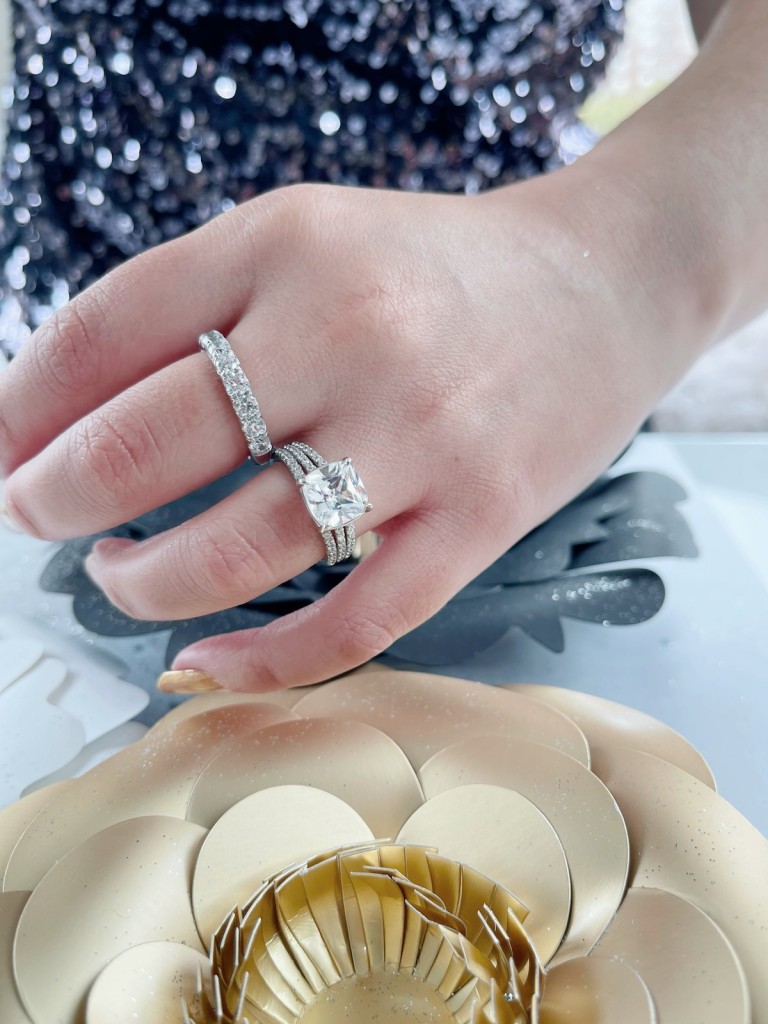 Thanks Sylvie for sending us these beautiful rings to review. Check out this new design, a 3-row split shank ring (brand new style S 2132) that's quite the statement piece and very sparkly. It feels like it stands on its own, that you don't need a wedding band on the same finger. If you do want to wear one, go big or go home with this classic shared prong style.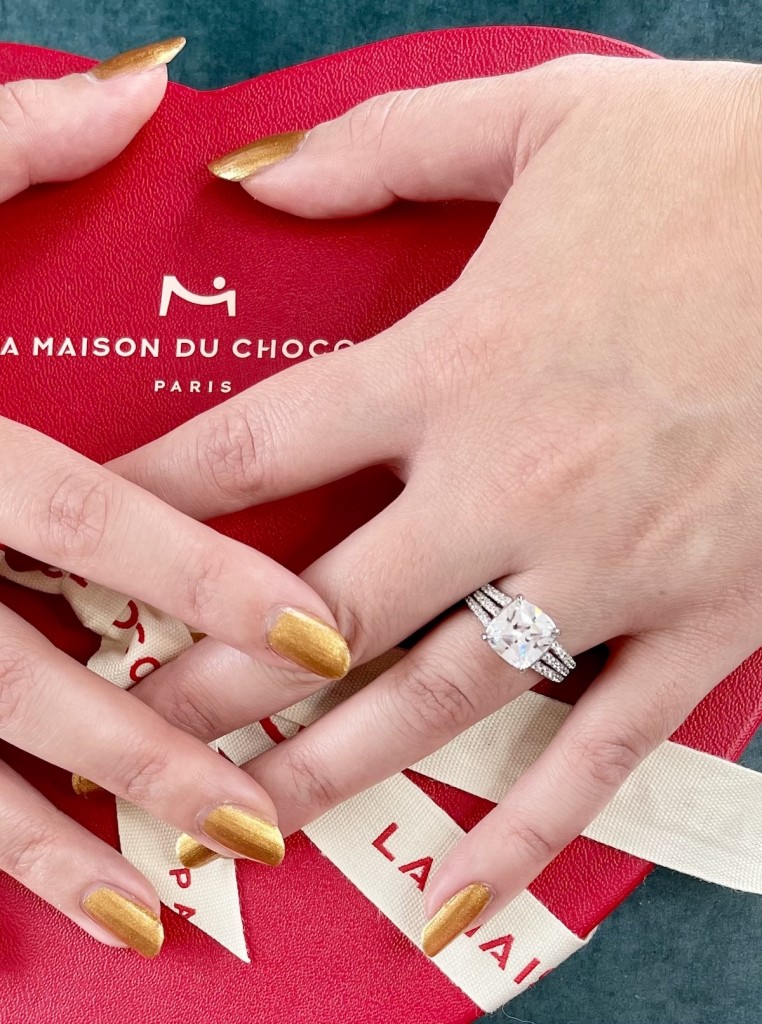 Heart-shaped chocolate box by La Maison du Chocolat. Paris Hilton just had a lot of these at her Alice in Wonderland bridal shower. 
Story and pictures Severine Ferrari in collaboration with Juliette Lê