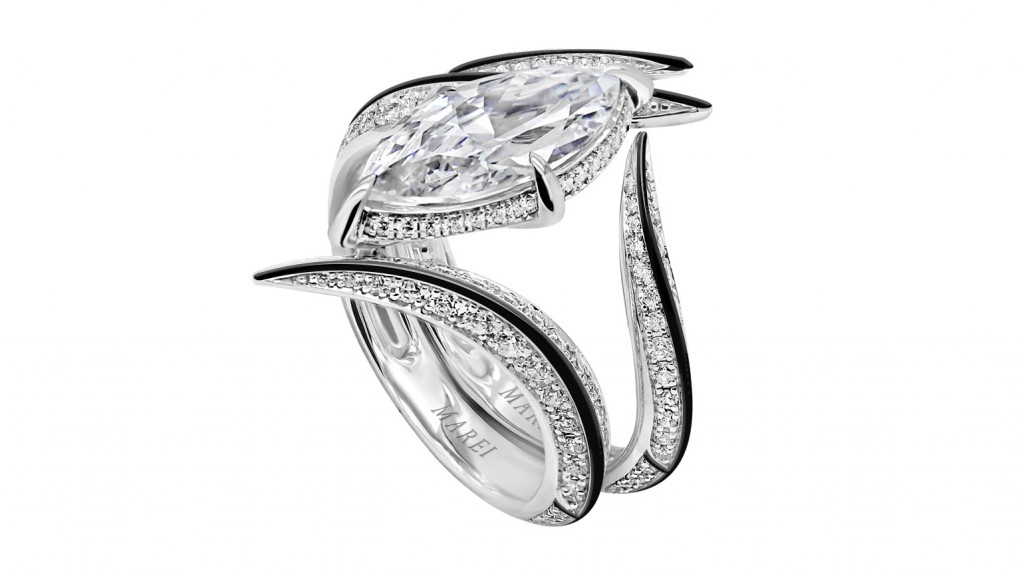 When I got engaged a few years back with a marquise ring, most people in the jewelry industry looked at me sideways  while uttering  "How interesting". Fast forward a few years and marquise diamond rings are having a moment. This uniquely shaped diamond originated from France during the reign of King Louis XV. The king commissioned a jeweler to make a diamond ring shaped like the lips of his beloved mistress, la Marquise de Pompadour (such a "French"story).
I love and recommend marquise cut diamonds, but beware of their breakable pointy ends. Some length to width ratios can be more fragile than others, so chose your stone and setting wisely according to your lifestyle. The spread of a marquise diamond on the finger makes the diamond look so much larger than a brilliant cut or even an oval of the same carat weight. A marquise diamond will more often than not include a bow tie effect that the setting design needs to embrace or hide.
There's a very classic way to set an engagement ring with a marquise center, that's not what this article is about. The designers whose beautiful and unique rings I curated in this post looked at this challenging diamond shape with a fresh eye.
Opening this article, you must have noticed  the gorgeous Ayla ring by Angie Marei . I picked a platinum version with a diamond and black enamel. It also looks beautiful in other metal colors and with colored gemstones. This very unique piece is inspired by Arabic calligraphy and is also a daring new spin on traditional Ancient Egyptian snake jewelry. Marei created this serpentine ring to invoke a feeling of seduction, eternity, and immortality. Paired with a pavé band from the same collection, it looks even more spectacular.

Find out how much you would pay for ring insurance now!
I am a big fan of Stephen Webster's new "No Regret Chapel" collection. Inspired by Stephen Webster's legendary 'Lady Stardust' collection, the 'Band Together Inner Ring' takes inspiration from David Bowie's alter ego Ziggy Stardust and the bold, lightning bolt motif emblazoned across his face. Don't miss the two pear-cut side stones pictured below and make sure to buy it with the 'Band Together Outer Ring'. This ring stack is simply spectacular, embracing the angular shape of the marquise, while making sure it doesn't get in harm's way.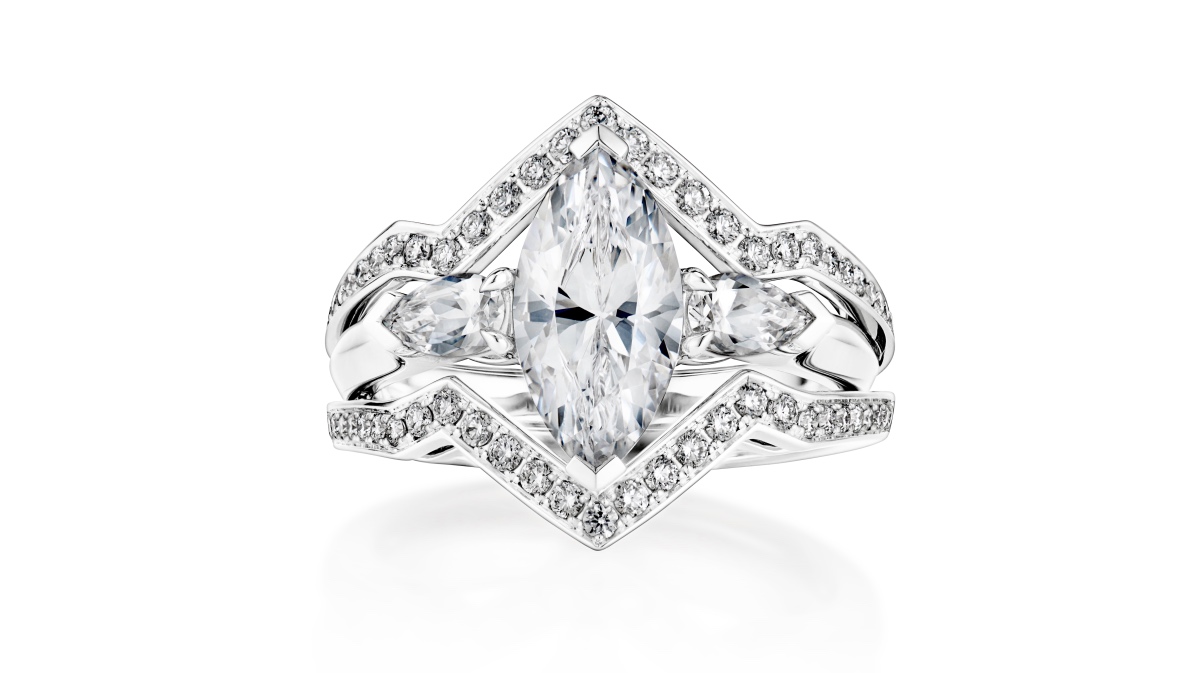 The just launched Monique Lhuillier BLISS collection is simply the best designer-who-is-not-a-jeweler bridal line I have ever seen. Monique is known for her beautiful and impeccable details, from her nature-inspired accents, to her elaborate lace trimmings and the craftsmanship of her dresses that fit like a glove.  I was really happily surprised to finally see a jewelry collection that truly reflects who the celebrity designer is. The ring below features 4 beautiful marquise cut diamonds set in a way that softens the angular look of the center stone. It is very Monique Lhuillier.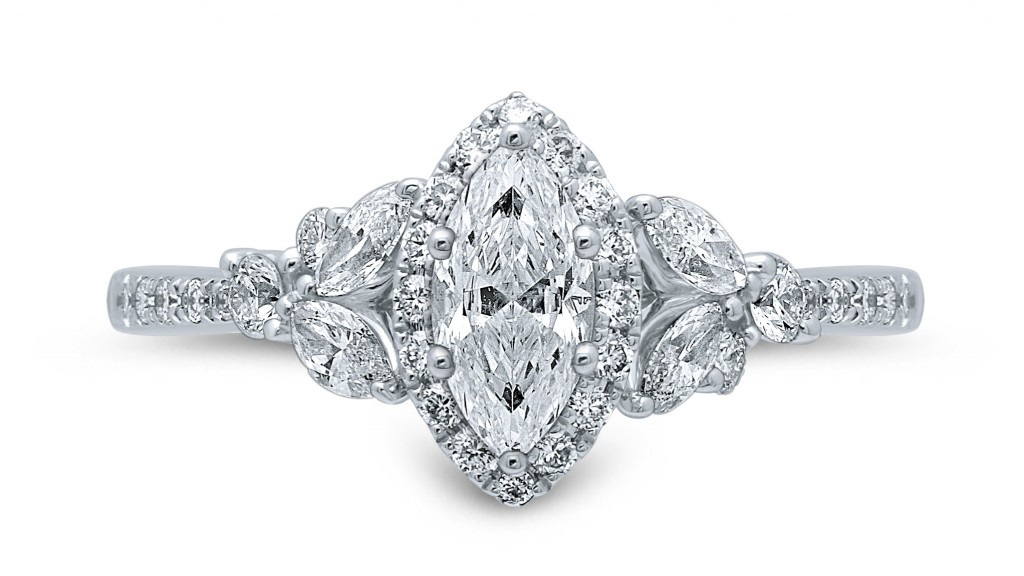 East-West Marquise, A Different Perspective …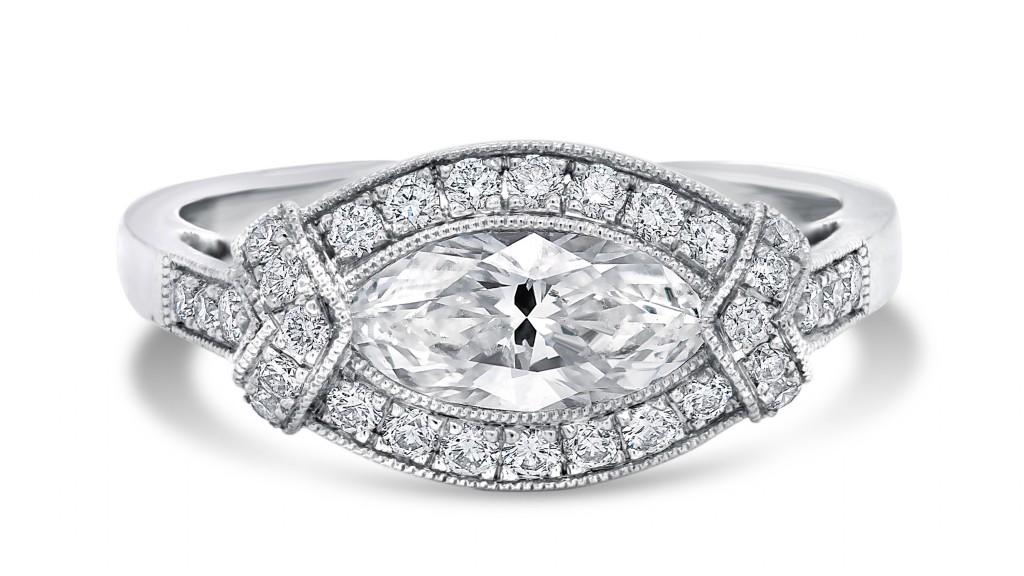 As I mentioned in my intro, marquise diamonds are pointy. Instead of wearing your marquise vertically, consider an East-West setting. This Nicole Rose vintage-inspired platinum setting makes the center stone look so much larger and protects it from everyday wear and tear.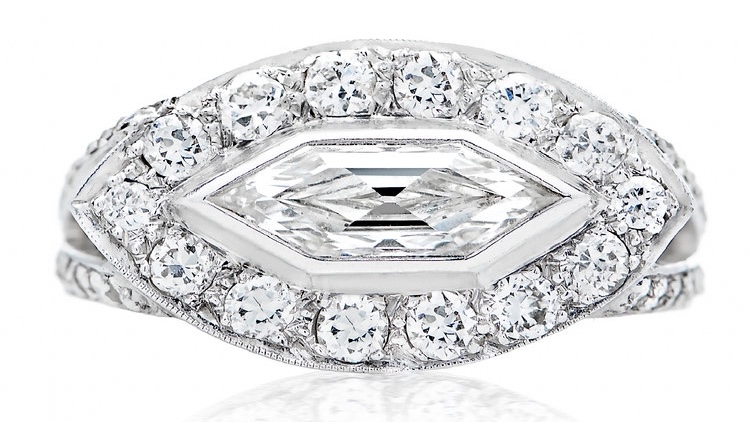 I know, I cheated this is not a marquise but a rare hexagonal cut diamond. However, it is surrounded by a lovely marquise-shaped halo. Gorgeous custom ring by Mindi Mond.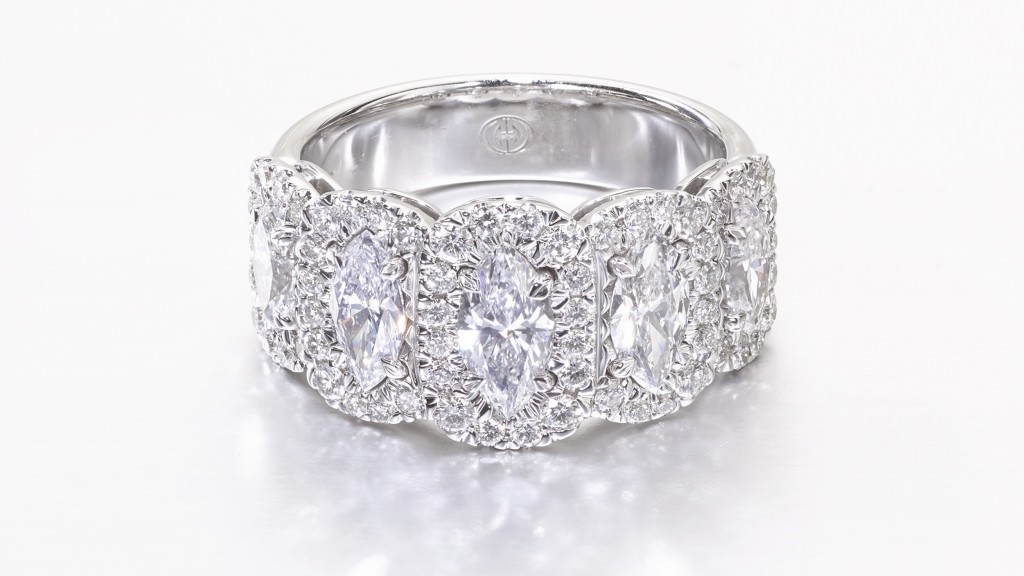 I am very supportive of the trend of picking eternity bands in lieu of engagement rings. If budget and comfort are an issue, half eternity bands are a great choice too. This ring by Christopher Designs includes 5 marquise diamonds and is pretty spectacular.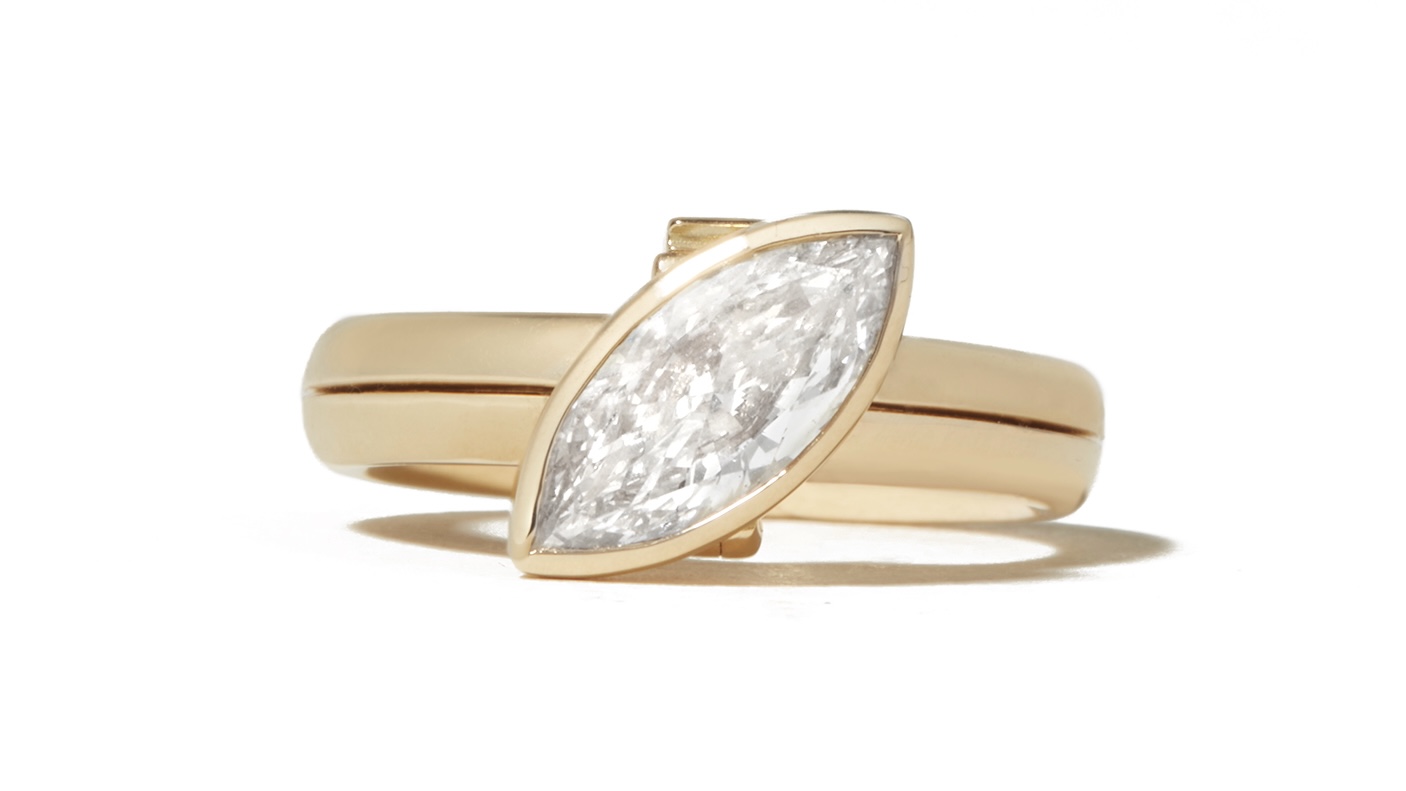 I reviewed Marla Aaron's new DiMe Siempre collection earlier this year. This is one of my favorite rings from the collection. The Askew ring features a marquise diamond set on the bias. When the lever is lifted —  the ring opens up to reveal the hand engraved secret message of your choice.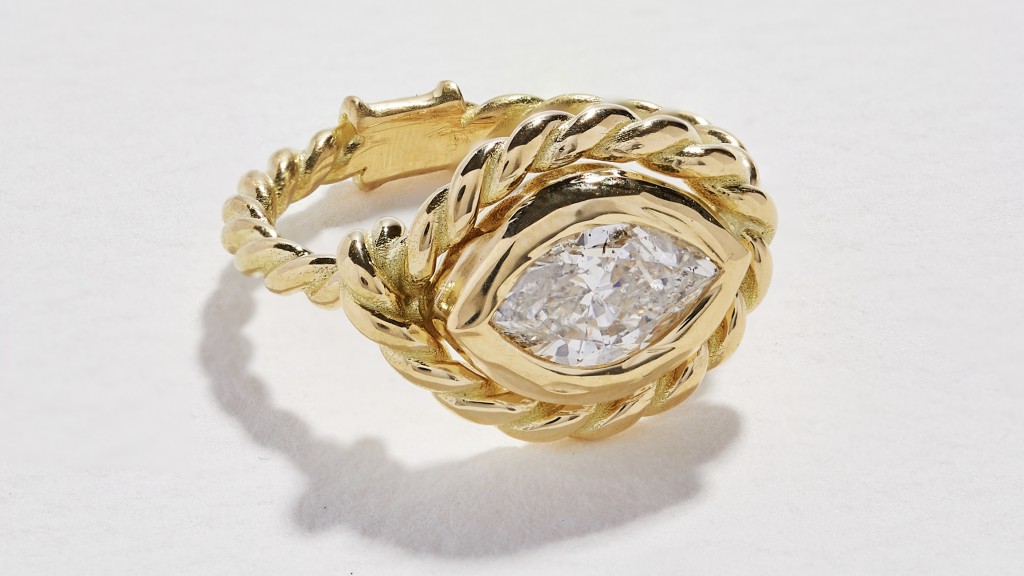 The new Ceremonial Love collection by Pamela Love is exquisite. I love the pieces featuring braid and rope details. Check out the beautiful Selene pictured above. Pamela was inspired by ancient jewelry and created an array of textured organic pieces that can be worn by anyone ready to commit for love.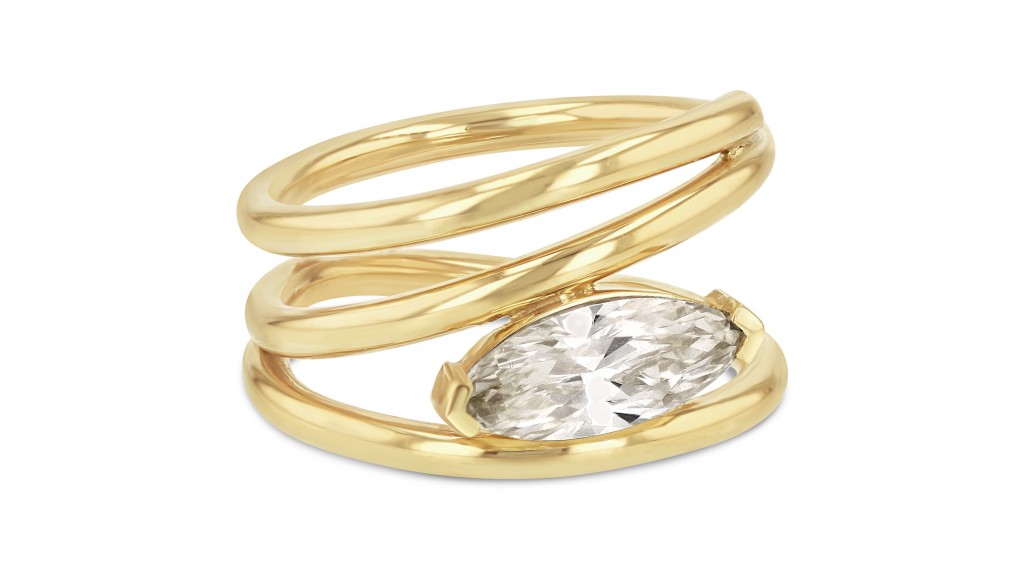 Are you unconventional and about to get engaged? You should consider the marquise Helix Ring by Grace lee . This ring can be both your engagement ring and wedding band. The Helix design has an airy effect with space in between the multi-bands and the diamond appears to be floating!