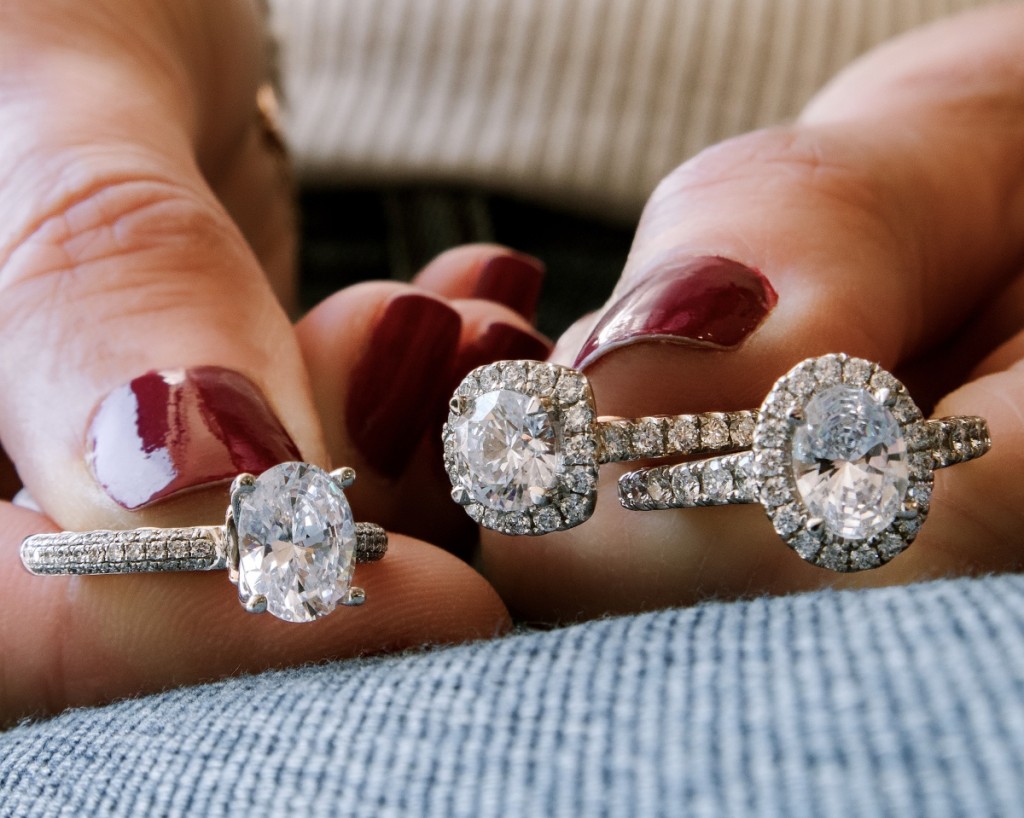 Cartier and Tiffany and Co. have built mainstream brand recognition. They do sell engagement rings but as  you'll start ring shopping, you'll discover new brands focused on offering engagement rings and weddings bands. Why have these bridal jewelry brands built a following of their own? What is the secret of their success? To answer these questions, we had to ask a jewelry retailer who sells them.
Ashley Gross is the social media  manager of H.L. Gross , a beautiful and reputable jewelry store in Garden City, NY. She created all the pictures featured in this article.   First, I asked her to share with us how H.L. Gross customers narrow down specific engagement ring styles and brands.
---
"We meet a wide variety of women shopping for their dream engagement rings." Says Ashley.  "Some are just starting their search and want to try rings in different styles, sizes, shapes and metal types to get the best idea of what they like and what looks best on their hand.  Other women know the exact ring, style, or brand of ring that they love after hours of online shopping. Both the novice and veteran ring shoppers have something in common…they want a ring that compliments their style and lifestyle. 

Men tend to be more concerned with the center diamond while women are generally more intrigued with the ring's overall look. 

Once they decide on the style they like most, our female clients tend to gravitate toward a specific designer brand that specializes in her preferred aesthetic.  When a woman falls in love with a specific ring or designer, she always finds a way to let her partner know. Women are the best at dropping hints… "
---
Let's find out which brands are H.L Gross customers favorites and why.
H.L. Gross carries most of the best selling engagement ring brands in the U.S.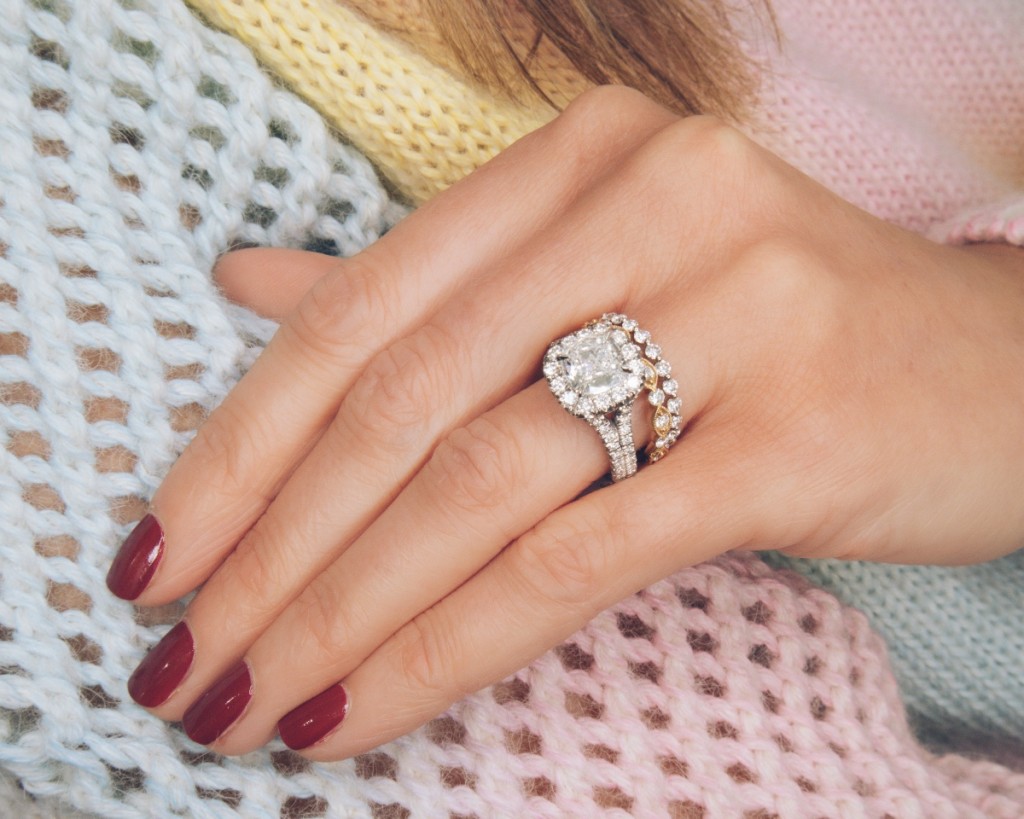 Henri Daussi
Henri Daussi sets their exclusive Daussi Cushion in a bed of bright white diamonds to create engagement rings that outshine traditional cushion halo designs.  They hand select the perfect stones to transform into this signature cut that overshadow diamonds of equal weight.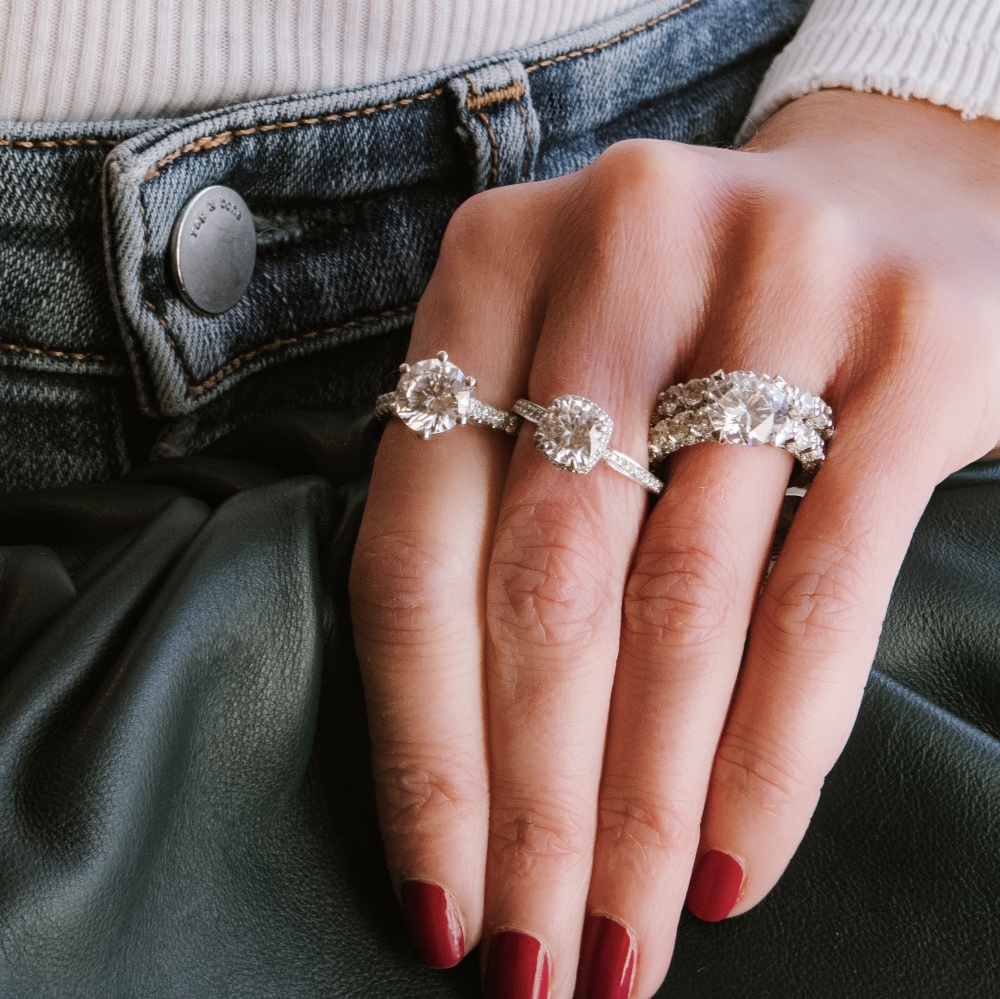 Tacori
Adorned with their signature crescent silhouette, Tacori rings are renowned for their modern vintage aesthetic.  Tacori's designs truly embody their mantra Beauty from all Angles.  Tacori's details should be as enduring as your love, which is why their rings look best in platinum.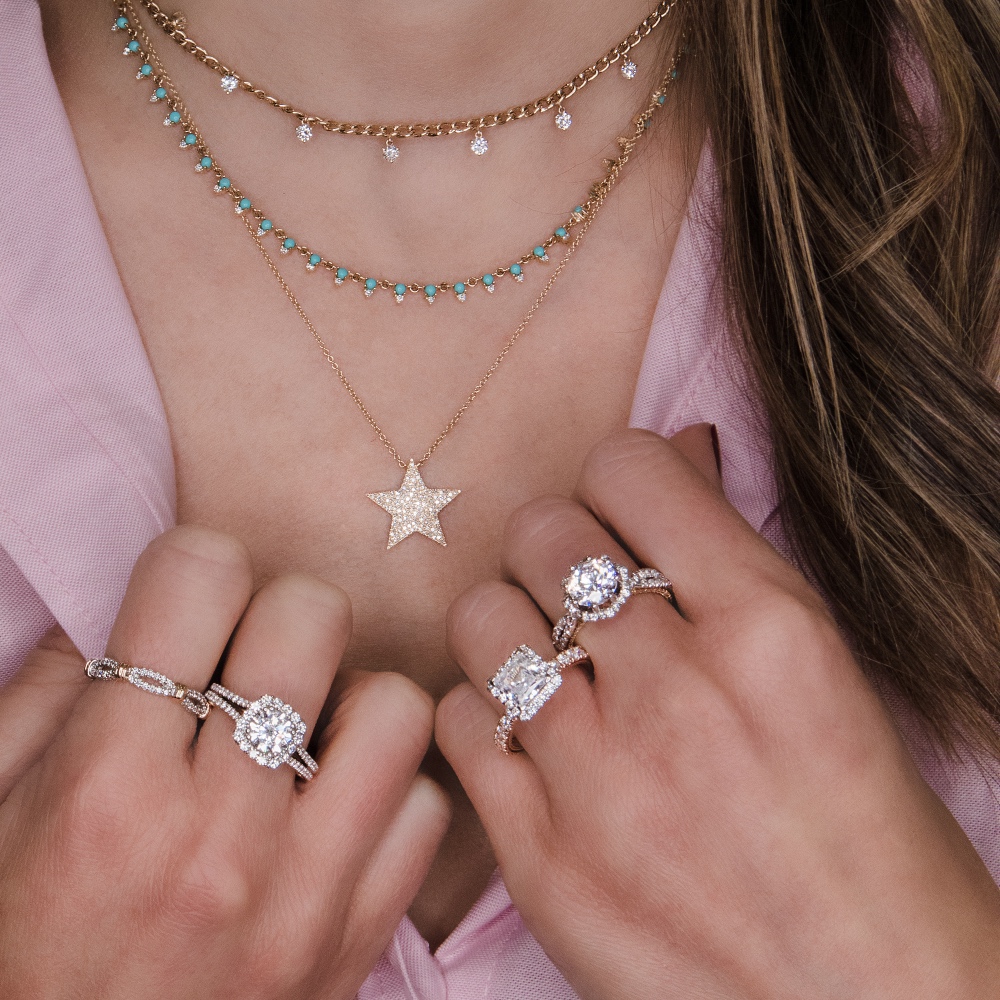 Verragio
Verragio is truly "Unlike Any Other Ring."  Their uncommon designs can be customized to be as unique and interesting as the person wearing them.  From simple and classic, to two-toned and ornate, Verragio will create your one-of-a-kind dream ring.  All Verragio engagement rings have a dedicated matching wedding band available with matching personalized intricacies.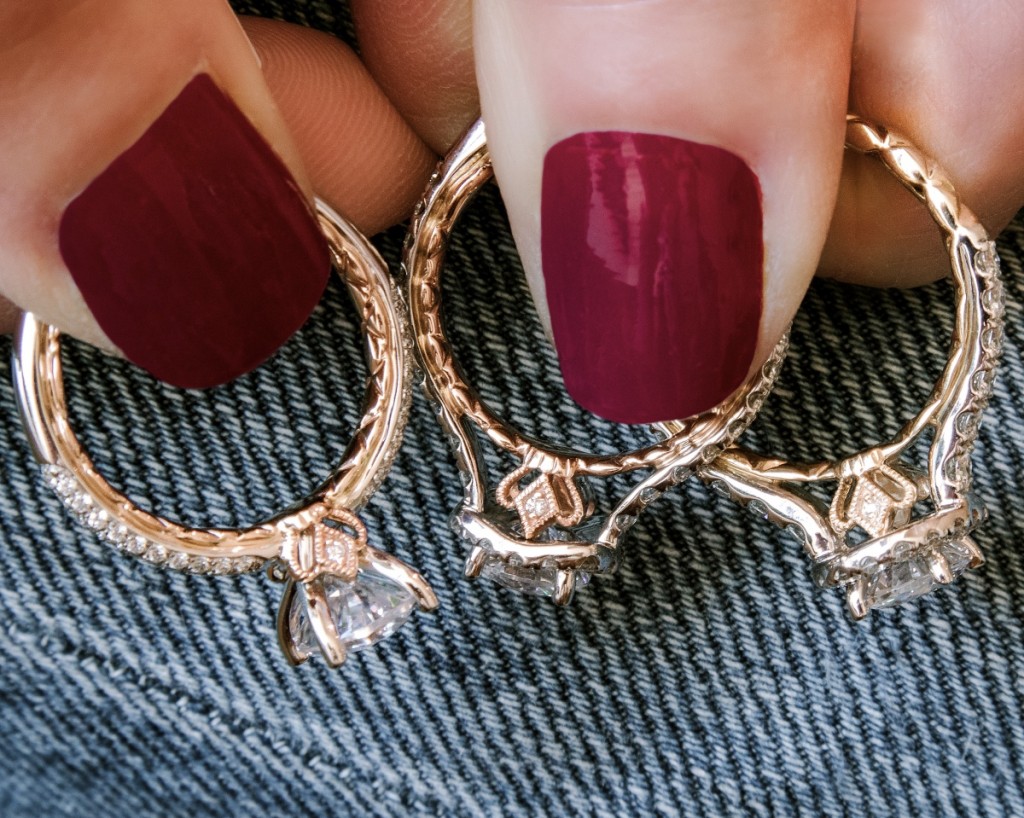 A.Jaffe
(also featured in the image on top of this article)
Few bridal ring design houses have the experience and longevity as A. Jaffe, a New York institution since 1892.  Their timeless designs incorporate an art deco feel with a sleek feel and modern sparkle.  Their signature Quilted Band gives their rings a smooth, comfortable feel for maximum wearability.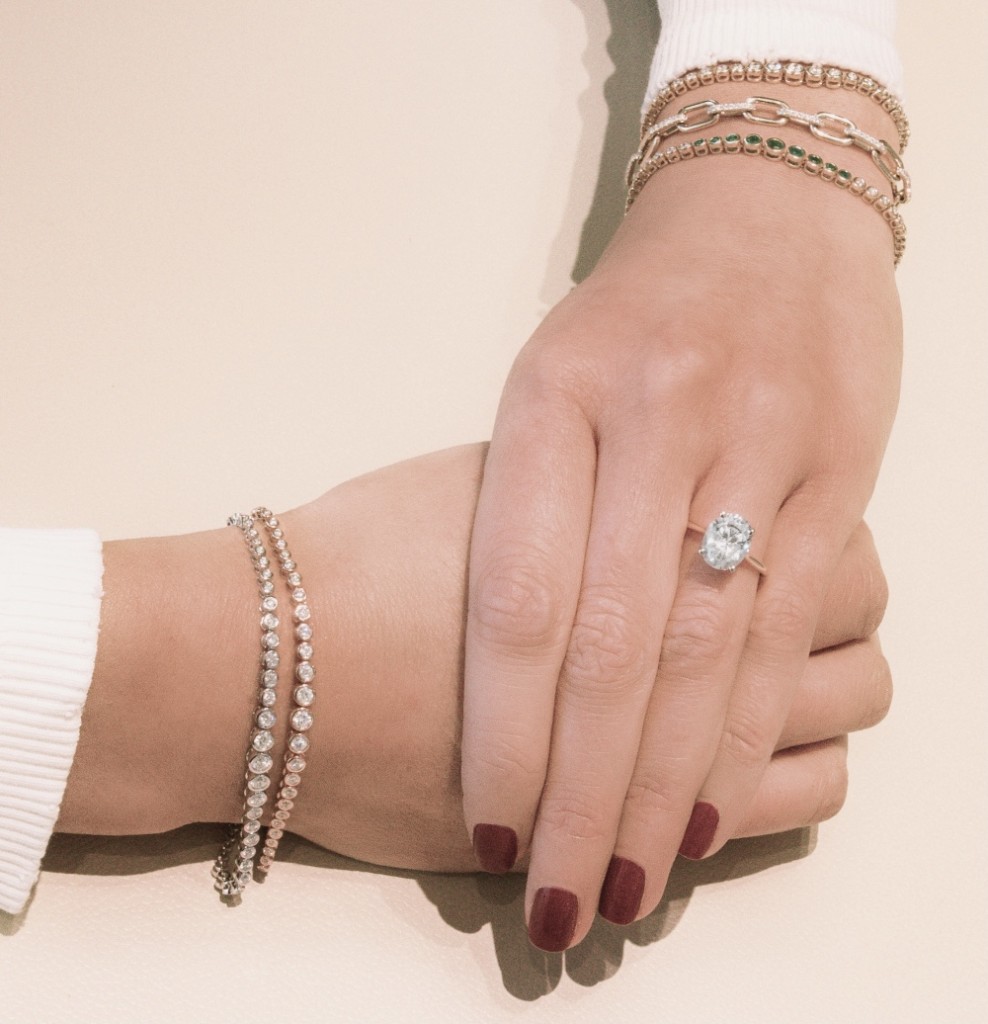 Precision Set
Precision Set rings achieve a refined elegance through simple design. Their rings have a clean, classic look that beautifully showcase the center diamond, while providing a silky, luxurious feel.  Since no bridal suite is complete without a complimenting wedding band, all Precision Set rings are designed for a seamless fit between engagement ring and matching band.
Browse the H.L. Gross website to find out information about these rings and even more options