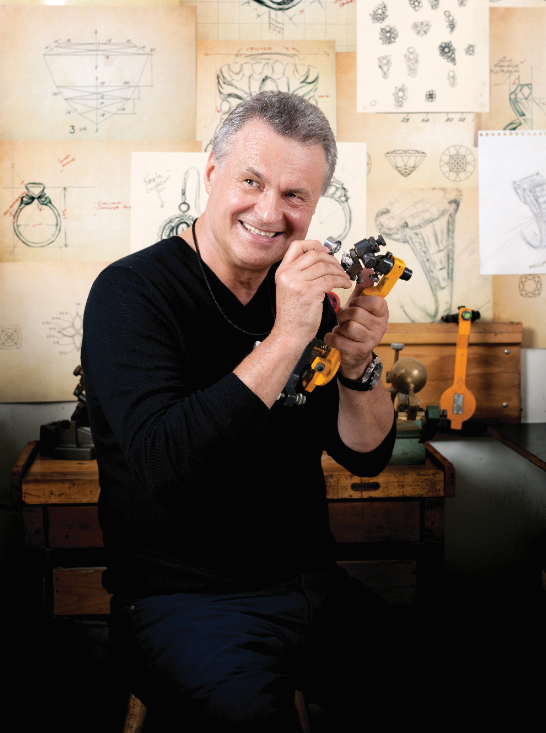 What would we do without the internet? Even if New York has (crossing fingers and toes) flattened the curve, we still find it safer to communicate with designers and our audience remotely. We loved  catching up with Christopher Slowinski of Christopher Designs  . He just released a beautiful brand video  New York centric. We are also so excited to feature in this article the stories of 4 couples who recently picked a Christopher Designs engagement ring.  It was lovely to chat with brides-to-be from the US, Europe and Canada. As for Christopher, he is a renaissance man, which always makes our conversations  interesting.
Sev: As both a jeweler and a painter, New York has always been a great inspiration for your work and designs. Tell us why New York has become one of your most important muses?
Christopher: The energy in New York is unmatched. Even in the most challenging of times, inspiration is everywhere in this city.
Sev: You are known in the jewelry industry for being an innovator. You have created diamond cuts that look brighter and larger than classic cuts. New Yorkers are savvy and love a good deal. Your flexible bangles are beautiful and also very practical to wear. Are New York women the inspiration behind some of your technology breakthroughs?
Christopher: In a way, absolutely. The New York woman is on the move. Her jewelry must be timeless, elegant, but most importantly, practical. My designs are classic for everyday wear and stunning for special occasions, all while being extremely functional and comfortable to wear.
Sev: Tell us about your new brand video campaign which is a lovely love letter to New York and New Yorkers. What were you trying to convey?
Christopher: As a New York based design house nearing our 40th year, the city is our creative backdrop. We wanted to illustrate a day in the life of a modern New York woman who is effortlessly stylish, hard-working, and magnetic. To me, she feels both inspirational and relatable.
Sev: During this very peculiar year, many couples have gotten engaged and more are planning to this Holiday season. What are popular 2020 engagement ring trends and diamond shapes?
Christopher: Our L'Amour Crisscut Classic diamond stands the test of time as far as popularity goes, but we have seen a huge interest in our L'Amour Crisscut Oval! More and more brides are choosing the L'Amour Crisscut Oval which offers a 35% larger spread, a brighter appearance, and no pesky bowtie that is commonly found in a generic oval cut. Our Crisscut Brides have been setting their L'Amour Crisscut Oval in our classic halo style, or with a pair of tapered L'Amour Crisscut side stones.
Christopher Designs rings are made in New York and Crisscut Brides wear them all over the world.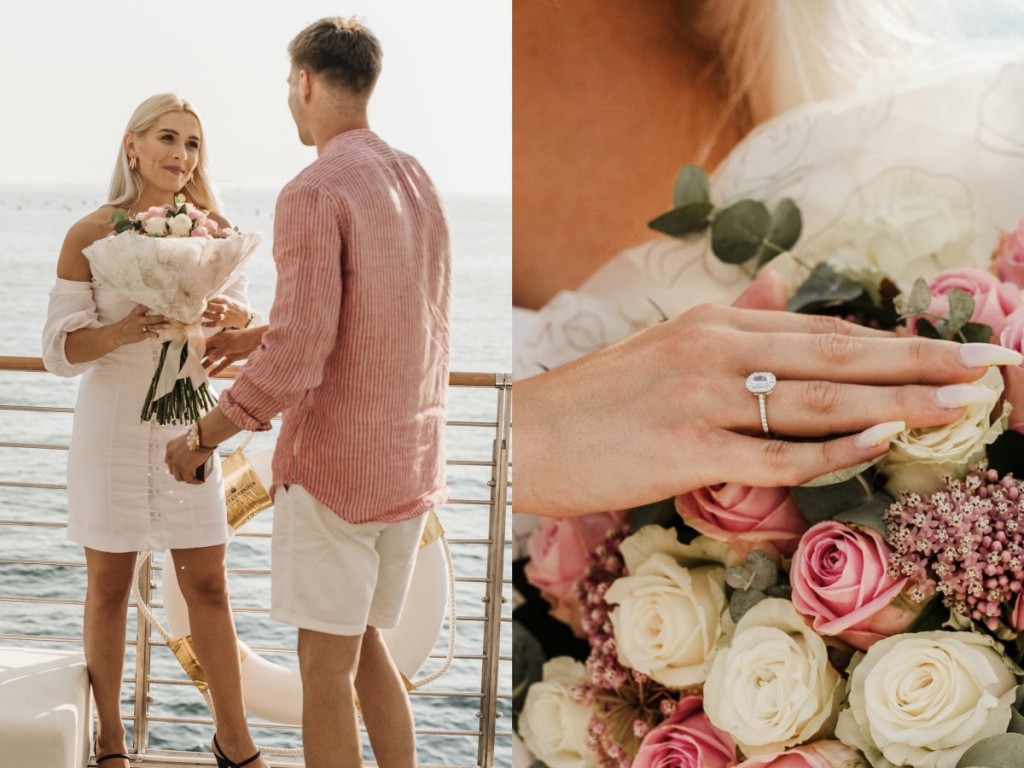 Helena Vrbetic's fiancé Gregor proposed on the cost of Italy in Portopiccolo. "I work at Barry's Jewellers and we are located in Burlington in Ontario. Over a period of time, my fiancé took note of my likes when it comes to rings. It was pretty hard for him to zero down on one ring because I work at a store where I'm surrounded by upscale diamonds. But he was amazing and he picked my favorite brand which is Christopher Designs and the most beautiful cut of diamond that works best for me. It was a dream proposal and everything about it was magical," says Helena.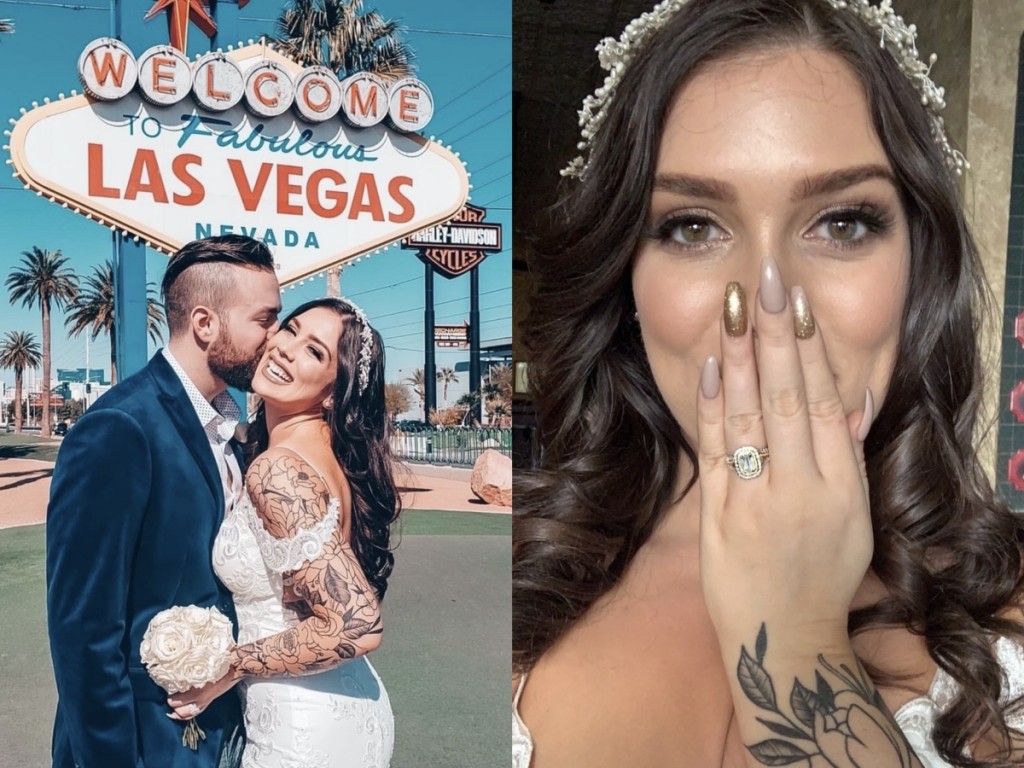 Ben and Madison were snuggled up with their fur babies admiring their Christmas tree when Ben said, "Should we do it? Do you want to elope in Vegas?!" Immediately, Madison turned to him and said, "Absolutely!" From there it was a whirlwind of planning. From dresses to the perfect location and photographer, everything was coming together, except for the rings. Having dreamt about her wedding and engagement ring since she was 14 years old, Madison quietly accepted that the impulsivity of their plans likely meant that she would not be getting her Dream Ring. Regardless of that, she was blissfully happy and couldn't wait for the day she would became Ben's wife – ring or no ring! Ben took Madison to look at rings one afternoon and she kept going back to the Christopher Designs case. She had her eye on one specific design from Crisscut. This ring had a stunning emerald cut centre stone. Ben surprised her with this specific ring the day before their wedding.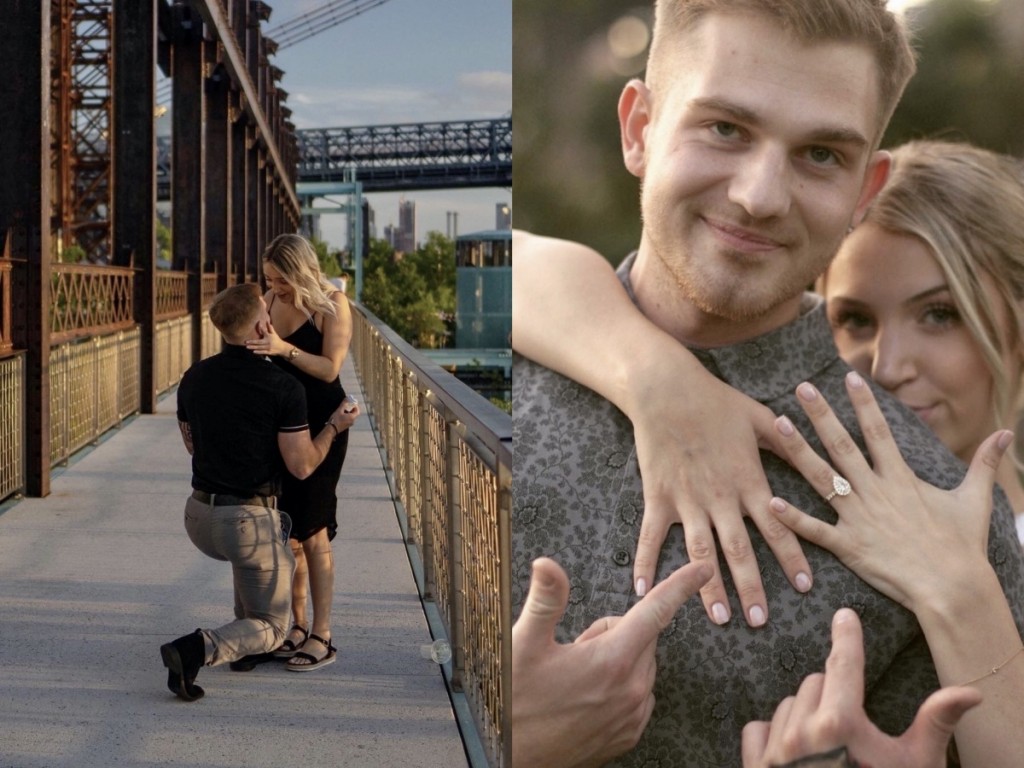 Jason and Caitlin met in July 2019 at a bar in Williamsburg in Brooklyn. They both didn't want to go out that night but their best friends made them. They ended up falling in love right away. They've been together ever since. They moved in together this past May and got engaged in July. Jason brought Caitlin to the Piers they had walked on the night they met. He got down on one knee and asked her to spend forever with him. They are getting married in June 2022 in a beautiful conservatory. Caitlin always wanted a pear and gold ring, and Jason had it specially custom designed by Christopher Designs.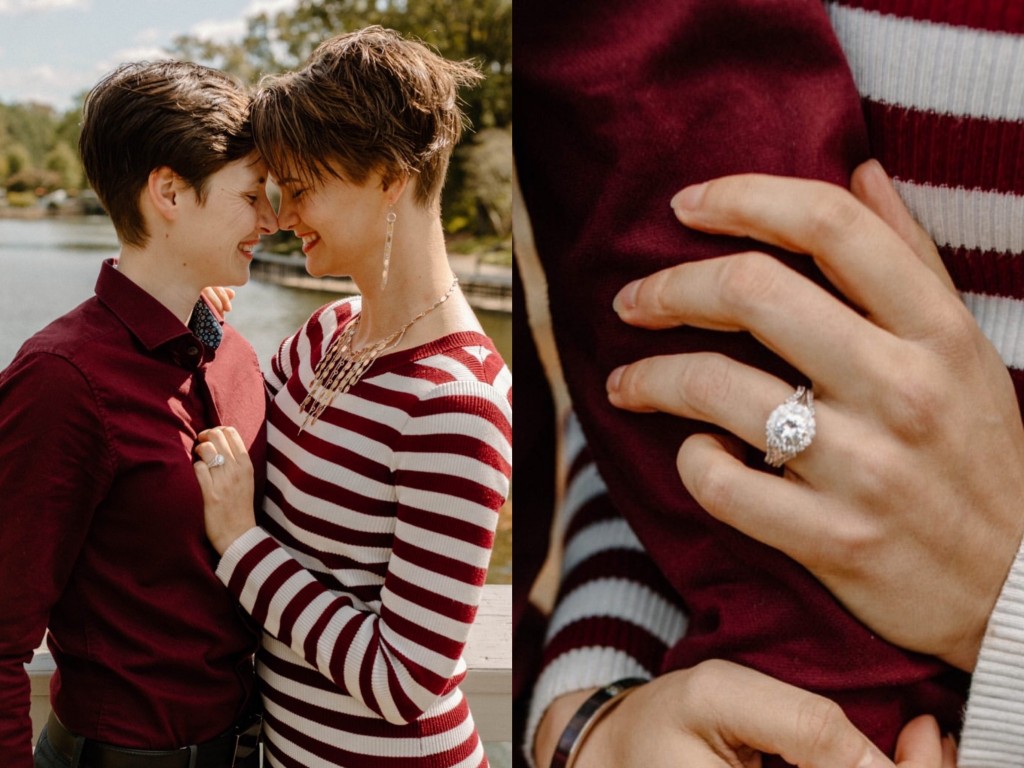 Rachel and Samantha were planning to spend some time with Samantha's family in North Carolina and Rachel knew she wanted to propose there. Rachel snuck off to her jewelers Isaac Jewelers and picked out a ring designed by Christopher Designs that she loved, and knew that Samantha would love too. When Rachel started looking for a place to propose online she remembered that they had been to Pullen Park during their last trip. Samantha's grandmother had told them about the extensive family history connected to the park. They had been going for 4 generations so Rachel knew that was the perfect place. She hired  photographer Kyrsten Le  to hide and capture the moment. It went absolutely perfectly and Rachel surprised Samantha by meeting their families and friends for mini golf afterwards. We can't wait to share more Christopher Designs brides' stories this Engagement Season.
Disclosure: This is not a sponsored post but Christopher Designs is one of our advertising partners