This year has been tough on everyone but hasn't stopped couples from celebrating their love and get engaged. Love is what this crazy life is all about. In times of turmoil, turning to traditions comforts us. It reminds us of the generations past, what they went through, and how they prevailed. Engagement ring designs have become more and more creative in recent years. Yet, traditional diamond solitaires are still embraced by a majority of brides-to-be.
H.L. Gross
is a jeweler based in Garden City, New York. They sell  most  of the leading bridal brands in the US, such as Tacori, Verragio and Sylvie. They also offer  beautiful diamond solitaires as part of their in-house Signature collection.
Check out this video for our 5 favorite styles.
We sat down virtually with Brad and Ashley Gross to chat about this new collection and some of the design variations.
What was the intent behind creating a signature in-house collection?
Our new HL Gross Signature bridal line is a collection of classic yet modern engagement rings.  We responded to our clients' desire for rings with a delicate look and feel, but also incorporated subtle details that will showcase a beautiful center diamond.
Why are solitaires still the go-to engagement ring setting?
With solitaire engagement rings, it's all about the diamond!  We are mystified by a single dazzling diamond worn on the ring finger.  It can be the star of the show without need for confusing embellishment.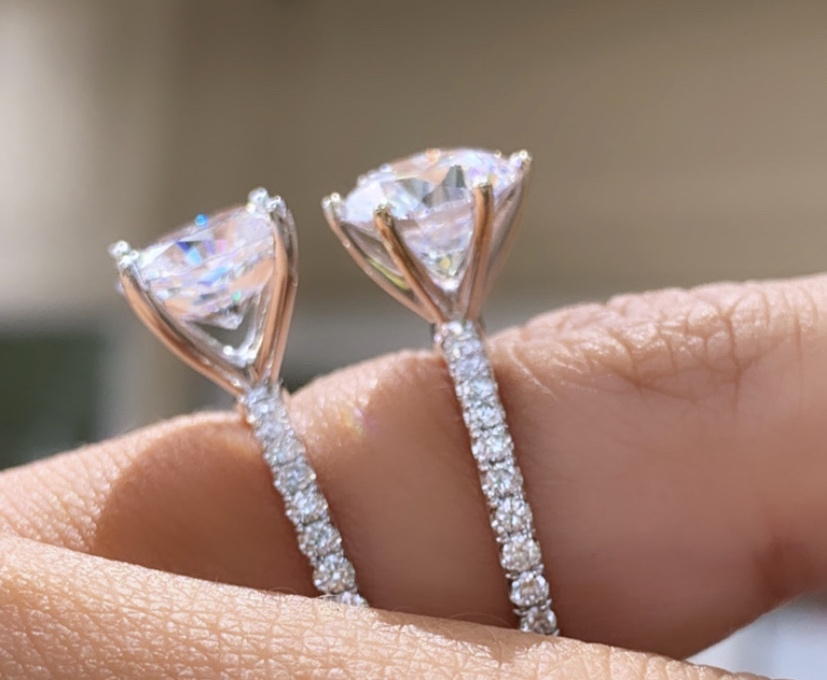 Four or six prongs, what's your favorite prong setting and why?
Either!  With modern manufacturing, both 4 and 6 prong settings provide a very secure way to display your diamond exquisitely.  Four-prong settings allow the observer to see an unobstructed view of the diamond's profile, while six-prong settings amplify the circular nature of a round diamond.
Emerald cut diamond rings have been favored by old and young Hollywood alike. What is so special about this step cut?
Peering inside a beautiful Emerald cut diamond feels like falling into an endless ocean.  Step-cut diamonds create a hall-of-mirrors effect that is both captivating and mesmerizing.  There is no better way to exhibit a diamond's superior clarity than with the ethereal, art-deco silhouette of the Emerald cut.
Platinum or gold? Which metal setting is the most valuable and long lasting?
If you prefer the cool tones of a white metal ring, there is no more lasting choice than platinum.  With its superior density, durability and natural silvery whiteness, a platinum ring provides the perfect background to complement an icy diamond for years to come.  Because of their superior purity, platinum rings are hypoallergenic and more valuable than their white gold counterpart.
For our clients that prefer metal with warmer tones, yellow and rose gold can lend themselves to both traditional and modern designs.  A quality yellow or rose gold ring can maintain its color for decades with minimal maintenance while providing a contrasting backdrop to distinguish your diamond.  Additionally, yellow or rose gold is a great way to accentuate colored gemstone engagement rings.