I first discovered Maggi Simpkins during a Gem Breakfast pop-up. I have seen a lot of engagement rings at this stage of my life as a jewelry editor… It's  always an exciting surprise to be impressed by somebody new. Maggi's engagement rings are stunning and very unique. Each ring includes unexpected details that seem to tell a mysterious story that only the wearer and Maggi truly know.  I have not met her yet in person, but I did publish last year some of her real couples engagement stories. It was about time to dig a bit more and interview the one and only Maggi Simpkins remotely, from her lair in Los Angeles. She is in the middle of a major overall of her garden where she most certainly gets a lot of her inspiration.
Browsing your site, I have noticed you don't have a line per say. Are there any Maggi Simpkins signature engagement ring settings? Or a Maggi Simpkins engagement ring design style?
No one signature style. Everything is custom and one of a kind. There are a few styles that are popular that I do get a lot of requests for- which I try and make a little different/unique each time. These styles are usually on the simpler side- white diamond, yellow gold timeless and classic.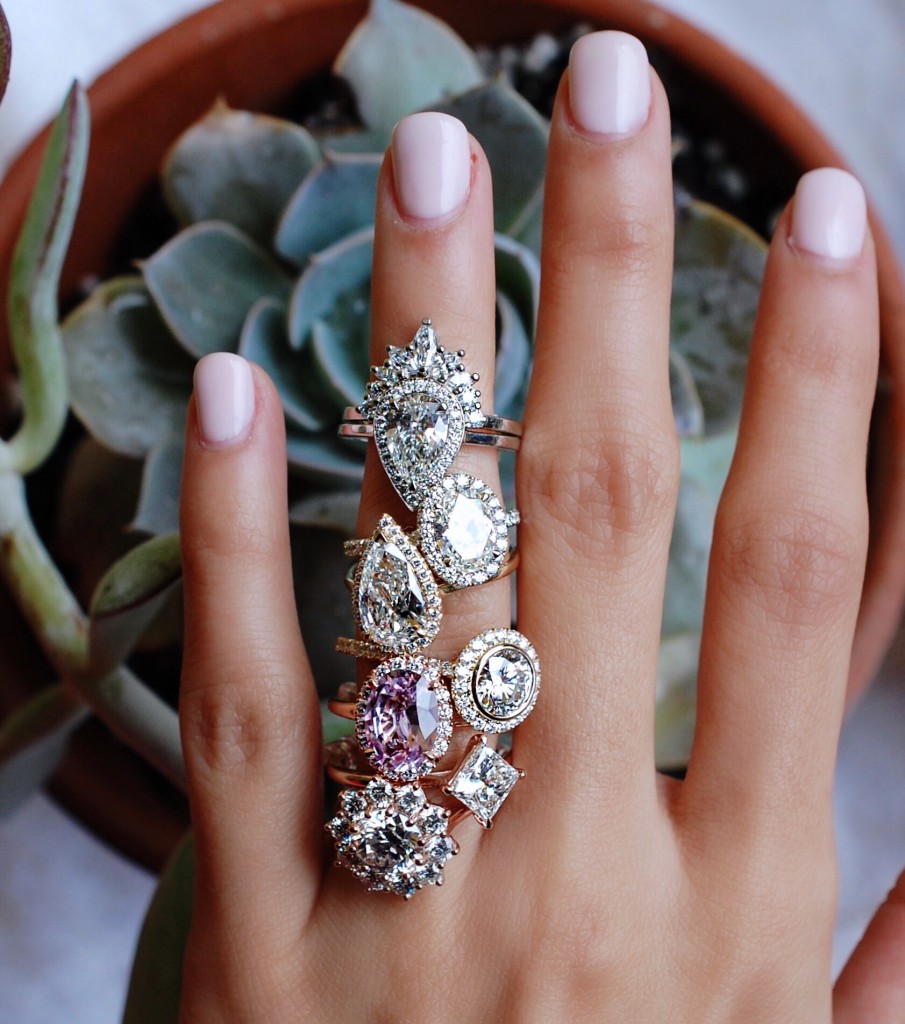 I love how clearly you explain the different steps of the bespoke design process on your site. Can you give our readers 5 tips or Dos and Donts,  if they are planning to follow this path. 

One of the biggest things that I've learned from working with diamonds for the last 10 years is not to get too caught up on the certificate. Oftentimes people get way too fixated on what the piece of paper says, and not how the stone looks. I think that is probably my biggest "tip" for consumers to keep in mind. Yes its important to know what you are buying, and certificates are great for that- however at the end of the day you are wearing a stone everyday on your finger, not a piece of paper- and it is important to pay attention to how the stone looks, shines, sparkles instead of only focusing on what the piece of paper says. I've seen this go both ways: looks good on paper- not great in real life- OR not as exciting on paper- but the stone is full of brilliance and fire.
Another tip is balance. I *personally* think it's crazy to pay for something you can't see. I sell a lot of VS and SI rated eye-clean stones- meaning you cant see any inclusions with the naked eye– only under a microscope. I never push a VVS or Flawless stone on a client. I can't tell you how many women approach me after they've been proposed to with a flawless 1 carat diamond (from someone else)–  wishing that their partner had gone a little bigger on size and lower in clarity. I think its really important to find a good balance of size, color and clarity when selecting a center stone and maximizing all three – no matter what the budget is.
Lastly- there are no rules! Oftentimes people will come to me asking how much they're suppose to spend, if they NEED to wear a wedding band with their engagement, what type of stone they are suppose to use- and my answer is always the same: There are no rules! Love, engagement, marriage are all extremely personal- there is no one size fits all answer to any of it, each partnership is completely unique and I think the best part – couples get to make up their own rules specifically to what serves them!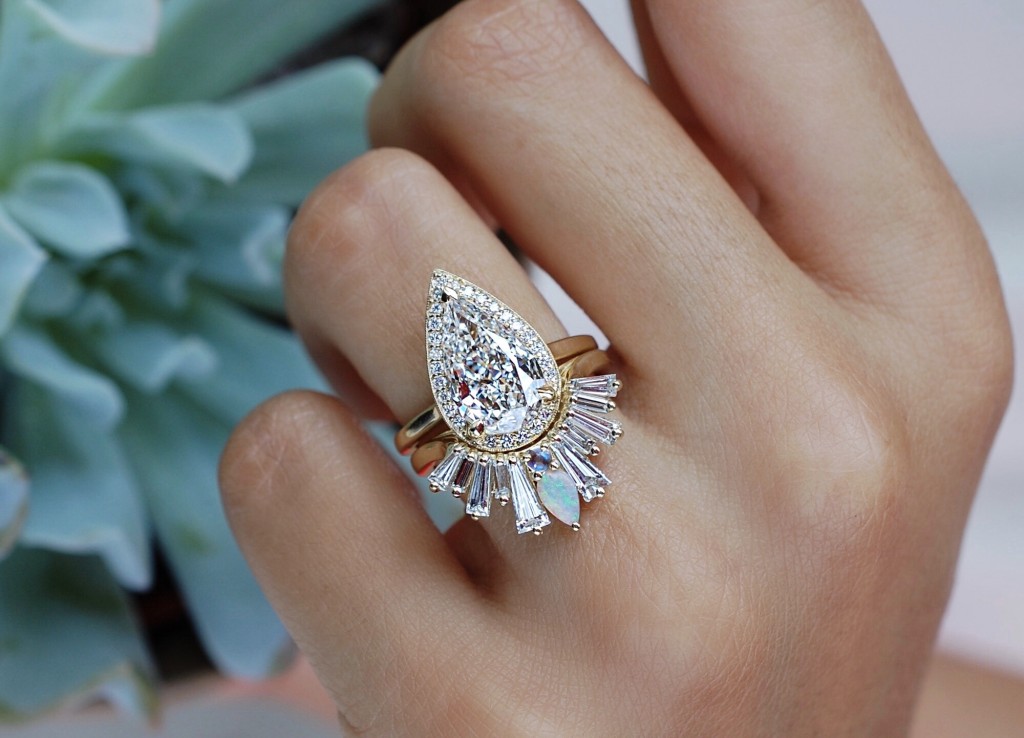 Tell us about a recent engagement ring project that was special to you and why. 

This is a hard question. I hate to sound cliche- but they are all special to me. I work really closely to my clients when creating these custom pieces, and I feel really humbled that people share with my their love stories and that they allow me to witness such an intimate time in their lives.

Your engagement rings feature an array of center stones from classic cut diamonds to alternative gemstones. What is your current favorite center stone? Are there any that should not be set as engagement rings? 

I don't know if I have a favorite center stone. One of my favorite things about working on custom pieces is that is always something different. I love really classic stones, and I also love alternative, funky out of the box stones. I don't believe in rules when it comes to jewelry, and anything engagement related. I think that a ring, and how you intend to wear it, should be just as unique as your love and your union.
In terms of stones that shouldn't be used as engagement rings- I always warn my clients when they are requesting to work with a softer stone- that most likely there will need to be some type of upkeep, maintenance or replacement down the road because of course softer stones are more likely to get damaged with everyday wear and tear…. sometimes they listen to me sometimes its a chance they are willing to take.


Do couples work with you together on the design or do you often just work it out with one partner?

Often times someone will come to me and say "my partner loves your work" and show me some pieces I have done that they like, then we come up with something unique to their partner based on that aesthetic. I would say maybe 20% of the time the couple comes together and I will work with both people to create the ring.
Thanks so much for taking some time to answer our questions Maggi, make sure you follow Maggi Simpkins on Instagram and browse her website for inspiration.
Here is a lovely couple who's engagement story we shared whose engagement ring was designed by Maggi.