In collaboration with  Platinum Jewelry
Men's wedding bands used to be an afterthought in the wedding planning process. Picking wedding bands for both partners while shopping for engagement rings  is a hot new trend we love.  Some men wear their wedding rings months before the wedding as they are eager to show off their commitment status. Others, as we have witnessed through our Propose Too community, receive a mangagement ring from their fiancé. Last but not the least, it has become tradition for gay couples to both wear mangagement rings AND wedding bands.
The preferred metal for gent's commitment rings is platinum. We know that it is the best metal to pick for engagement rings, but why should a man also pick a platinum ring? We asked the jewelers who created the 5 stunning rings below to tell us.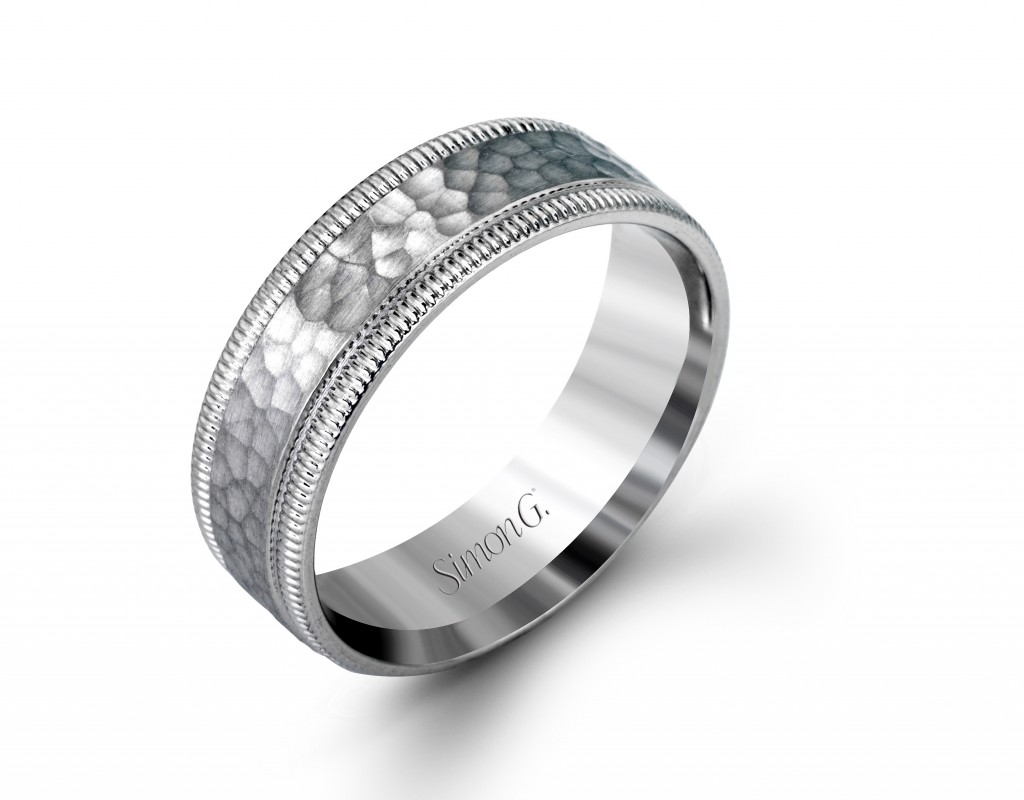 We love the different textures of this platinum ring by Simon G. It is smooth on the inside and hammered all around on top with milgrain details. Simon Ghanimian loves to design platinum bands for men and here is why:"Platinum is a wonderful metal for men's bands because there is such a high content of precious metal in it, and it is sure to last for a long time. It is a naturally white metal, and is very dense so it is extremely resistant to fracturing or breaking. It will develop a sophisticated patina over time, proving its age. (If you prefer it shiny like new, no problem, it can be re-polished easily!) It is such a weighty metal, we recommend visiting a store and trying rings on first to see how rich it feels."  Good to know, Simon G. is offering $150 off any platinum piece through Feb. 14th.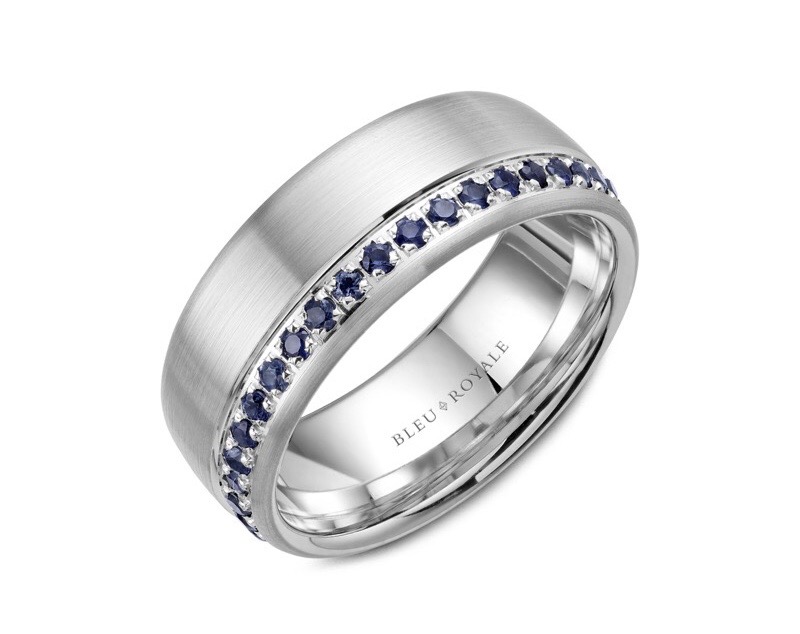 Ou next pick was inspired by Classic Blue, the official PANTONE 2020 color.  This platinum wedding ring by Bleu Royale is so stunning. The blue gemstones are sapphires. It expounds the energy and creativity of its place of origin, Montreal, Quebec. This lovely and romantic city (the perfect setting for a proposal) combines old-time charm and a modern attitude. In Canada, platinum is known as the "The King of All Metals", the rarest and most precious metal on earth with excellent strength and an incredible lifespan. It is the perfect metal for Your king!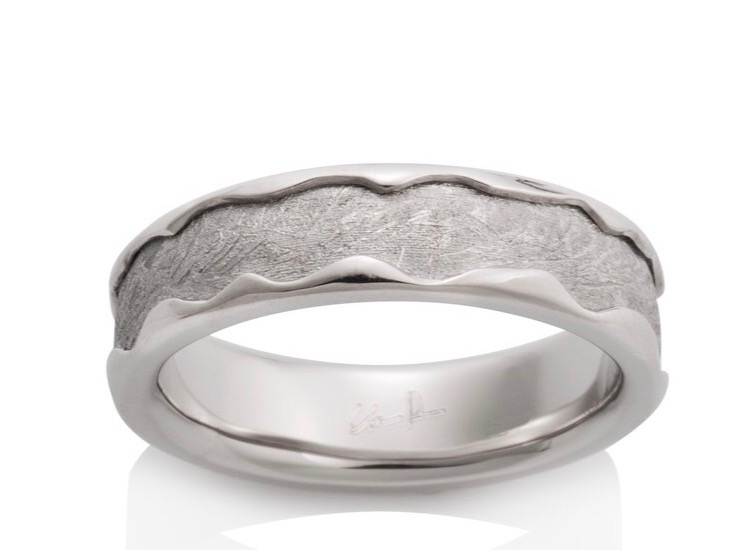 Chris Ploof always challenges himself when designing and picking materials for gent's wedding bands. His platinum and meteorite band is so special. It is made with pieces  of the Gibeon meteorite which flamed into our atmosphere an estimated 30,000 years ago. The extreme slow cooling of its journey through deep space created a unique crystalline pattern (Widmanstatten lines). Chris strongly advocates for precious metals for men's bands. "I think guys need to keep a few things in mind when shopping for a wedding band. Too often I see them concerned with cost and captivated by gimmicks. Wood rings? Please, wood doesn't last. Titanium, tantalum, cobalt rings can't be re-sized. Men will never go wrong with the "classics". For a tried and true band that will last and can be worn forever, you can't beat the heft and luster of platinum."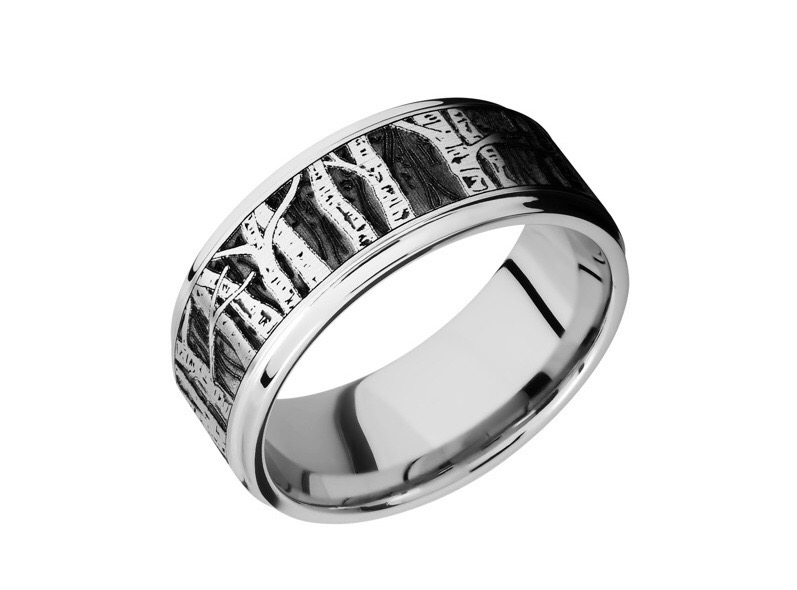 Indeed, a ring made of wood will not last forever if you wear it 24/7. Enters Lashbrook with a great solution, a laser engraved platinum ring featuring a wood pattern. Charlie Wray, marketing manager for  Lashbrook, shares with us why picking platinum for a man's band is important. "We  love working with platinum because it allows for great flexibility when customizing with any of our exotic materials like cerakote, meteorite and dinosaur bone. Men's bands are no longer an afterthought. Lashbrook has been empowering men to represent themselves with their wedding band for over 20 years, offering a wide range of styles and the possibility to customize your own ring online."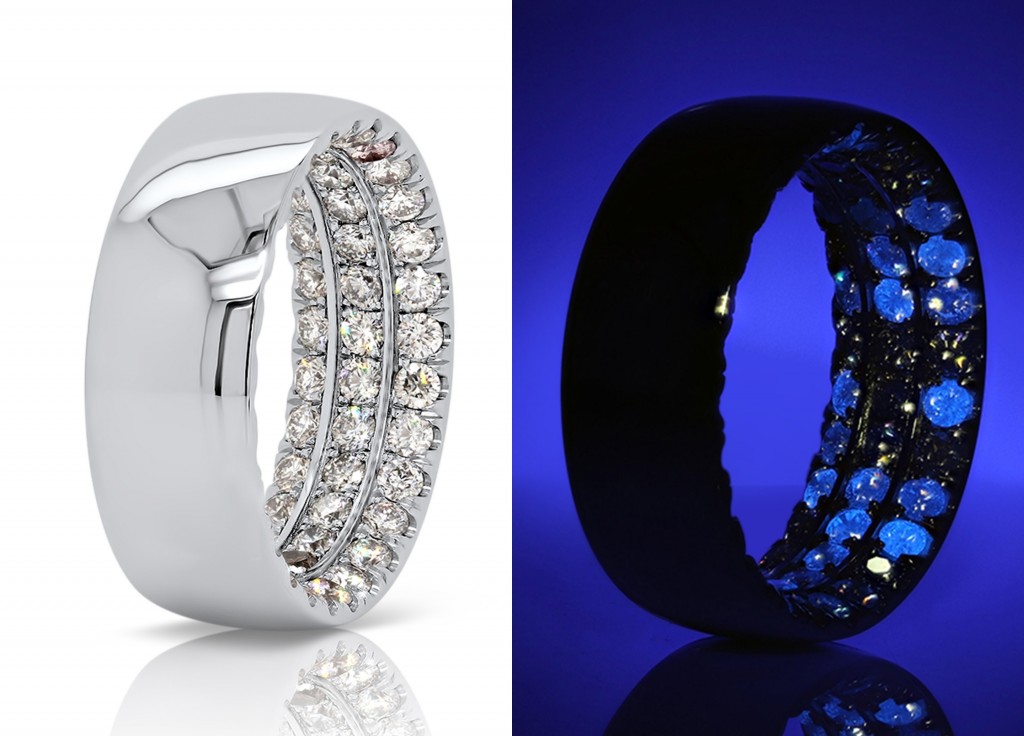 The David Alan jewelry  Atelier in the New York Jewelry District is a place you definitely need to check out when looking for  one-of-a-kind custom wedding bands.  David Alan is not only a master jeweler but he LOVES to geek out with tech, math, gadgets… anything to bend his brain.  He was thrilled when a brilliant A.I. developer, came in to make his wedding bands and asked David to put a custom crypto code (128-bit encrypted of course) in his and his fiancee's wedding bands. For one of the rings, cognac diamonds are used to write the code in. For the other one pictured above,  it is created by the "hidden" placement of highly fluorescent white diamonds, which you can only see when held under black light. The main crypto codes message can only be cracked when BOTH his and her rings are placed on a special black-light-emitting, classified-code-breaking, diamond-reading, secret scanner.
As a master jeweler and designer, David prefers platinum over white gold because it is a truly noble material. "The alloy we use is 95 percent pure platinum and has a beautiful pure white color. The material is dense, finishes beautifully and has a significant weight and feel. It feels amazing on your body! As an added bonus it is non comedogenic and won't cause any allergic reaction for even the most sensitive skin."
Here are David Alan's 3 shopping tips  for men's wedding bands
Make sure that the ring's width and shape are balanced in conjunction with the man's hand. It should be masculine without looking overpowering. The shape and width should match your taste and of course feel good on the hand.
Don't be afraid of diamonds. There are so many great diamond options for men.  We love to put diamonds on the inside and out! Grey and cognac diamonds are amazing options for gents since they are not too bright or flashy.
It is important to be certain that he is sized properly. The ring should be a slight struggle to take on and off. When hands get wet or cold, too large rings can easily slip off. We hear horror stories of rings ending up on the bottom of the ocean in summer and rings that fling off when gloves come off in winter. This happens largely due to rings that are simply too large!
To learn more facts about platinum and browse more rings, visit PlatinumJewelry.com