Have you heard about sexy hexies?  Hexagonal aka hex or hexy diamond rings are having a moment.
Catherine Cason, the owner of Gem Breakfast just launched today a capsule collection around the shape.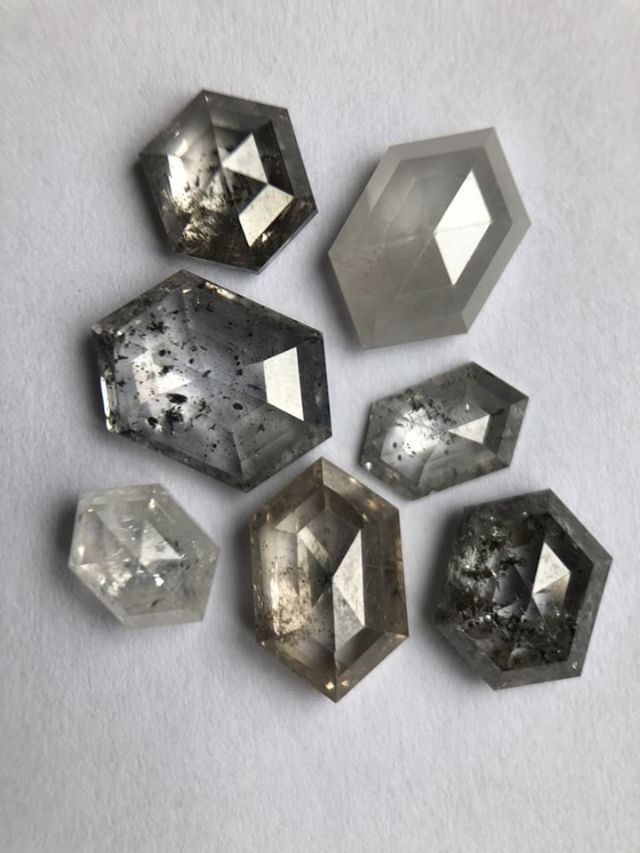 The Sexy Hexy Collection is a collaboration between diamond wholesaler Dream Diam, Gem Breakfast and 7 designers.
"I wanted to do a new pop up with Dream Diam and we wanted to highlight a really unique stone cut. We actually polled our Instagram audience to find out what they wanted to see — and hexagon won." Catherine Cason

Army Of Rokosz ring designed for the Gem Breakfast pop up
As with previous Gem Breakfast pop ups and limited editions, the collection should sell out very fast. It was hard for me to pick a favorite, every piece is so unique and exquisite!
"Hexagons are great because they have really angular, art deco vibes. They're so fun to see in salt and pepper because the coloring adds a lot of interest to an already interesting cut. They can definitely be a challenge to set due to their angular shape, so only the most skilled setters can work with them. Because of their increasing popularity they are becoming harder and harder to find. We are really lucky to have such amazing stones from Dream Diam to work with for this special collection!" Catherine Cason
Julie Stark of Point No Point Studio loves working with hexagon stones because of the elevated look that they give to any engagement ring.
"Even with a simple solitaire, halo, or 3 stone setting – where other rings might blend in using all round or more traditional shaped stones, using a hexagon diamond makes a statement, regardless of the size or color of the stone." Julie Stark
The Point No Point Studio bride is one who wants to feel like she is wearing an engagement ring, but who doesn't want a cookie cutter style – she wants something a bit different. They  have many styles available that will appeal to a multitude of personalities and aesthetics – from the more minimalist bride (like their Petite Quinn featuring a hexagon diamond), to the more edgy and adventurous bride (like our grey diamond split shank hexagon Evie engagement ring), and everything in-between.
"We love working with hexagons and figuring out what settings will really accent the unique nature of each diamond . The challenge working with one of a kind hexagon diamonds is that each is uniquely shaped and hand cut – since they are not calibrated or machine cut stones, we create each setting for each individual diamond, ensuring a unique piece each time," Julie Stark
You can find step cut hex diamonds as well as rose cut hexys in an array of color. Since it is not an easily found shape, if you are having a hard time finding your dream hex diamond, consider an hexagonal setting that will trick the eye in thinking the center is the same shape. You can see some options in the group of Sholdt rings featured below.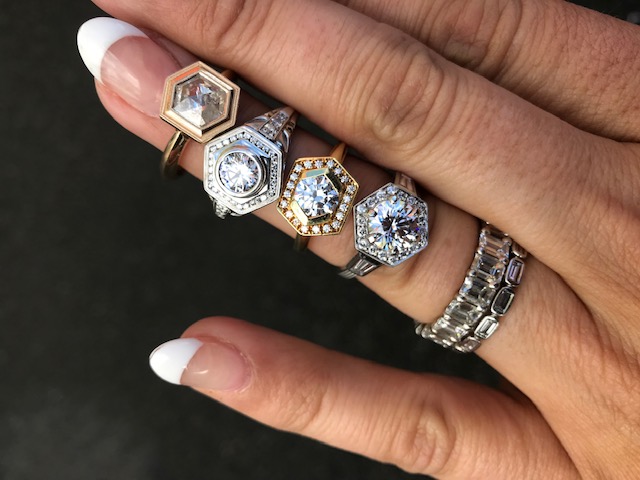 Voila.