This past year, I noticed that more and more jewelers were offering moissanite as an alternative to diamond centers. I had to research this new phenomenon. So I interviewed the owners of two recently created jewelry companies specialized in engagement rings and weddings bands who really love using moissanite .
First, a little background is necessary. Moissanite was discovered in 1893 by a French man, Henri Moissan, in a meteorite crater. The samples found were so close in appearance and hardness to diamonds that for a few years, Henri thought he had found diamonds. Moissanite turned out to be a very different crystal, 9.25 on the Mohs hardness scale (diamonds are a 10) and even more rare than diamonds. So rare that moissanite is now lab-created.
Until recently, lab-created moissanite stones were an acquired taste when it came to picking them as a center-stone for an engagement ring. They sparkled in a very different way than diamonds and were projecting a lot of different colors. However, recently: progress! Enters the colorless moissanite. D being the best grade, this new moissanite is really looking fantastic. Still it's not a diamond so… why is it so popular?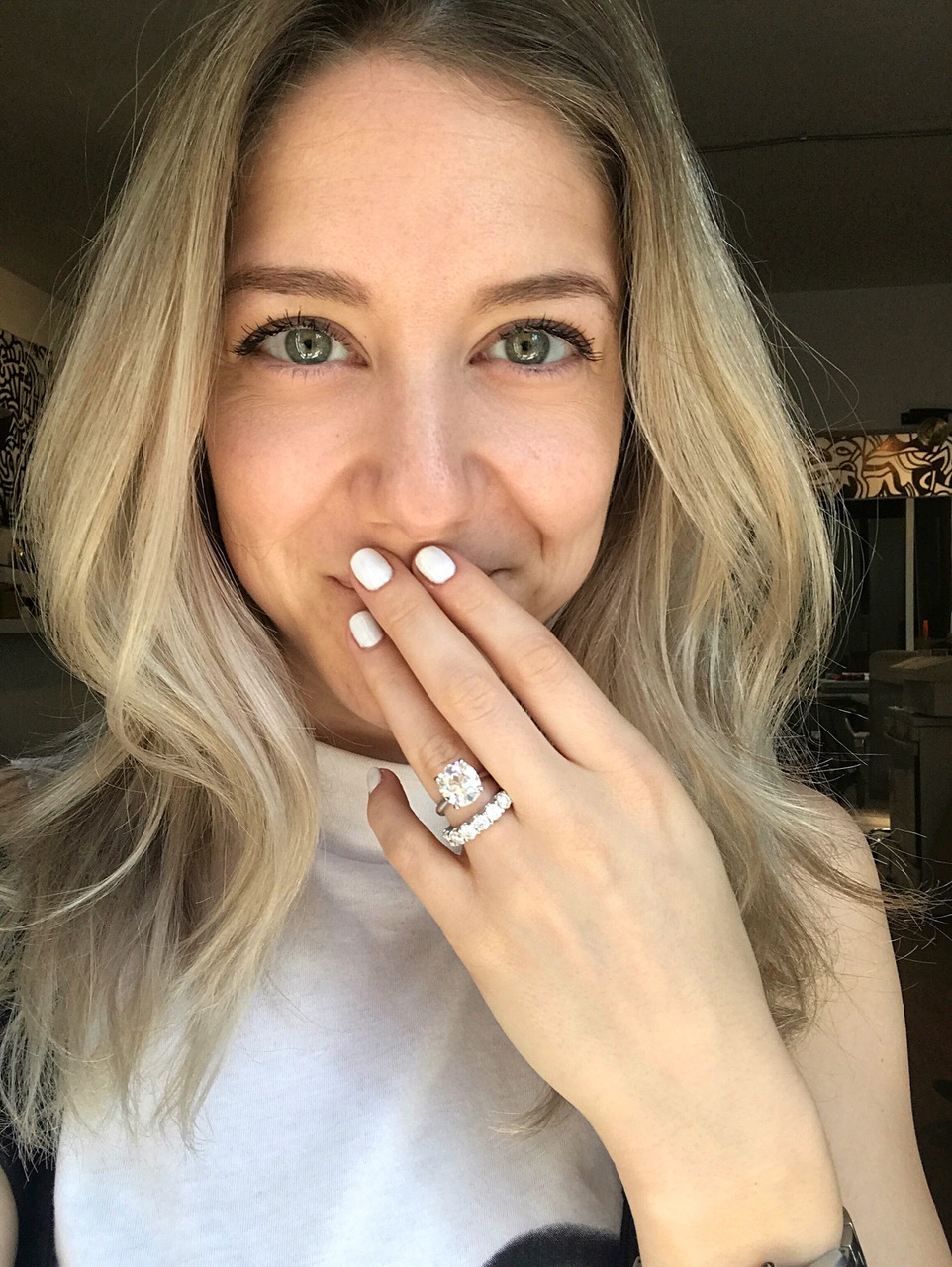 Shir Zukier of Ring Come True, a company based out of  Toronto, created her company after looking for her own engagement ring. As you can see in this picture it's a glorious 11×10 mm cushion cut (that would be about 5.8 in diamond carats).  She wanted a big ring on a budget and decided to lead the way for other women to get their dream engagement ring. " They are two reasons why my clients are buying rings with moissanite instead of diamonds. They are not convinced diamonds can be ethically sourced and conflict free, so they are looking for an alternative. Then of course price is a motivation as larger diamonds are very expensive compared to moissanites. Couples today have other budget priorities then focusing all their dollars on an engagement ring." The ring featured below are part of the Ring Come True moissanite collection.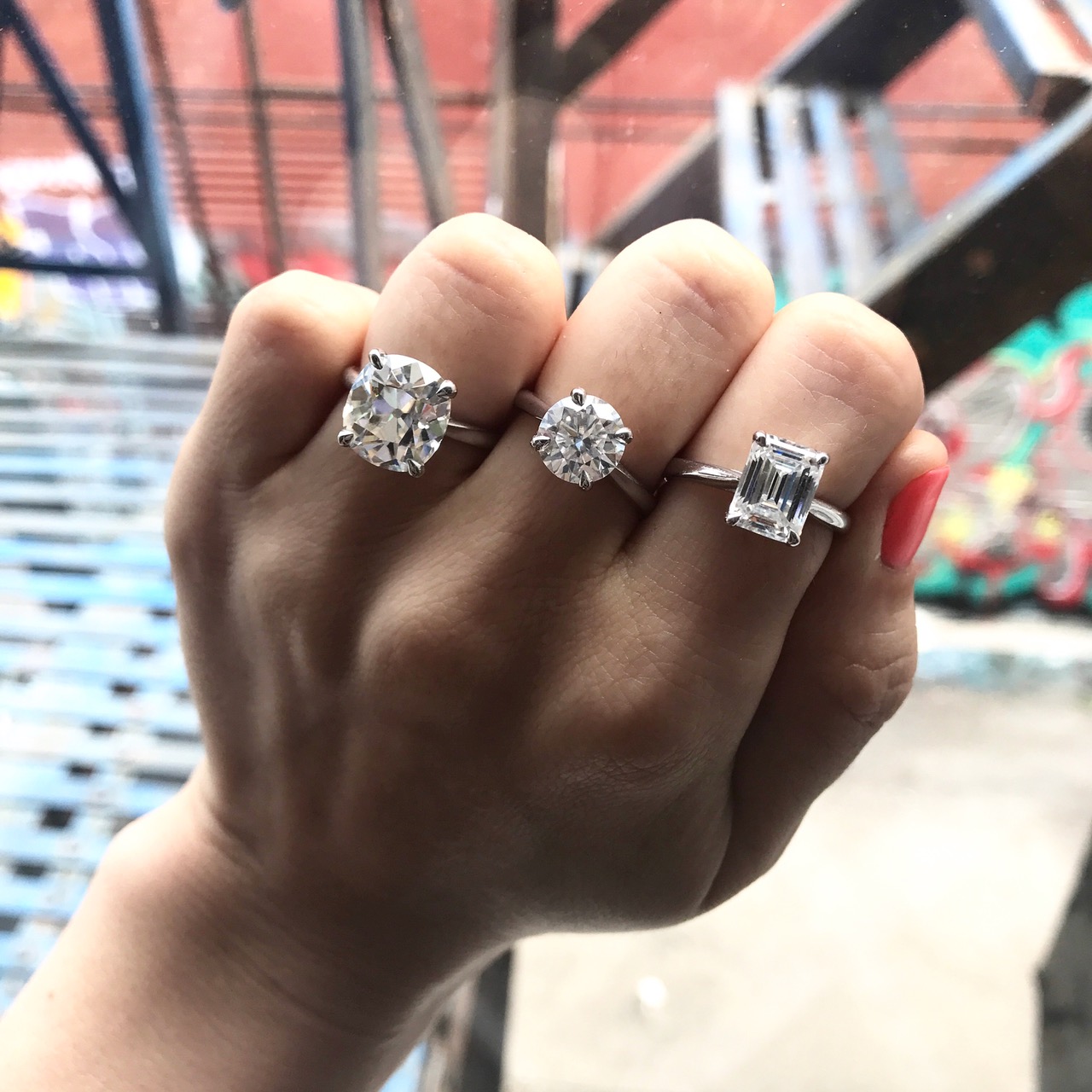 Lynne Armstrong Ramirez  is one of the founders of The True Gem, a fast growing jewelry company out of Texas. Along impeccable craftsmanship and beautiful designs,  The True Gem stands out by offering a unique new gold color, Champagne gold, which is not quite as yellow as yellow gold and not quite as pink as rose gold.  They have embraced introducing all their rings with moissanite as a stone option. Why?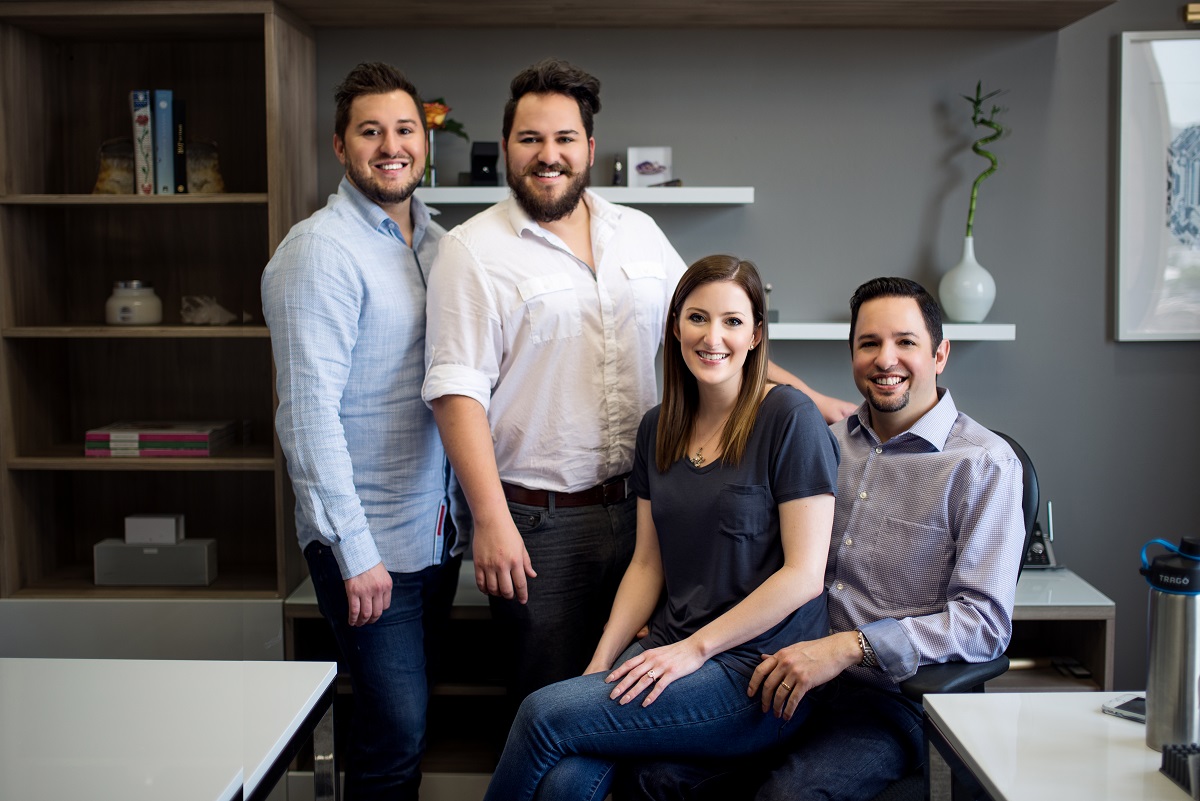 Lynne and the other partners of The True Gem  (Jordan Kasallis, Stephen Kasallis and Andy Ramirez)
"Chemically, moissanite is completely different from a diamond. But it looks like a diamond. It feels like a diamond. Its thermal qualities are difficult to distinguish from those of a diamond.  And best of all, a moissanite actually out-performs a diamond in terms of optics, and is still durable and scratch resistant enough to be worn every day and last a lifetime. " says Lynne. " We use recycled gold, lab-grown diamonds and moissanite because we want to be socially responsible. Our clients relate to our mission."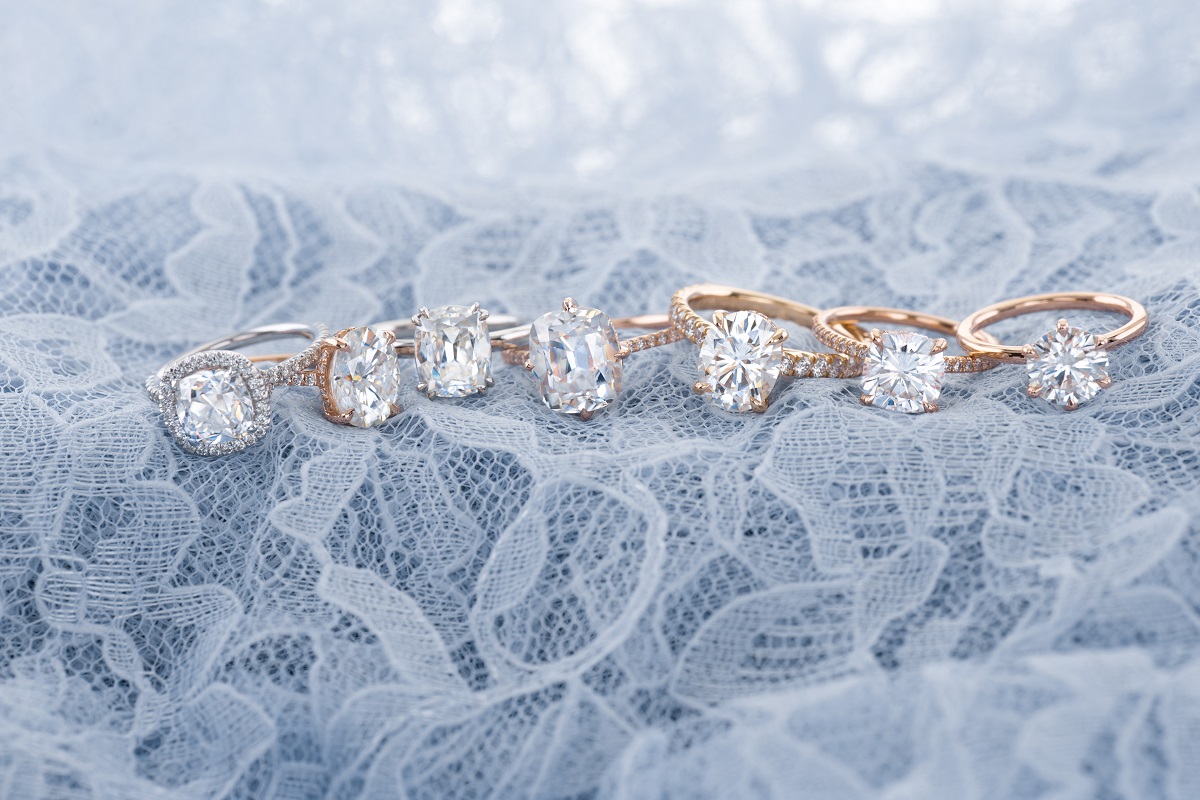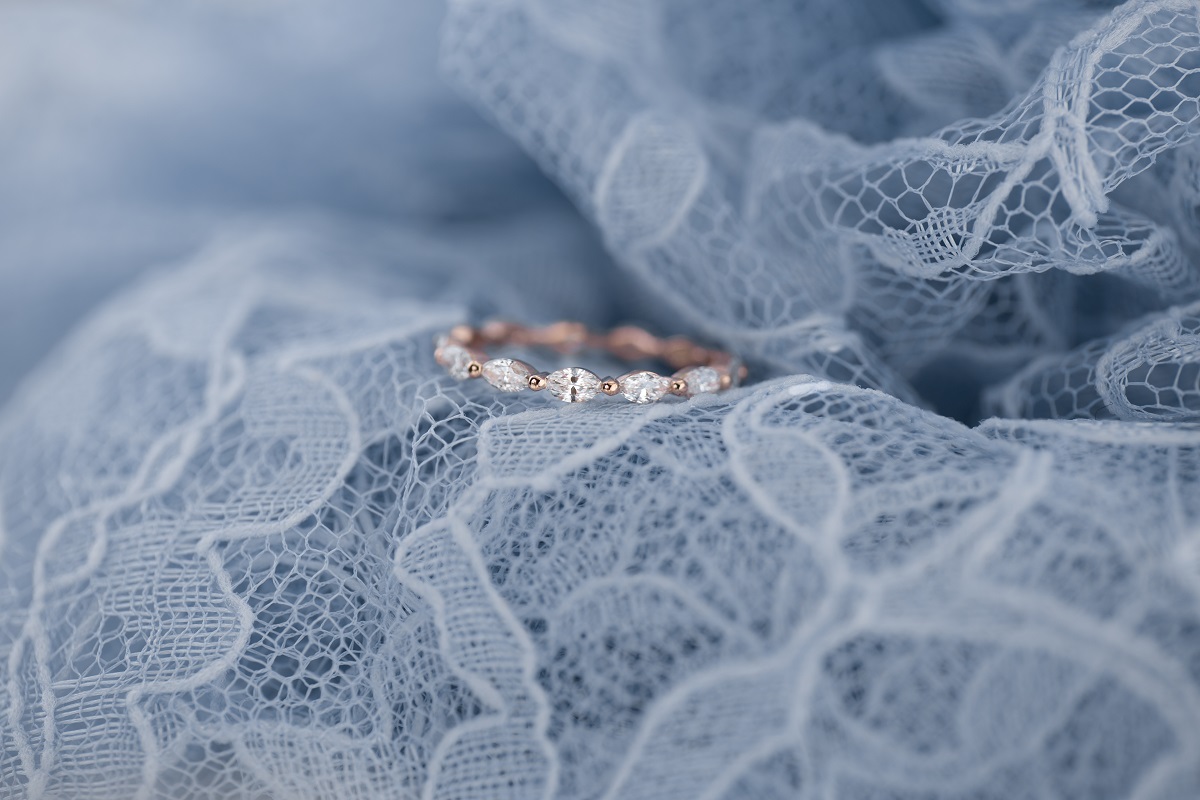 Budget  is also important for The True Gem's clients as some of them want a larger center stone than what they could afford for a diamond. A 3 carat diamond starting price is around $25,000 compared to $1,785 for a moissanite of the same size (moissanites are sized in millimeters, not carats). How pretty are the above rings from the collection? I love the rose cut moissanites and marquises.
After all this research, my honest conclusion is this one. I understand that as women are getting more involved in selecting their engagement ring, they really have a dream ring in mind. Engagement ring settings have become more fancy, unique and intricate. You need a durable and precious metal. Platinum is the best metal for an engagement ring and  gold colors are fun. So invest in a great setting. Then, if you can't afford a diamond right away, moissanite is a worthy affordable alternative until you can upgrade it. And maybe you will fall in love with its unique shimmer and never look back…
Epilogue
Can you guess which of these stones are moissanites?
Written by Sev
Severine Ferrari AKA Sev is the editor and writer of this blog and the online magazine Engagement 101. Sev was born and raised in Paris and has lived in New York City for over 20 years. Her blogging style still includes elements of her French writing style and humor. We recommend reading it with a glass of champagne and a French accent