Jewelry trade shows set early in the year are usually smaller which is great for us editors and bloggers. It allows us  to have the proper time to discover new designers. Liz Kantner has been doing an amazing job curating the New Designer section of the JA New York show this past year, I have already developed great new relationships. Three undiscovered-yet-by-moi designers were offering fresh versions of the tiara ring this JA session. Every girl should own a tiara and a tiara ring. Looking at it will always bring a smile to your face and remind you of your inner princess.  You can wear a tiara ring alone or stacked with other rings as a ring guard.
Princesses are kicking you know what on the big screen. I can't wait to see the upcoming Wonder Woman movie and The Last Jedi to see more portrayals of unique, strong and layered female heroes. In real life, this election has shown many of us who had become somewhat jaded that feminism is not dead and that a fight is still needed for true equality and freedom. So I had some fun matching each tiara ring with a feminist princess or hero who would love to wear it.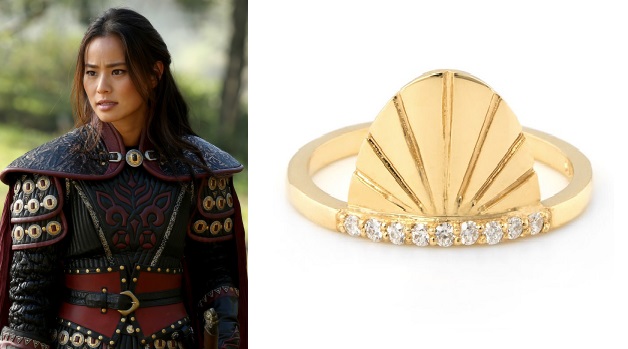 When I received highlights of the Larisa Laivins collection in my mailbox, I fell in love. Looking at all the pieces, especially the rings, I felt drawn to the past. Yet, there is something very new and exciting about them. Green is a beautiful thread throughout Laivins' collection which features prominently turquoises and tourmalines in the loveliest hues. My favorite ring is this fan tiara ring that she calls Vega. I think it would look great on Mulan when she's not on the battle field. It's just exquisite.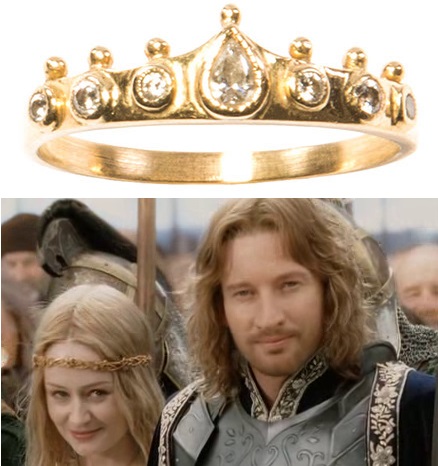 Jocelyn Prestia is the designer of Unhada a jewelry line she created while being an expat in Bangkok. She became fascinated by all the rare gems she discovered there. Unhada is a beautiful mix of colors and elements of designs inspired by her Thai surroundings. The Diadem collection, a group within the line of the prettiest tiara rings and earrings, brings a little bit of  fantasy and magic to your finger and your ears. When I saw the name of the one featured above, the LOTR fan in me could not resist. It's called Legolas and would look great on Queen Eowyn's finger, now that she's done with her warriors way and has to rule Gondor. Since Legolas never got married, though it would also look good on an elf-maiden. If you are not a Tolkien fan, you must be lost go read the books and watch the movies.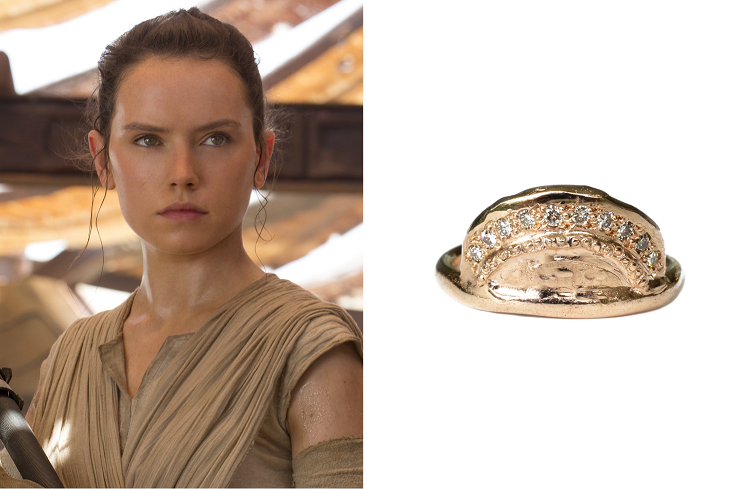 Last but not the least, I love this ring designed by Mia Chicco. Mia is from Sydney Australia which is were her pieces are made. She has a passion for Roman antiquity which shows in her designs and is very present in the Latin names of each piece. I love her metal work. It's raw yet smooth, I don't know how else to explain it. The texture is simply amazing. The Florentia ring above is an imperfect but absolutely gorgeous tiara ring. It looks great alone and in a stack. Rey is a metal connoisseur and a diamond in disguise which is why she would love this ring, once her Jedi work is done.
Voila,
Sev
Severine Ferrari AKA Sev is the editor and writer of this blog and the online magazine Engagement 101. Sev was born and raised in Paris and has lived in New York City for over 20 years. Her blogging style still includes elements of her French writing style and humor. We recommend reading it with a glass of champagne and a French accent.