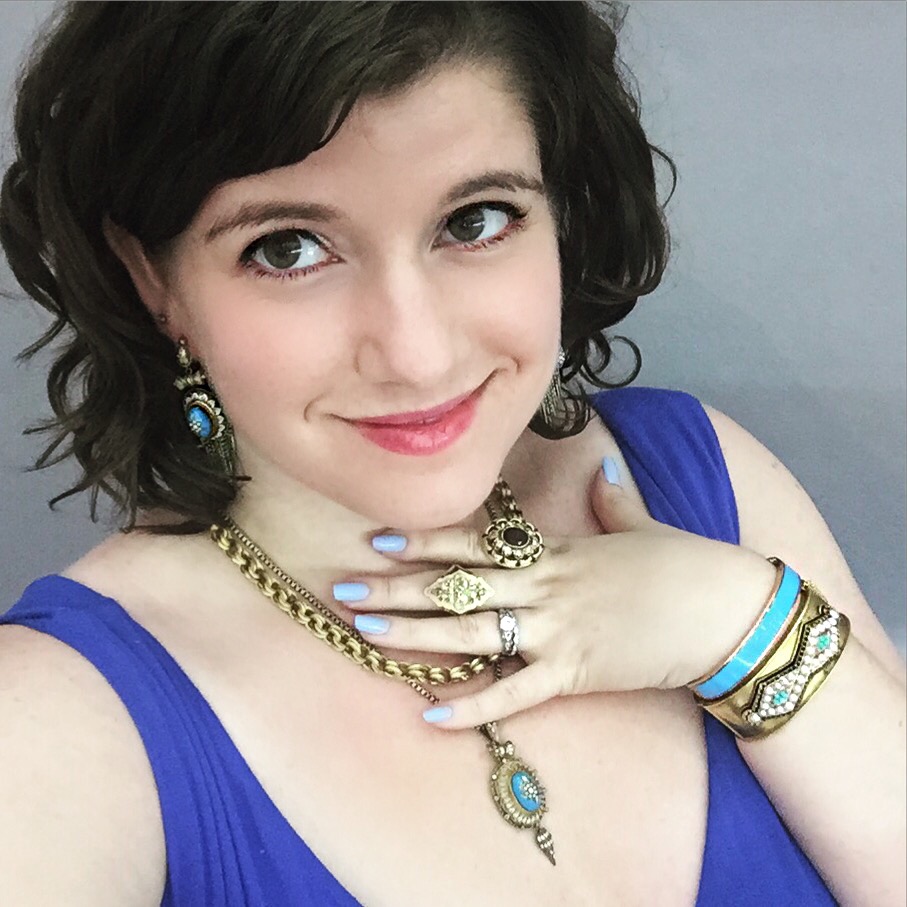 Forget about fashion blogs/Instagram accounts, jewelry bloggers are the best at highlighting and photographing jewelry. We also all have different quirks and passions that make each of us entertaining online.  Becky's blog Diamond in the Library is awesome, full of great tips and jewelry stories.  Her Instagram photographs are always gorgeous. She has magical super powers when it comes to using her iPhone to take pictures. We just had a little chat so you can get to know the lady behind the blog.
Until last year your blog Diamonds In The Library was more of a time consuming hobby, then you decided to jump and make it your full time job. How do you feel about your decision a year later? Any tips for any of our readers considering becoming freelancers or entrepreneurs?  
It'll be a year in a month or two, and I'm still thrilled with my decision. Taking my blog full time and being my own boss has been harder than I expected in some ways, but more than worth it overall. Being able to focus all of my time and energy on what I truly want to be doing is a gift like no other.
There are some parts I wasn't expecting: like how weird it is to be an entire business all by yourself, when you're used to working alongside other people, and how stressful it can get when everything is on your shoulders. But both of those things are side effects of my very favorite part of being my own boss: I have the freedom to do whatever I want to do with my business, and that's more than worth all of the hard parts.
The best piece of advice I can give to anyone who consider making a similar move is a boring but important one: plan ahead, and make sure the money isn't going to be a problem. It takes any new business a while to get into the swing of things, and mine was no exception. I spent months saving before I left my full time job and my husband and I moved out of the city into the suburbs in search of lower rent, to take the financial pressure off as I got the hang of things. If you arrange your life so that you have a window of time in which you don't need to be profitable, you'll make the transition much, much easier. Any wiggle room you can give yourself while you get your bearings will make your life a million times easier.
Also: be sure to leave the house occasionally to talk to other humans, even if it means you have to put on a bra.
What is a typical day for you?
It's taken me a while to settle into a routine working on my own, but here it is:
I generally wake up around when my husband leaves for work. I have a big cup of tea and usually read while I eat my breakfast – on my balcony, if it's nice outside. Then I'll head into my office, which is a bright, sunny room in my apartment filled with books, plants, and photos of jewelry, and sit down to get to work.
I tend to rotate between the different aspects of my job: answering emails, making arrangements with business partners, editing photos, writing new blog content, scheduling social media posts – so that I don't get burned out on any one thing. Sometimes I'll go work at a coffee shop for a change of scenery.
I often take a break in the early afternoon, after lunch, to go for a walk, run errands, or hit the gym. If I have photos to take, I'll wait for the light to be right and then go out on the balcony. There's nothing like natural light for photographing jewelry.
The hardest part of each day is remembering to pick a clear point to stop working: when your hobby becomes your job, you have to remember to give yourself free time even if the thing you do all day is what you used to do with your free time. My current goal is to announce a time each night when I'm done working and then stick to it: stop checking my work email, walk away from my computer, switch off my brain. It's harder than you'd think.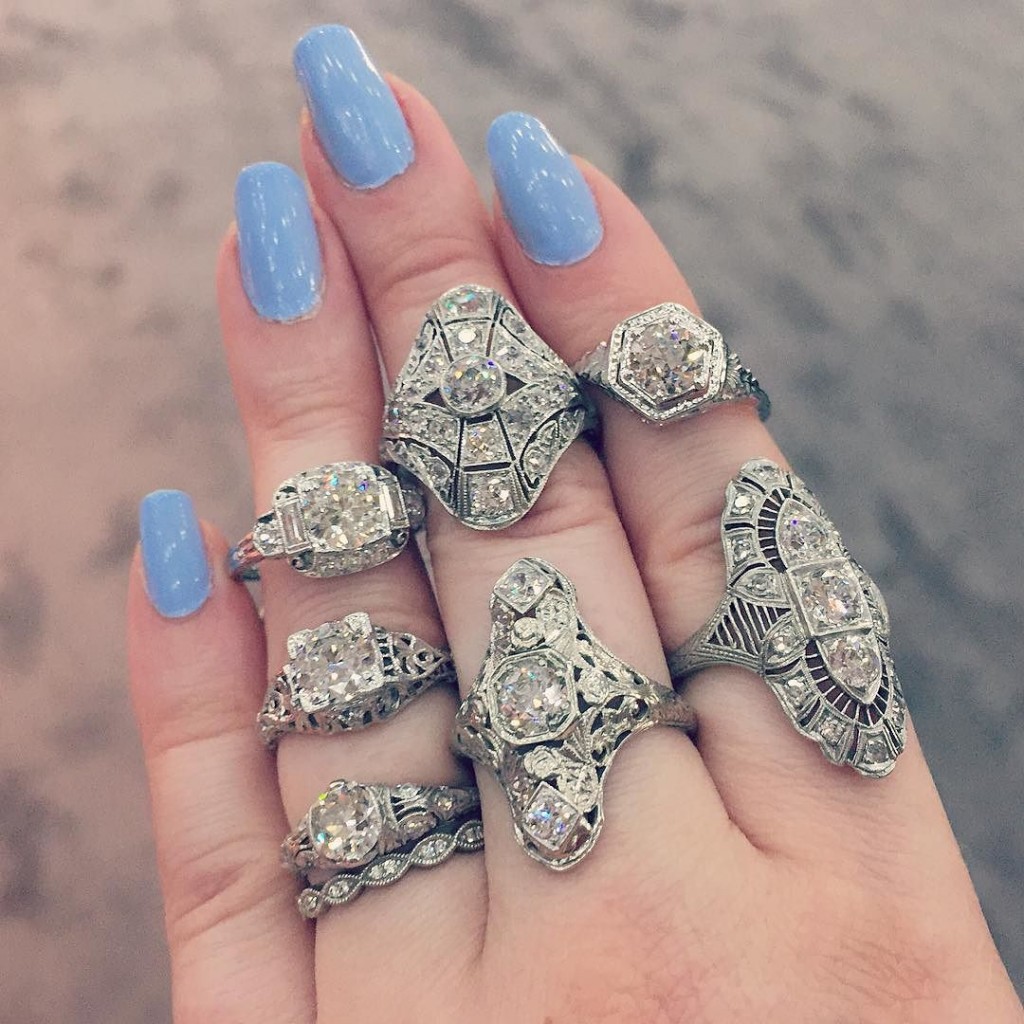 Tell us about your proposal and your engagement ring.
My engagement ring is an Art Deco hand-engraved platinum ring from the 1930's. It features an old mine cut diamond in a modified bezel type of setting, with six smaller stones and openwork details to the band. My husband and I looked at rings together, and the final two contenders were this one and a contemporary ring with a much bigger center stone – but I couldn't shake the feeling that the Art Deco ring felt more like me, even though I loved them both.
One of my favorite facts about my engagement ring is something we didn't even know until weeks later: apparently we unintentionally bought my ring from the same store where my dad bought my mom's engagement ring.
My husband and I may have looked at rings together, but once I'd made a decision, he took over the process. It was important to him that he have the chance to buy the ring without me and plan a proposal, even though we shopped as a team. One day, he suggested we both take the day off from work to hang out. I had a suspicion it wouldn't be just a normal day, but I didn't say anything. He took me to my favorite restaurant for lunch and then we spent the afternoon walking around the beautiful US Botanic Garden in downtown DC. It was September, so it was warm out without being too hot and the gardens were bursting with flowers but not overrun with tourists.
When we went home afterwards he disappeared for a minute and came back wearing the sweater he'd worn on our first date. I was sitting in my favorite armchair in our living room and he knelt down before me, pulled out a ring box, and asked me to marry him. We didn't tell anyone else for 24 hours, so that we could have that time to just concentrate on each other and this big new step we were taking together.
It was so sweet, genuine, and true to who we are as a couple. I wouldn't have changed a thing.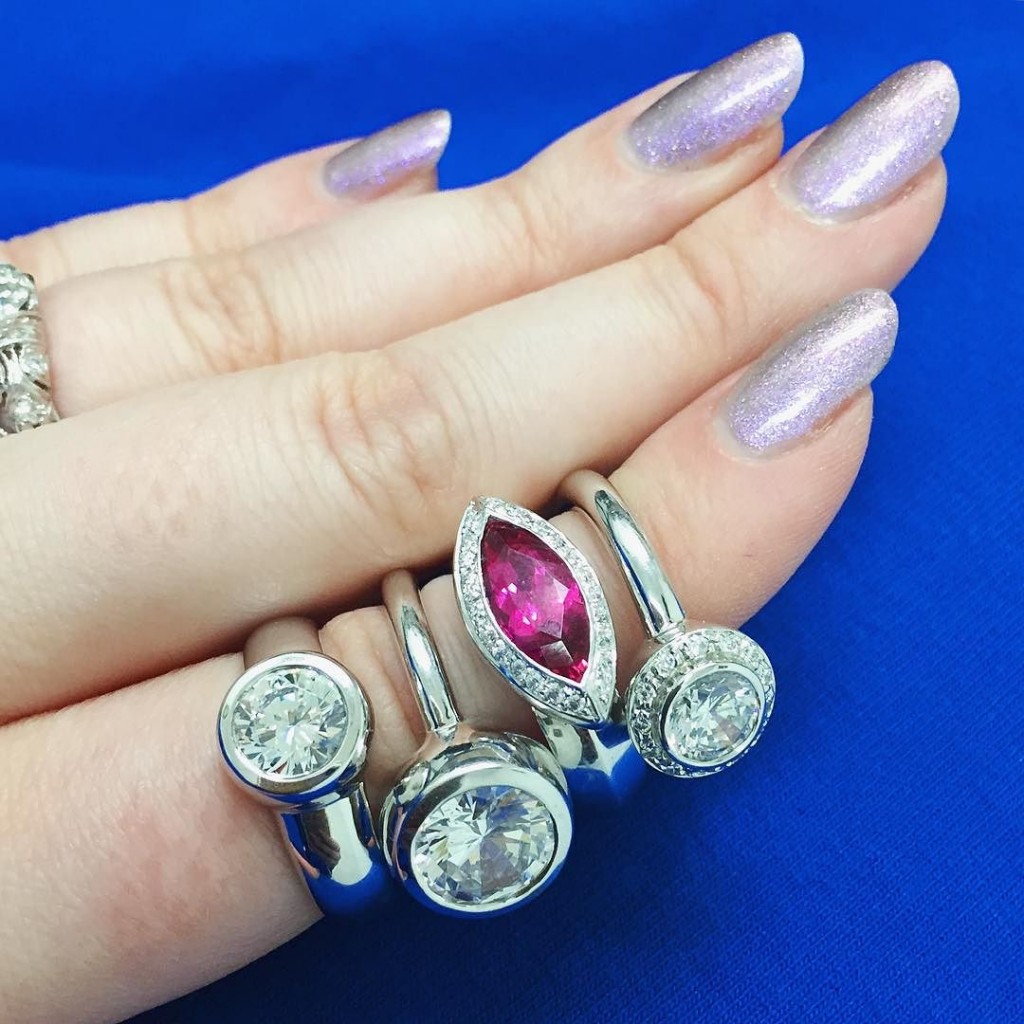 You feature both modern and genuine vintage jewelry on your blog.  Do you feel the same when wearing both types of jewelry?
That's such an interesting question. I do love both modern and antique jewelry, but I think I love them for slightly different reasons. With antique jewelry, I'm wearing a beautiful object that tells me something about the past and carries the memories of the people who loved it before I did. It's a relic and an accessory. With modern jewelry, I'm wearing a brand new creation representing the innovative techniques and fresh design aesthetics of contemporary designers. But they're both on the same continuum. I feel like understand and appreciating both old and new jewelry gives me a better understanding of each.
One of my favorite ways to wear jewelry is to pair an old piece with a new piece that feels connected to it: for example, I have a gold Marla Aaron lock that I like to pair with a Victorian padlock charm from the 1800's. Both locks, but from different sides of history. I think it's really cool how the same motifs have appealed to people for 100's of years.
A few tips and advice for our ladies in waiting looking for that perfect ring?
The best advice I can give to anyone on the hunt for their perfect ring is to go to a jewelry store – by yourself, with a friend, with your future fiancee – and try on a bunch of different rings. Even if you think you know exactly what you want, try on several different styles to be sure. It's important to make sure to see what a ring design looks like actually on your finger before you commit to it forever.
For example, I always thought I wanted a square diamond – an asscher or a cushion cut – but when I actually started trying on rings, I felt that the harsher angles looked wrong on my hand. Don't forget that your perfect ring isn't going to exist in space, like when you see it online in product photos, it's going to be on your finger.
Your favorite current engagement ring trend?
My favorite current engagement ring trend is an increased interest in individuality. Brides right now are feeling more free to choose atypical stones, interesting colors, and outside-the-box designs for engagement rings, which I think is exciting for designers, stores, and customers. I love the idea that it's becoming more accepted to go for the ring you really want, instead of feeling pressured to choose a more traditional style (unless a more traditional style is what you really want, in which case, that's exactly what you should have!).
Go check out Becky's blog Diamonds In The Library >>
Follow Diamonds In The Library on Instagram >>