Michael and Jess took a last-minute trip to London. While there, Jess asked Michael if he would do a video with her for her YouTube channel. What she didn't know was that Michael was planning to propose, and decided to do it during their video so they'd have a record of it forever.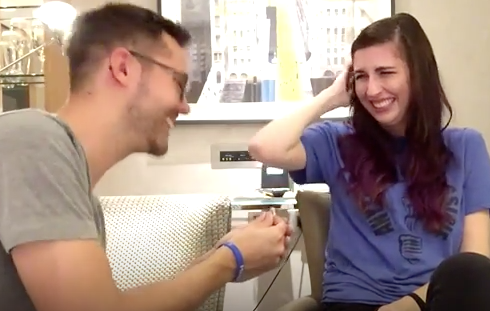 Michael and Jess are talking about couples questions, and the Michael decides to bring up, "What do people ask us all the time?" Because, apparently, the two get asked a lot when they're going to get married. He eggs her on, trying to put the pressure on her about when she wants that to change and all that stuff. And then he pulls a bag (not a box, 3:00) out of his pocket. Already, Jess is starting to get emotional, because it's apparent just how nervous Michael is… and what's probably coming next.
When Michael gets on one knee, Jess's reaction is probably the cutest thing possible… and will make you LOL. Because around 3:58 she apologizes for "ugly crying." I mean, who does that during a proposal? We all think it, I'm sure, if we get over emotional… but it was so fantastic to hear the words out loud.
Emily