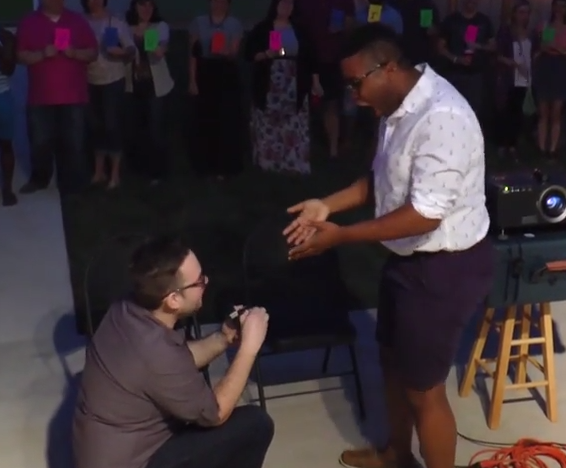 TJ was planning a surprise party for Matt, or so he thought. When they arrive to the party, they're lead to sit down for a video prepared for Matt's birthday. The first seven minutes go through *language induced* made-up, comedic bits from Matt's friends. Come 7:00, Matt comes on screen and starts bashing the video. When he finally reveals that it isn't about his birthday, the look on TJ's face is priceless.
This couple met through Facebook, and with a twist of fate were finally able to go on a date after Matt finished working on a cruise ship. It was TJ who convinced Matt they needed to go out, and Matt said he wouldn't pay unless TJ was entertaining; Matt paid for the first date.
Matt says that TJ is unable to keep surprises, while Matt is perfect at giving TJ a genuine surprise. So, when it comes to the end, he tells TJ to turn around (10:48). All their friends/family are standing there holding letters that spell out, "TJ Will You Marry Me?"
TJ's reaction is so genuine, it may have brought some tears to my eyes.