We are in the season of Lent and Easter is headed our way. Weather you celebrate the holiday or not, it offers quite a few chances to propose in adorable and creative ways. Here are just four of them!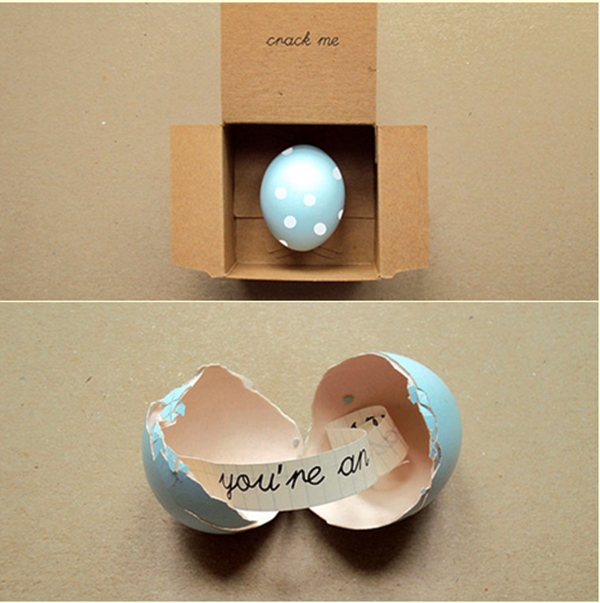 1. Easter Egg Hunt. If you're part of a church, or a big family, or even just the two of you, there's nothing wrong with an Easter egg hunt. Now, if you do this, make sure you or someone you know is standing guard so she doesn't miss the ring or someone else doesn't accidentally acquire it. A cute idea would be to plant the egg somewhere, if you're not doing an actual hunt, and be like, "Oh, look, an Easter egg! I wonder if there's anything in it." OK, ok, maybe that's a little cheesy. I'd still totally fall for it.
2. Surprise Easter Basket. Surprise your girl with a traditional Easter basket full of special treats. This could be a collection of pictures from your relationship, little clues/pieces of your past, or just the traditional chocolate eggs. Whatever you want to put in it, don't forget the ring or something that leads her to know you're about to drop to one knee!
3. Dessert first? Everyone is using cupcakes for everything these days. Find a local gourmet bakery that will plant your ring in the dessert. Bring them for just the two of you on the holiday, and make sure you know which one she'll want. Another idea? Place your engagement ring at the bottom of a jar (preferably small) and fill it with jelly beans. Tell your girlfriend you couldn't think of something else to give her, and you hope she likes the flavors! Just make sure she knows they're to share and that she gets to the bottom for a surprise!
4. Out in My Easter Bonnet.  Take your partner to church on Easter Sunday. Plan ahead to know the page numbers in the hymnal from which the church will select the morning's songs (if your church still does this). Choose the first song page to hide your engagement ring along with a proposal note in the hymnal. When your partner opens the hymnal and reads your note, you'll get your answer. If it's yes, place the ring on her finger and celebrate Easter and a marriage proposal she'll never forget. If your church doesn't use hymnals, maybe enlist the help of your minister/team to have the question go up on the screen during the service at an appropriate time. Excuse yourself to the bathroom before it happens, then go up on stage and call her down to answer! Of course, I would suggest only doing this if you really know the answer.
Emily
Photo Credit: In The Mood 4 Love Blog