A soldier returns home for Thanksgiving, surprising his girlfriend as she finishes aTurkey Trot 5k. She's cold, sweaty, and probably exhausted, but as soon as they see each other there's no keeping them apart.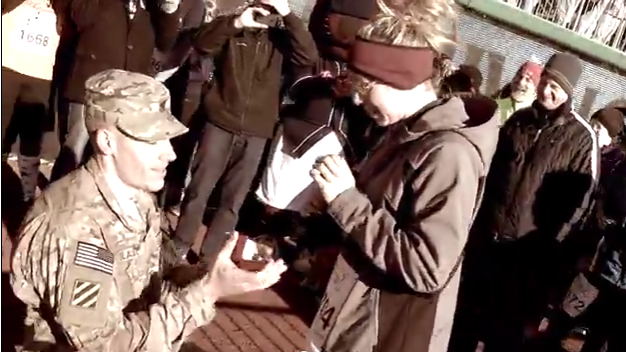 He goes to her (and you can hear the announcer letting everyone know what's going on), and he drops to one knee. You hear her "yes" very clearly over the video.
I love the look she gives him afterwards, when she's putting her glasses back on. It's one of "those" looks like, "I can't believe you just did this to me." While I'm sure it's positive, I can't imagine all that's running through her head. Since she did after all just finish a 5k, is surprised to see her loved one home from Afghanistan, and then he proposes– all on Thanksgiving?!
Good job, soldier. Good job.
Emily