Paris really is the place of love. So many people seem to choose it as the place for their proposal, and boy did Adam go all out.
Adam tells Kristen they are going on a wonderful trip to NYC. He even presents her with fake Broadway tickets, travel brochures, a map, and more to make it seem as though this is where they are really headed. But it's not.
Behind all of this, Adam is secretly planning a trip to Paris, and a proposal. The reveal of their actual trip is around 3:25. He makes her put on a beret and hands her a present, which she unwraps to find a Paris travel book and her passport. He has to reassure her that they are, in fact, headed to Paris. She then dances around on her own, and even an airport employee! I'd say he did a good job on the surprise.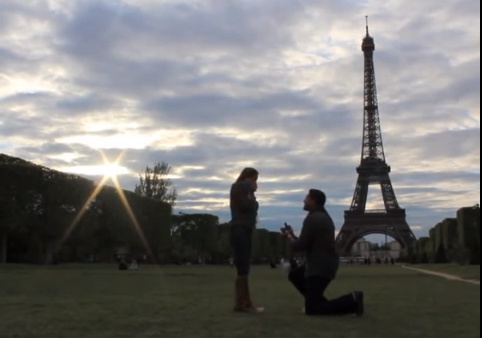 The rest of the video is takes of their trip. Around 7:00, they are posing for pictures in front of the Eiffel Tower, and he drops to one knee. She starts crying (of course) and jumping up and down (again) and it's probably the most precious thing ever.
Adam, you give ladies around the world hope for a romantic guy. Congrats!
Emily