People truly come up with amazingly creative ideas. This is definitely a first for me. I am astounded that this guy worked this all out!
Tiffany and Rick are pretty avid Scuba divers that always wanted to visit the Turks and Caicos Islands. Rick thought proposing underwater would be pretty neat, and it took him a while to figure out how to do it. Like anyone would think, figuring out how to keep the ring safe was high on the priority list!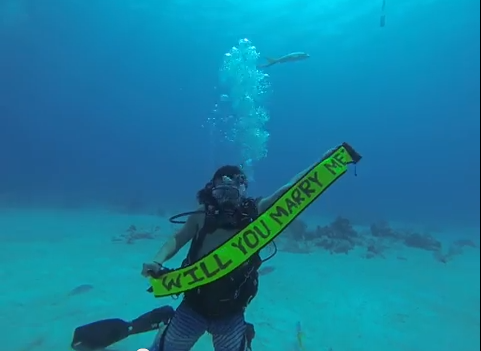 Now, I'm not a Scuba diver, but Rick had to clearly think this one through to make sure the ring wasn't lost. As you may notice, it's tied to the end of his marker buoy (had to look that one up). From the end of the buoy it immediately went to his fiance's finger. We can only assume that Tiffany nodded her head profusely, since we never see her face in the video, but we do see the ring go on the finger and a quick smooch after the fact.
Talk about a creative proposal. Way to mold it to your love story, Rick!
Emily