We've been reporting on jewelry trends all week while we were in Vegas, but just in case you didn't get around to reading our blog posts, here's a quick recap of the biggest trends to come out of Jewelry Fashion Week this year. We consulted celebrity jewelry expert Michael O'Connor to help us list the most exciting and noticeable trends. Check them out below:
ENGAGEMENT RING TRENDS
Color: "From Kate Middleton to Penelope Cruz to Jessica Simpson, color in engagement rings is hot."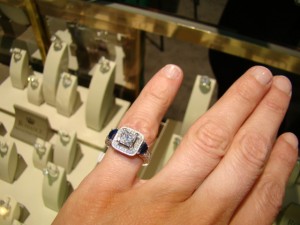 Square Cuts: "Seems to be everywhere these days:  Sherri Sheppard/Carrie Ann Inaba/Ginnifer Goodwin."
Rose Gold Accents: Brides who want a hint of color in their engagement ring are flocking to rose gold, especially rings with just a hint of rose gold in the setting.
Baguettes or trapezoid side stones: Ring adorned with two trapezoid-shaped diamonds on the side.
More Unusual Cuts: "Celebrities seem to be experimenting with cuts beyond the classic round and square. Reese Witherspoon with her Ashoka cut/LeAnn Rimes with her oval cut/Natalie Portman with her Mine Cut."
Diamond Collars/Pave: "More diamond set collars are surrounding center stones these days as well as pave and micro-pave styles."
A Return to Classic and Vintage: "Solitaires and Vintage styling are also very big this year."
LADIES WEDDING BANDS
The Eternity Band: "Whether it's for more sparkle or [symbolism], the diamond eternity band is huge right now."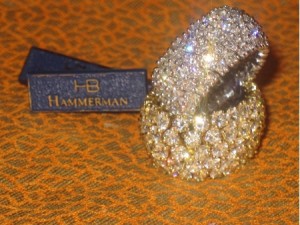 Pave: "Like the eternity band trend, pave is popular because of the sparkle and also because it allows for wider bands and a more reasonable price."
Message Styles: "Rings with messages of love on them."
Personalization: "Whether it's an engraving or a message that means something to the couple."
MEN'S WEDDING BANDS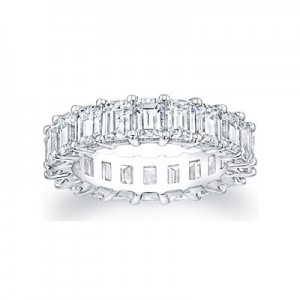 Diamond and gemstone set: "Nick Cannon wears an eternity band style."
Matte Finishes: "Men are liking the masculine appearance of rings that are dull or matte in finish."
Patterns: "Patterned or carved wedding bands provide a guy the opportunity for style."