Today was our last day at JCK. After a whole week of non-stop jewelry coverage, parties and interviews, we're pretty exhausted. On our last day we wanted to comb the event and make sure we left nothing out. We uncovered a few more jewelry trends and interviewed designers for Engagement 101 TV. Check out the highlights below: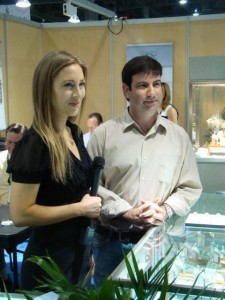 We stopped by to chat with Ron Samuelson from Samuelson's Jewelers. He gave us some great tips on how men should shop for an engagement ring. The interview will be featured on Engagement 101 TV later this month.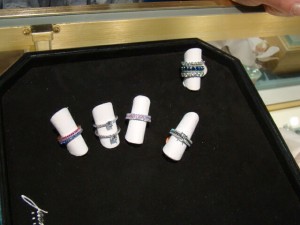 These colorful, stackable bands by Gemveto are really cute.
<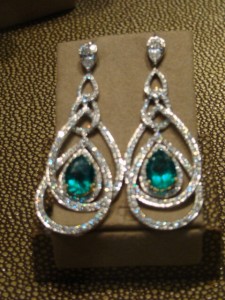 Check out these gorgeous emerald cut earrings by Gumuchian. Perfect for women who want to make a bold statement.
<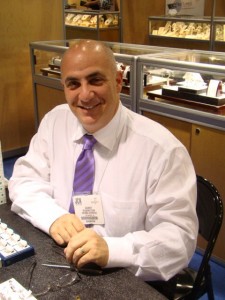 Danny from Prisma Express smiles for Engagement 101's cameras.
<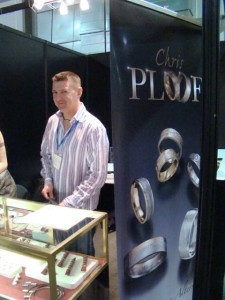 We interviewed Chris Ploof for Engagement 101 TV. He showed us these unique meteorite wedding bands for men, which we didn't get a picture of, but we did get this picture of Chris Ploof himself.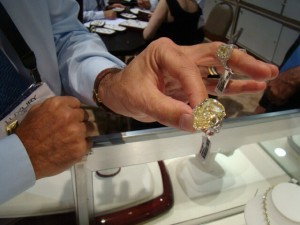 Wow! This pear shaped yellow diamond engagement ring by JB Star is a whopping 36 carats!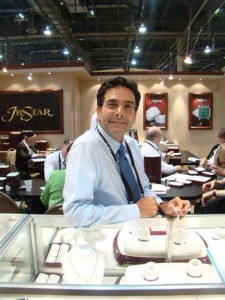 And there's the designer himself, Raphael.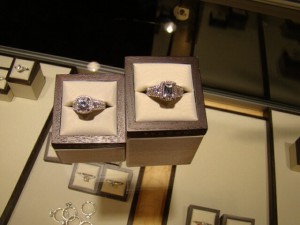 We loved these engagement rings by Tycoon.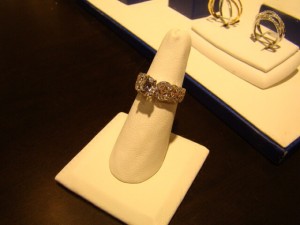 This engagement ring by Ms Imagines has a rose gold lace detail that's really unique.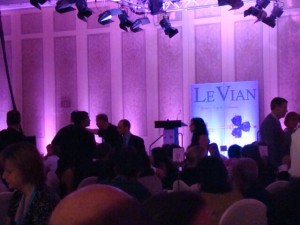 Here we are at the Le Vian fashion show. The swanky event is held every year, and this year Entourage's Perrey Reeves was in attendance. And yes, she was decked head to toe in Le Vian.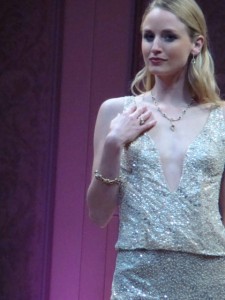 Here a model shows off gorgeous jewelry by Le Vian. The theme of the show was about future jewelry trends for 2010.
That's it! Jewelry Fashion Week is over and we're heading back to New York, but our coverage doesn't stop here. Tune in to Engagement 101 TV all this month to see exclusive videos from the event.