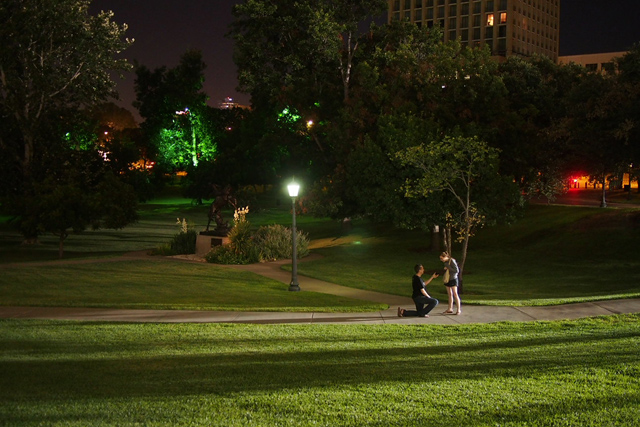 "Small" Texas Proposals with BIG impact
When proposing in Texas, it's natural to want to go BIG. After all, everything is bigger in Texas, right? But what about taking a softer approach to your proposal? What if you left the orchestra at home and executed the perfect proposal on a smaller scale? Wouldn't it be more intimate? Perhaps. If done right, of course.
Well, Texans don't do anything half fast. Here are the best, intimate ways to propose. You can bet you'll get the "YES!" you want (and deserve).
1. Table for Two At The Vineyards
 The Vineyards restaurant in Garden Ridge, Texas has a great proposal package that works with any budget. Call in advance to reserve it and they'll put a table for two out among the beautiful, lush vines behind the restaurant. Talk about romantic. Their basic package starts at $50, which includes the candlelit, private table and dessert. But of course you can amp it up with wine, champagne, and even a meal depending on what you want. It's a beautiful setting for a beautiful beginning to the rest of your lives.
2.

Propose at a Park 
Texas has some great landscaping. Check out this picture of a couple proposing at dusk at the Capitol. Lucky for them, this Austin photographer was able to candidly capture the moment. If that's not a perfect backdrop for an even more perfect proposal, then I don't know what is. It's simple, pure, and definitely a winner.
3.

Dine at the Most Romantic Restaurant in Houston 
Michelangelo's  Italian restaurant was not only deemed the best restaurant in 2003, 2005, and 2009, but it's also known by locals as a romantic hotspot. With great food and even greater atmosphere, this could be a wonderful spot for an intimate proposal. Especially with their gardens and waterfalls, this dining experience is sure to be special.
4.

Propose in the Dugout of the Texas Rangers 
If you're a fun couple and a pair of baseball fans, this idea is PERFECT. Skip the Jumbotron proposal stunts. Wait until AFTER the game or when the entire crowd isn't around at all, and take a tour of the facility.  Then once you're in the dugout, make your move. It's sure to be memorable without all the crazy of the crowds and kiss cams.
Nikki