It is a hot new trend. Whether you end up with an antique engagement ring or a vintage inspired engagement ring replica, here is all you need to know. Read this awesome interview with Leigh Nacht.

There is a lot of talk about vintage inspired engagement rings as a very strong trend this year. What does vintage mean for bridal jewelry?
Vintage jewelry – previously owned jewelry which reflects the design aesthetic of the period when they were made – offers the opportunity to not only own a treasure from another era, but the opportunity to have something that is truly one of a kind.  Brides fall in love with the small details of their engagement rings , the charm of the vintage cut diamonds, and the fact that their ring is unique to them alone.  The workmanship is also remarkable –  much of the jewelry made in the first half of the 20th century was finished by hand,  a bespoke quality not seen in the commercial jewelry of today.  A great vintage engagement ring – well cared for and looked after – will become a cherished family heirloom. Most contemporary bridal jewelry draws inspiration from a variety of looks from the past – and many jewelry companies come out with lines that intend to replicate vintage.

For wedding bands, vintage is wonderful but – because many bands cannot be resized – replica bands are a very popular and accessible option.   Brides and grooms love to personalize their rings with hand engraving –  the patterns of which are taken directly from vintage items.  As many vintage rings aren't perfectly straight at the base, we make a beautiful collection of gently contoured bands that work with many of the vintage and replica engagement rings – but will still look pretty and chic on their own.
In terms of design , what are the 5 strongest vintage periods? (with quick descriptions and what the rings would look like)
By far, the strongest period of design we have is Art deco which – for Engagement rings – can really be broken down into two periods:  1920s Art Deco and 1930s Art Deco.
1/1920s: Art Deco engagement rings

1920s art deco is typified by white metals (predominantly platinum), and details from the previous era such as filigree (delicate, open wire work) and fine engraving.  The ring is rarely a solitaire, and will usually have a slight dome head, a "hex head" or a four prong "picture frame" setting accented with petite side diamonds as well as tiny colored stones like ruby, sapphire, and emerald.   Old European cut diamonds are the norm, but Old mine cuts and -on occasion – Emerald cut and asscher cut diamonds.
2/1930s: Art Deco engagement rings

1930s Art Deco has a much cleaner, minimalist line.  Platinum is still the norm, but the center Old European cut or Transitional cut diamond will usually be set in a very solid, four prong setting with thick, tri-tipped prongs (commonly referred to as "fishtail").  There are usually a few small single-cut diamonds set into the shoulders – either bead or channel set – and engraving is very uncommon – usually no more than a millegrained edge.  Illusion heads are also very popular at the time – making a petite diamond look larger with a little collar of gold adding to the diameter of the diamond.  You also start seeing more wedding "sets" of an engagement ring matched with a wedding band.
3/ 1900-1918: Belle Epoque engagement rings

Much beloved – but very hard to find –  is jewelry from 1900- 1918.  The period is often referred to as Edwardian, Art Nouveau, or Belle Epoque.  For jewelry of this period, the emphasis is on platinum and delicate filigree – with a single old European or Old Mine cut diamond set in a 6-12 prong crown head embellished with flowers, swags of diamonds, fleur de lis, and hand engraving.  Some rings are a dome style and set with dozens of small single cut or old mine cut diamonds.  Pieces that are classified as "Art Nouveau" also employ yellow gold, colored stones, and natural motifs in their construction.  Jewelry of this period reflects both technological advances in metal work and diamond  cutting and artistic influence from all over the world.  It's a very dynamic period for jewelry!
4/ 1940s: Yellow gold engagement rings

Engagement rings from the 1940s are really popular as well.  The look is essentially a continuation of the look of 1930s Art Deco – with a few modifications.  As platinum was reserved for military use during WWII, 14k gold started to become popular once again – the diamond often set in a 14k white gold head to contrast against a 14k yellow gold band.   Many rings also display a "sweetheart" motif and matched wedding sets continue to be popular.
5/ 1880-1900: Victorian engagement rings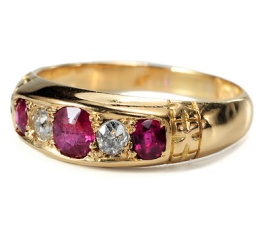 Last – but not least –  for us is Victorian.  I love Victorian Jewelry but, again, it is very hard to find engagement rings.  The rings we tend to see from the 1880-1900 are usually cluster rings – with a center colored stone surrounded by a circle or prong set old mine cut diamonds.  Also popular are gold rings set with a row of 5 rubies or sapphires – the largest set in the center which get smaller inside as the step down in the ring.  Many of the Victorian rings are 15k yellow gold –  a popular alloy used in England.  While we see very few classic diamond engagement rings from the Victorian period, it was at this time that Tiffany introduced their classic, six prong solitaire.
What about the use of color gemstones, was it popular in the past compared to diamonds?
The diamond engagement ring is a very much a  20th century ideal. While diamonds were given as gifts of bethroval in centuries past, it was only in the 20th century that the real push of "a diamond is forever" became the norm. Sapphire has been a very popular engagement ring stone for centuries – it is also quite durable and comes in a variety of colors.  I would say that sapphire is still the most popular colored stone for our engagement rings – but there are no real rules when it comes to an engagement ring – what is most important is that it is special to the couple.  In fact, our gemologist's grandmother's engagement ring  (which she still has and we had restored for her)  was set with a garnet – her grandfather's birthstone.  It's one of her favorite pieces!
In your collection, what is the most popular ring this year and why? What's your favorite?
Our most popular ring this year?  I really can't say…there are so many beautiful replica settings we make and each one has a pretty good group of fans.  I will say that one of the office favorites is the L1140 – a replica of an early Art Deco Engagement ring: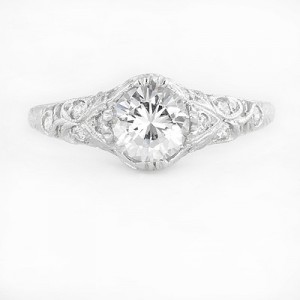 the L2675 – a classic based on a late 1920s design set with an Asscher cut diamond: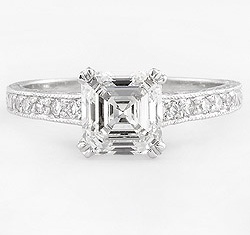 and L2636 – a delicate ring based on an Edwardian piece: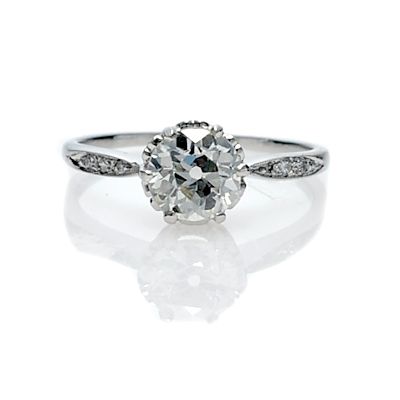 It's really hard to choose, luckily I can see them all every day!