When you first start dating and you're going through those first stages of falling in love, there is nowhere else you'd rather be than with your man. And preferably, naked. There are so many new things to discover, kisses you're dying to have, love you want to make. But as your relationship grows and continues, there are times when you'd rather not get-jiggy-with-it on a nightly basis. Believe it or not, guys don't always want to have tons and tons of sex either – and it's okay!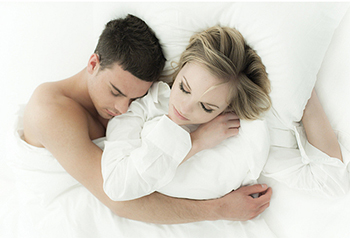 Below, read what women and men say about doing the dirty:
MEN
"While my girl can almost always get me in the mood, when she's really tired, I can tell she's not into it. I'd rather she be honest and say that she really doesn't want to have sex than to pretend she's turned on. Ideally, I'd like to have sex four times a week, but I'd settle for two really amazing, great sex sessions. I also love when she tries new positions or initiates sex. I don't mind being the one to throw her around, but I don't want to always feel like I'm begging her to do it."
WOMEN
"I hate feeling like I'm just being used as a masturbation tool! While I get that anything that I do can get him going – even just washing the dishes in a t-shirt – I like when we don't do quickies, but we actually take time to really get each other going. Sometimes if he goes too fast or too frequently, it doesn't really do anything for me. I'd like to have sex three times a week, but not every day. My favorite position is always when he hits my g-spot and when he makes a big effort to find it. I also really enjoy oral sex, as long as he takes his time and listens to me. It's fun to sometimes come home and surprise him with something hot, I know he really likes it."
HOW TO MAKE IT WORK
Sex drives will continue to fluctuate throughout a relationship, so get used to it. As long you're not constantly arguing over how often you do (or don't) have sex, you should be able to find a good middle ground that you can both agree on. It might take some compromise or a few sexy numbers, but it'll be worth it if it keeps your relationship hot and heavy.
By Aurora Brown
Image via Flickr