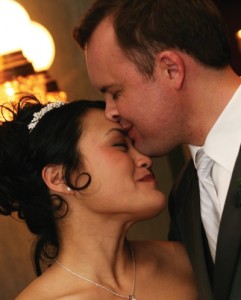 How they met
Jessica and Aaron met when Aaron's friend, who lived in Jessica's building, introduced them. They'd bumped into each other a few times at the front door, but it wasn't until one night, after they talked for a few hours, that they discovered there was some chemistry.
They met in Minnesota, and moved to Salt Lake City together so Aaron could attend The University of Utah for a graduate degree. They separated for a while after Aaron moved to the Washington, D.C., area for a job, but soon realized they wanted to be together.
The proposal
They'd talked about their relationship and the challenge of making it work long distance and, since both had good careers, they were hesitant to move anywhere if they would be "just dating." This conversation led to the subject of marriage. Since they lived a few thousand miles away from each other, the first proposal took place over the phone.
Aaron wanted to be sure that the engagement ring complemented Jessica's beauty and complexity. He had a bias toward the mokume gane style but he did a lot of research and browsed the Web looking for the perfect engagement ring.
Finally, Aaron commissioned James Binnion Metal Arts to create a ring. Of course, since it wasn't a surprise proposal, Aaron was able to ask Jessica questions about her preference. As soon as he could, Aaron flew out to Salt Lake City and took Jessica on a hike. He proposed in Little Cottonwood Canyon on a granite mountainside overlooking a waterfall.