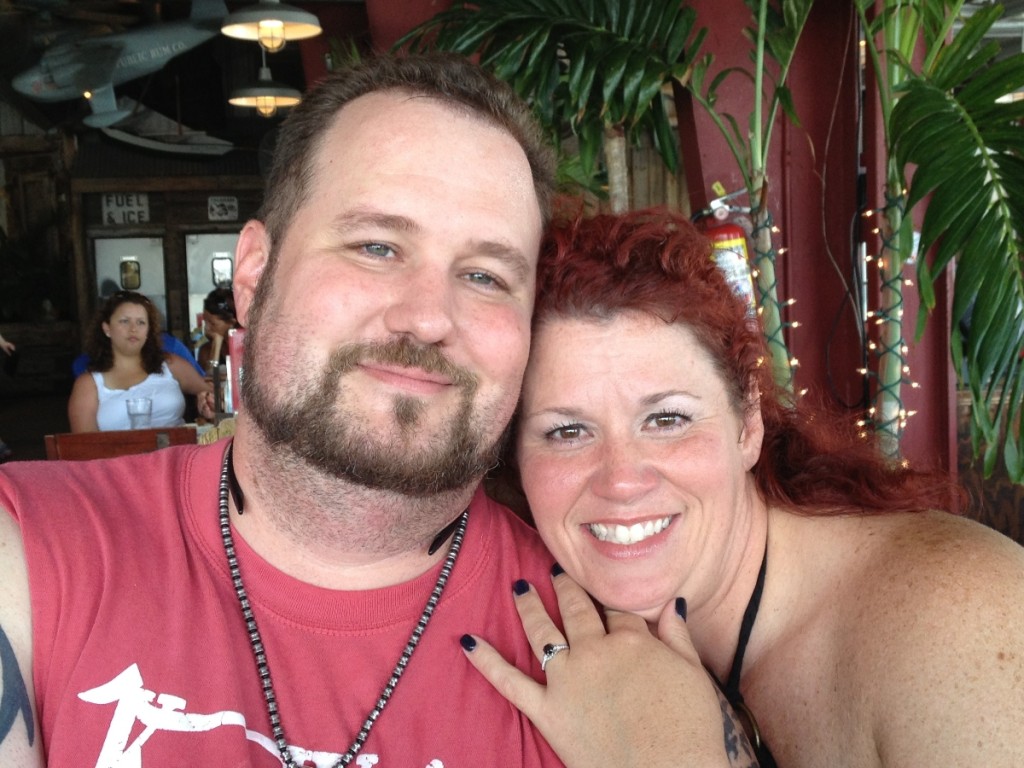 A Southern Most Point in Key West Proposal
While Bryan was working at a country bar as a bouncer, a girl fell in the women's bathroom and busted her head open. Me, being a law enforcement officer, went to check on the female per the request of the head security because his staff did not have any female bouncers. While in there, Bryan came to write his incident report. While getting the information from the boyfriend of the girl who fell, the boyfriend accused Bryan of not giving him his girlfriends drivers license back. Seeing that I saw Bryan give it back, I yelled at the boyfriend. And Bryan thought "Who is this attractive woman defending me?" After the incident was over, Bryan and I exchanged numbers and have been together ever since.
Melissa and Bryan's Proposal
On October 4,2012, we drove down to Key West to start our vacation. We arrived at around 3:30 am. I was sleepy because I got off work at 7 pm the night before and had not gone to sleep. Finally we layed down, I fell asleep, and at the ungodly 7 am hour I was woken up by Bryan!
Grumpily and after much protest I got up, got ready, and asked "Does my hair look ok?" It was sticking up and Bryan fixed it for me. See, Bryan wanted to go to The Southern Most Point before the crowd got there. When we arrived at the Southern Most Point, there we a whole 4 other people there!! I was still a little grumpy as I was not fully awake yet, but we started taking pictures and making fun of the free range chickens and roosters that were wondering about.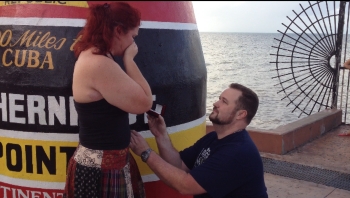 What I didn't know was that Bryan, his best friend Jim and his wife Marisa already worked out the plan that was about to unfold. Jim had Bryan's phone set to video and Marisa was still just taking pictures, and there I was clueless… I was turning back toward Bryan after our "cute" picture, he started getting on one knee…. I was so surprised I said, "You're gunna do this now?!" He said yes, right now! After he got on one knee he told me that I made him the happiest man in the world and so happy would I make him more happy and become his wife. Naturally, I said yes!!
The Engagement Ring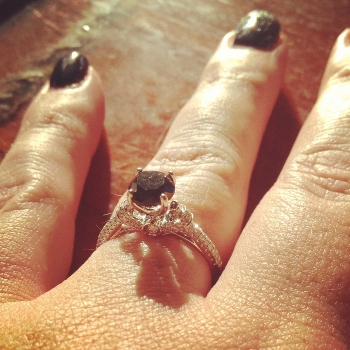 The vintage setting is by Loiri with a round black diamond center stone. Total carat weight is 2.25 carats.
One Response