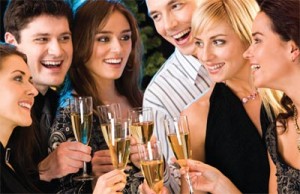 You've talked about it, thought about it, dreamed about it and now it's official. You're engaged! Although the wedding is still months away, it's time to start celebrating. An engagement party could be just the thing to announce your exciting news. Planning a party this special can be daunting, so here are some tips to help you kick off your own personal wedding season with style.
TIP #1 Go casual
Most wedding and party planners agree an engagement party is neither a mini-wedding nor a dress rehearsal for the big day. While it should be festive and fun, it should not compete with the main event to come. That doesn't mean you can't match your celebrations in style. For example, if you're having a traditional wedding, it makes sense to plan a less formal but still classy and elegant engagement party. Try hosting a cocktail, hors d'oeuvres and desserts party that complements—but doesn't outdo—the wedding.
If you want to go to an opposite extreme, you could plan an even more casual engagement party. Try a clambake on the beach, a Sunday brunch at home or a backyard barbecue—all easy affairs that bring family and friends together without resembling a formal wedding.
TIP #2 Keep it simple
Today's engagement parties tend to be simple affairs. Once lavish events for hundreds of guests, they're now typically more intimate gatherings. Simplifying your plans isn't just about cutting back. It's also about getting creative. Instead of a full bar, for example, you could have a wine bar featuring favorite wines contributed by family and friends. Rather than an expensive dinner at a restaurant, you could opt for a more budget-friendly breakfast party complete with yummy mimosas and Bloody Marys. The money you save by simplifying could be put toward other aspects of your engagement party, like décor, favors or fun. (Ever thought of renting a photo booth?) The point is you don't have to limit your options even as you
scale back.
TIP #3 Get personal
Whatever style the engagement party, it should always honor the newly engaged couple with unique touches that reflect their special qualities. Start with a location. Perhaps you could host the event at the restaurant where you had your first date, or incorporate foods and flowers from the destination where you got engaged.You also could stick to themes and style details that will be used in the upcoming wedding. For example, you could design invitations to both events with the same logo or decorate with the same color scheme. Thinking about individual tastes also can personalize the party.
TIP #4 Serve a fun feast >>

Speaking of food, it tends to be a focal point of any party, engagement or otherwise.Guests anticipate the dishes they'll dine on and remember them long after the party is over. One way to make sure your guests' appetites are satisfied: follow the latest trends in party food. For dessert parties, cupcakes are the in thing in most cities, and fortune cookies can add a twist of excitement. "Ask your bridal party to be a part of your big day in a fun way," Jodi Cohen and Sarah Lowy of JOWY Productions in Los Angeles suggest. "Fortune cookies can be given out with messages asking them to stand by you at your wedding." How sweet!
TIP #5 Plan a getaway
You've heard of destination weddings, but a destination engagement party? Yes, that's right—destination engagement parties are all the rage among the rich and famous.And you can plan one, too. But if you're looking for something more economical, try renting a lake or beach house or try planning a group camping trip. Pool resources to fund special activities like a high-end cookout or chauffeured wine tasting trip. Believe it or not, it's pretty cost efficient if everyone chips in.
TIP #6 Use what you've got
Let's face it—from food to décor to special activities, parties cost money.But big spending isn't the only way to make your event exceptional. Often you can use what's around you for free. For example, suppose you're having a beach party. You can save money by taking advantage of your environment — have guests compete in a sand castle-making contest or beach volleyball.
This kind of thinking can extend to any season and any style of engagement party. Got a backyard pool? Host a pool party with a luau theme. Blast tunes you've preloaded in your MP3. Planning to celebrate during snowy weather? Invite guests to don their snow gear and build snowmen (or snow couples) together on the lawn. Serve colorful homemade snow cones and hot chocolate with marshmallows to inspire warm memories.
TIP #7 Share your passion
Is a favorite hobby part of the story of how you met? Maybe you and your beloved play sports together or sing in a band.Whatever you enjoy—whether it's biking, cooking, sailing or swimming— your engagement party could be the perfect opportunity to share it with friends and family. By encouraging them to join in, you'll infuse your event with fun and host a party that truly recognizes and reflects you as a newly engaged couple.
TIP #8 Focus on Love
Some couples just aren't into anything much besides each other. And that's OK, too!You don't have to share anything but love to have a successful engagement party. The party can focus on symbols of that love, such as hearts, the color red and sets of two to represent the merging of two people's lives. You could celebrate the idea of couplehood by having two of everything at your party. Decorate in shades of red and pink, and ask guests to incorporate those colors into their outfits, too.With a loving, newly engaged couple at its center, your party is sure to have the look of love!