I will publish more gift ideas in my Insta stories this week but let's get real, many of you are about to get engaged… so check out our engagement ring gallery if you haven't yet and hopefully you'll find one of our designers' pretties under your Christmas tree!
If an engagement is not in the cards yet, we think you should add a heart pendant to your holiday wishlist. Heart jewelry can look dorky but not the new trends of big open heart necklaces and heart pendants with gemstone inlay accents. They transform this classic love symbolism into something fresh, beautiful and fun.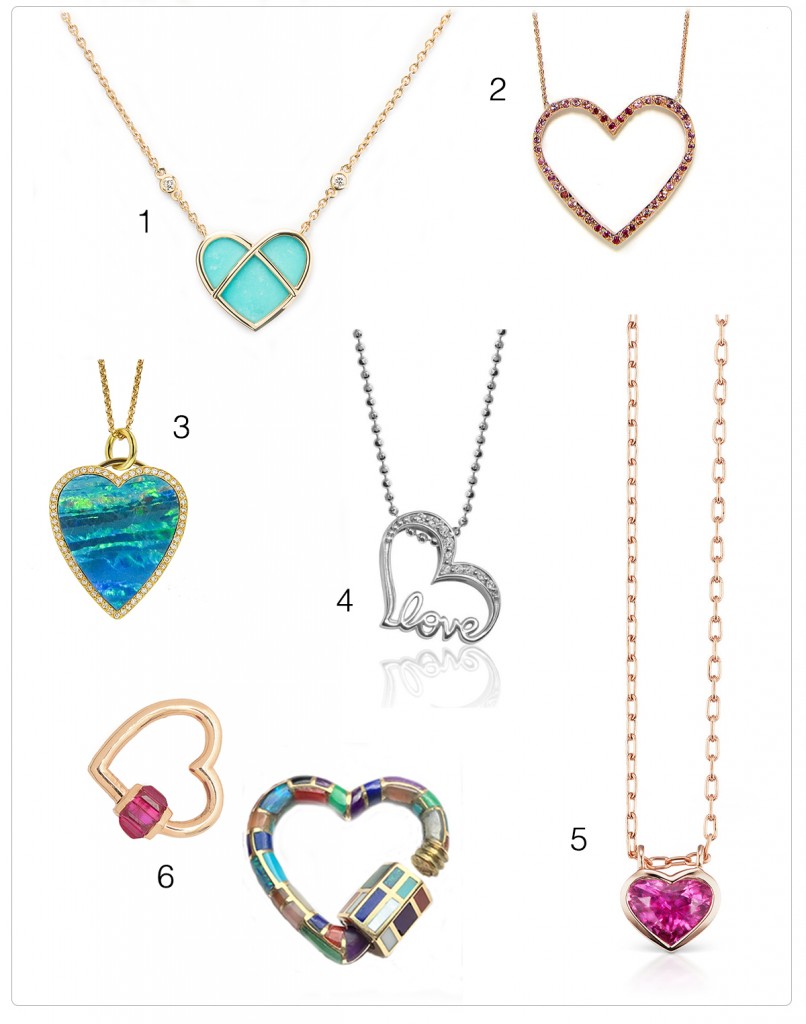 1 – Now that you can shop online anywhere in the world, treat yourself to a piece of France. We fell in love with this heart necklace because of the pretzel shape of the pendant. It comes in different sizes and is also available in lapis lazuli and pink opal. Poiray Paris, Turquoise L' Attrape Coeur Necklace, 1,790€
2 – So far, I had known Elisa Solomon for her dainty and whimsical 60s inspired  jewelry. I was so excited to see her make this year some much larger pieces, my favorite being this Pink Gold Ombre Large Open Heart Necklace, $1,910. So cool and pretty!
3 – Give me any heart from this collection, I would gladly wear all of them. They are also available with a lapis, turquoise or pearl inlay. My favorite though is the one featuring a midnight opal, it looks like a  Monet painting.  Jennifer Meyer for Ylang23, Opal Inlay Diamond Heart Necklace, $5,500
4 – Wear your heart on your sleeve – or in this case, your love spelled out on your neck with this pendant by Alex Woo. This open heart pendant comes in sterling silver or gold, plain or with diamonds. Words Love Hearts, $898
5 –  Jane Taylor's jewelry comes in an amazing array of colors and gemstones. This pendant is super cute in shocking pink but you can also have one made with the gemstone or birthstone of your choice.   Cirque Heart Necklace with Pink Sapphire, from $935
6 – I have seen the most amazing layering of Marla Aaron chains and locks on her instagram page. From classically elegant to edgy, you can wear her locks so many different ways depending on your mood. You can also mix them with other designer pieces or family heirlooms, they are so versatile. They work well as engagement ring holders when you have to remove your engagement ring and still want to have it on you. I love this festive Baby Heart Lock I saw when visiting Greenwich St. Jewelers, it features a ruby and is $1,475. It is also available plain gold and platinum or with other gemstones. On the right, a one of a kind splurge option. This heart-shaped creation is in 18k rose gold, entirely inlaid with semiprecious stones— Lapis lazuli, opal, coral, onyx, jade, chrysoprase, quartz, carnelian, agate, turquoise, green turquoise, pink opal, cachalong to name but a few. Priced at $17,000, it's a collector's piece.
Written by Sev
Severine Ferrari AKA Sev is the editor and writer of this blog and the online magazine Engagement 101. Sev was born and raised in Paris and has lived in New York City for over 20 years. Her blogging style still includes elements of her French writing style and humor. We recommend reading it with a glass of champagne and a French accent.