As we are getting closer to engagement season, Engagement 101 talks new engagement ring trends and platinum with the designers and brands who love to use it when designing engagement rings. The 2 last questions of this interview are provided by our partner Platinum Jewelry.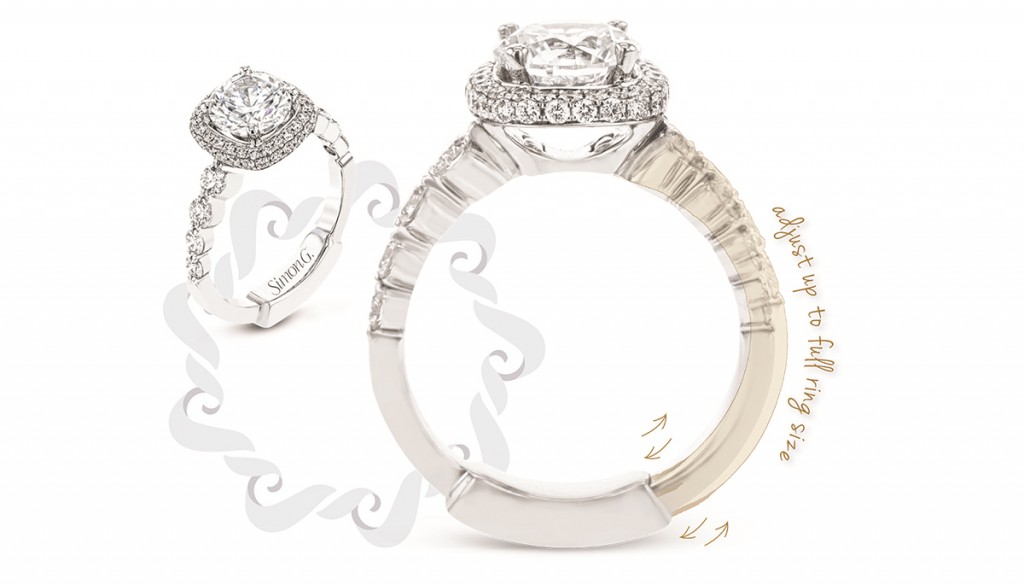 The buzz around your newest engagement ring innovation is huge, tell us more about it.
Simon G. was very excited to introduce our adjustable ring design at this year's JCK show. This exciting, game-changing design can adjust up to one full ring size! Many months of research went into developing this technology in order to troubleshoot any issues ahead of time. This design is a solution for many issues that customers may run into with ring sizing. Various factors can cause fingers to swell or change size, such as heat, dehydration or pregnancy.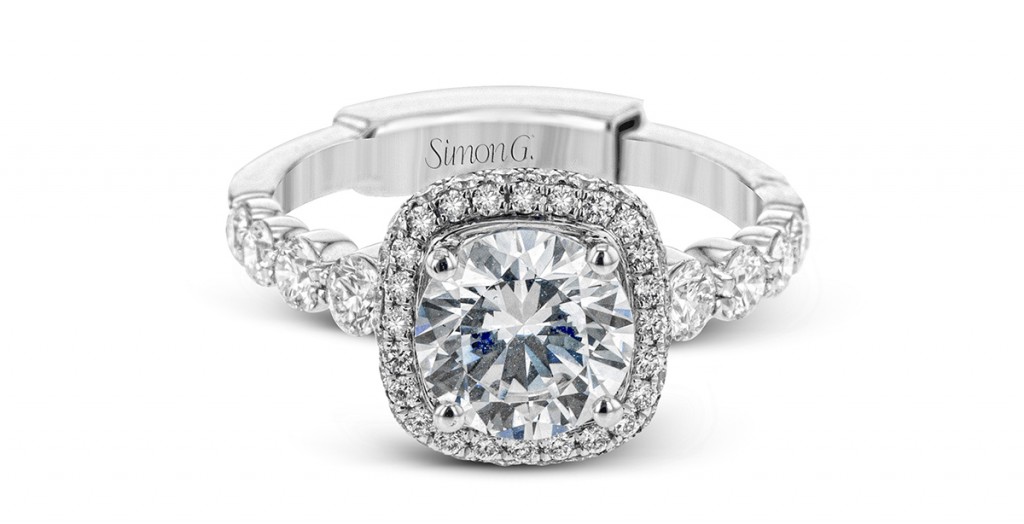 Some people also have knuckles that are larger than the base of the finger- with these rings, you can open the ring wider to slip on the ring, and then close it smaller once it is on. While there are other options on the market, we have heard some issues with other adjustable rings including Quality and Comfort: the diamond settings can loosen with movement over time, and sometimes rings can pinch or catch on things. We addressed all of these concerns with our hinged adjustable design so that each diamond will be held securely in place, and there are no open areas to pinch or catch on anything. The fit design offers a solution that is long-lasting and comfortable. This revolutionary shank design is patent-pending, and generated a lot of excitement at the show. We are thrilled to offer this game-changing element on nearly every ring with a shank of 3mm. It is of course available in platinum.
One of your retailers Robbins Brothers in Costa Mesa contacted us with the most amazing story in connection with a Simon G. ring. How exciting was it for Jazmin to recover her engagement ring that she believed lost forever! Tell us what happened.
I'm excited to share that Simon G. Jewelry was able to reunite a customer, Jazmin, with her lost engagement ring AND wedding band! The set was purchased from our retail partner Robbins Brothers. Jazmin was in her car touching up her make up and took off her rings. After she finished, she thought she put them back on, but it wasn't until later that she realized both rings were missing. 2 ½ weeks later, a kind Samaritan named Toni, found an engagement ring in the parking lot of her work. She asked her office if anyone lost a ring, but after no one claimed it she inspected the ring closer and saw an engraving.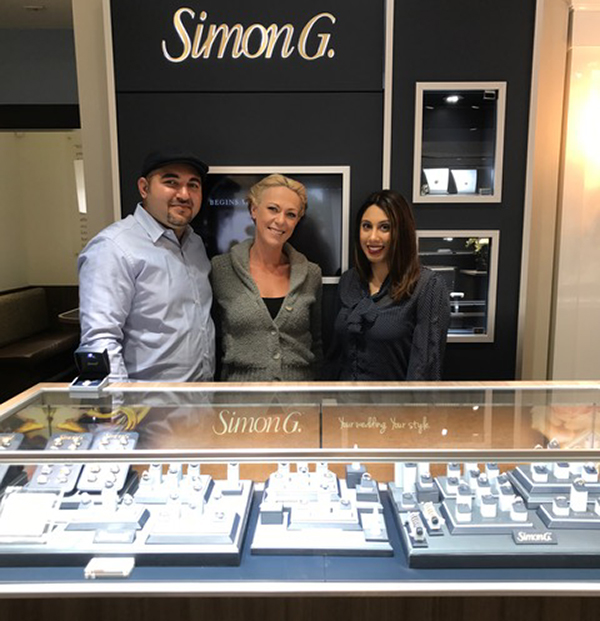 Unfortunately, Toni couldn't make out the writing so she enlisted the help of her son who took a picture with his iPhone and enlarged it which revealed the Simon G. logo and unique serial number.  At Simon G. Jewelry, every piece created is assigned a unique serial number at the time an order is placed and documents the life of the piece (type of materials used, dates completed, retail partner who purchased the piece, purchase order number used to order the piece, etc). Simon G. Jewelry is the only company in their competitive set to use this process. Toni immediately contacted the brand to track down its rightful owner. Just 4 days later, the wedding band was found in the bushes outside Toni's office. Ironically, Toni and Jazmin work in the parking lot across from one another. Zaven of Simon G. was able to coordinate a meetup with Toni and Jazmin to return the rings (Pictured above). Jazmin said,  "I missed my rings and I am so happy to have them back! My hubby worked really hard to save for them when we were younger. They look new and sparkly now – we are so grateful!"Right when I was losing hope, I got a call from Robbins Brothers that the rings had been found."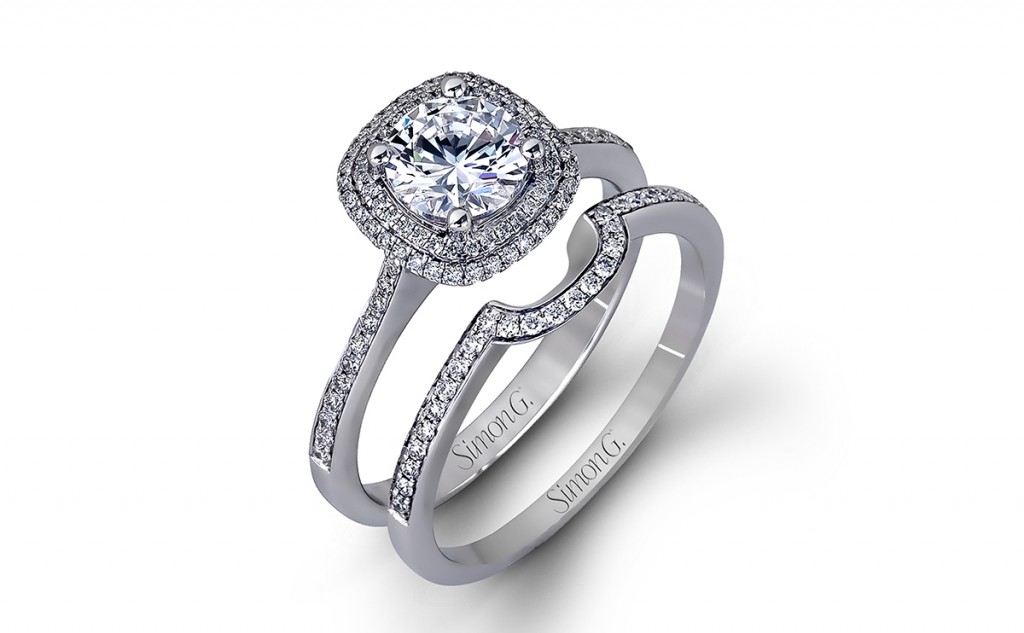 What is your favorite metal for engagement rings?
At Simon G., we craft every piece to last a lifetime.  We are not making the piece strictly for today's purchaser, but we craft the piece keeping in mind it will be enjoyed for generations to come.  When it comes to metal choice, we believe platinum to be the best metal to ensure the piece maintains its beauty and integrity for years to come.  In fact, Simon G. believes in platinum so much that they have created collections of platinum pieces which retail for less than $3,000.  Most all of Simon G. platinum pieces are just a few hundred dollars more than they gold counterpart, ensuring everyone has the opportunity to purchase the noble metal. The platinum  ring featured below is a current favorite.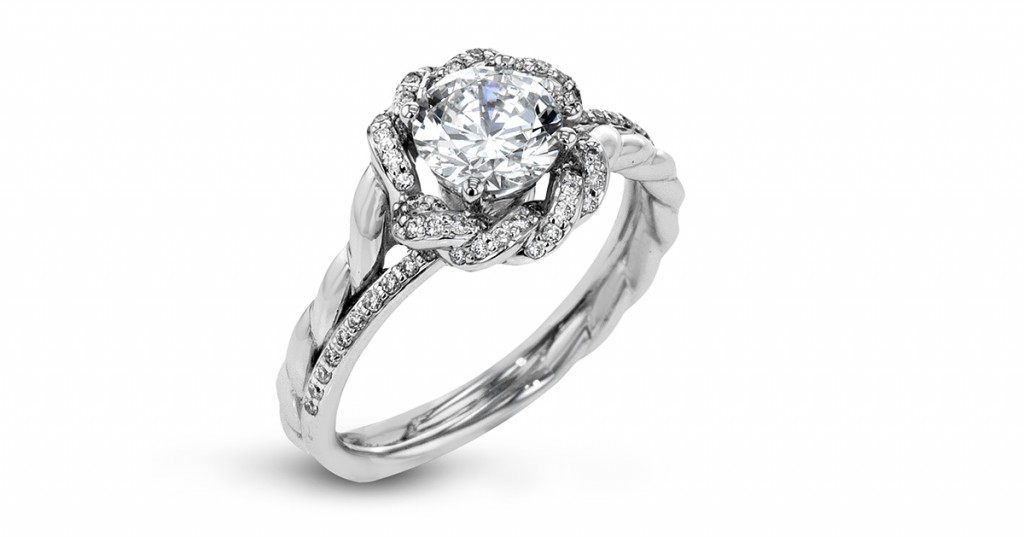 Can you describe platinum in 3 words?
Elegance, Longevity, Precious.
Thanks to Brooke Brinkman, V.P. of marketing and communications at Simon G., for taking the time to answer our questions.
To browse the Simon G. collection, click here.
To learn more about platinum, visit the website of our partner Platinum Jewelry .