As we are getting closer to engagement season, Engagement 101 talks new engagement ring trends and platinum with the designers and brands who love to use it when designing engagement rings. The last 3 questions of this interview were provided by our partner Platinum Jewelry.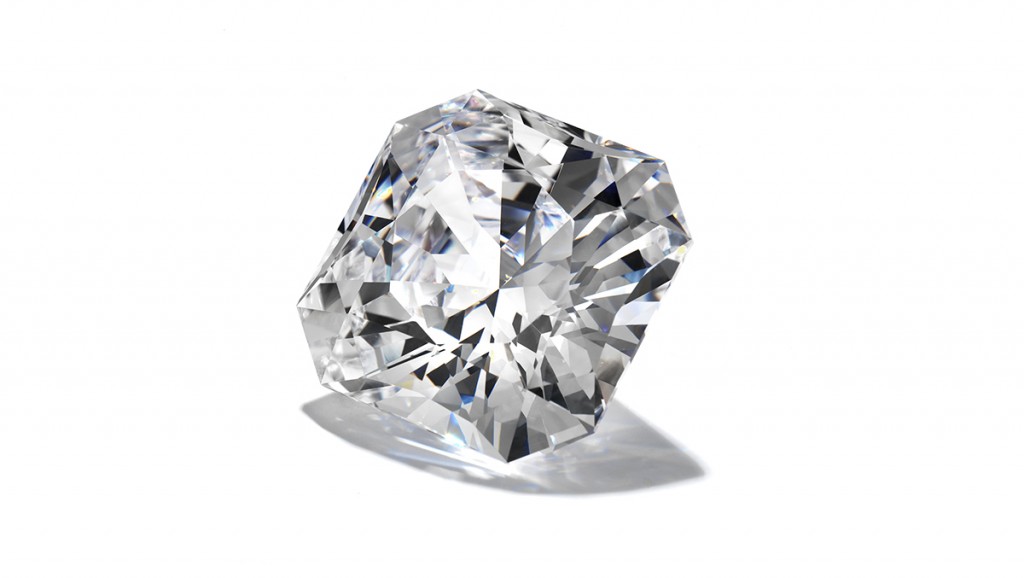 Hearts on Fire diamonds have amazing sparkle. Can you tell us more about your selection process and cut?
Hearts On Fire is a diamond of extraordinary beauty and brilliance, and a diamond that is recognized around the globe for its exclusive cut. While many people focus on other areas of a diamond's quality (color, clarity, or carat weight) we make the diamond's cut the focus every single time.  The cut of a diamond is the only aspect that man controls, and ultimately, the only trait that determines the overall beauty and value of a diamond.  Cut is what really makes your diamond sparkle, and the diamond industry states that if diamond clarity, color, and carat weight all remain constant, then cut will affect the value of the diamond by as much as 50% or more.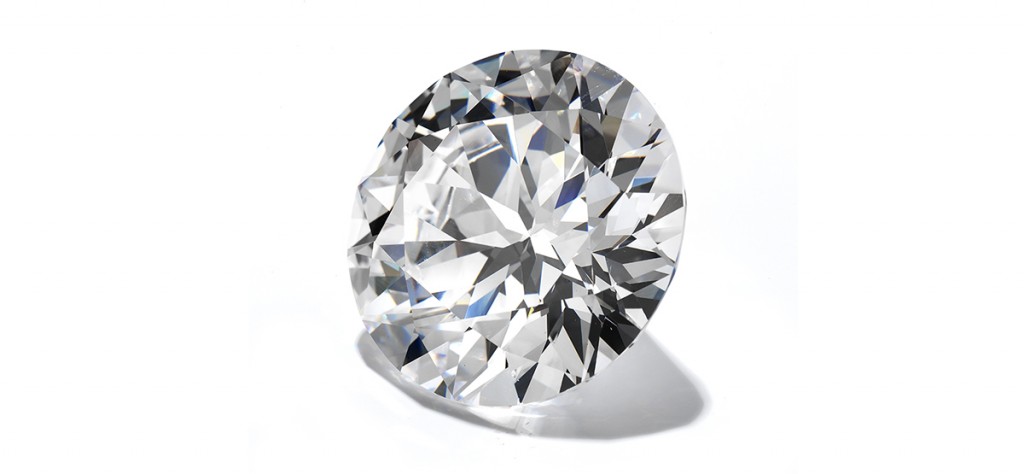 At Hearts On Fire, we take time to find the very best diamonds that the world has to offer, and then use the highest manufacturing standards and a diamond-cutting process unlike any other brands.  While all other diamonds in the world display partial, imperfect, or sometimes even no patterns of light, Hearts On Fire diamonds are cut perfectly every single time – no matter how big or small. Therefore, a Hearts On Fire diamond sparkles more.
I have been playing with your ring search engine and I love that you have designs that are minimalist and classic but also vintage inspired and contemporary styles. Who designs the rings and who is the HOF girl?
All of our engagement ring designs are created by the brilliant mind of our Design Director Ilaria Lanzoni. Ilaria combines of-the-moment fashion trends with the timeless elegance of diamonds for jewelry that always looks brilliant and never goes out of style. She approaches her craft with an open heart and an open mind, rooted in the belief that inspiration lives all around her. It is Ilaria's hope that her designs will encourage and empower the women who wear them to approach their own journeys with the same hope, optimism, and certainty that beauty and inspiration can be found around every corner.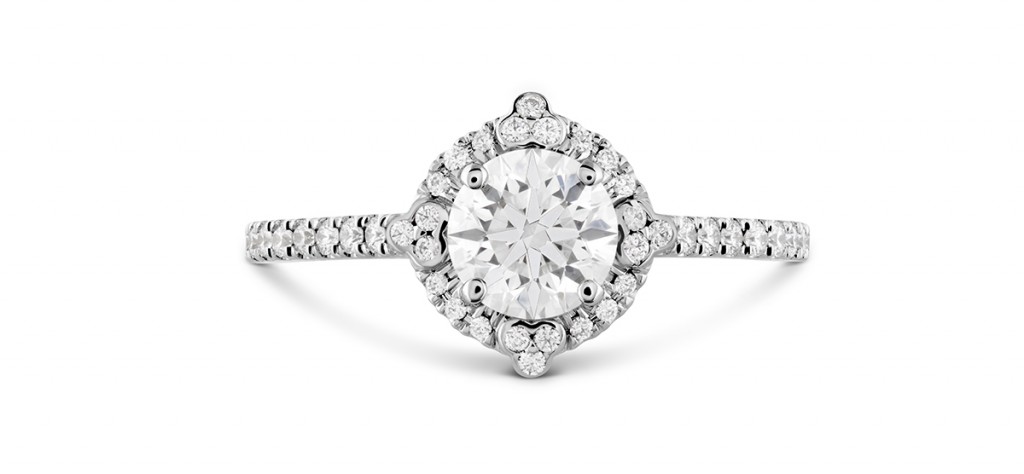 As for the HOF Girl – she is truly any woman. As a brand, Hearts On Fire is passionately dedicated to the artistry that makes our diamonds, and the women who wear them, more brilliant. The feeling of the brand is passionate and alive – lit up like the sparkle of the HOF diamond.  But, it's never over the top, it's genuine, relatable and human. Most importantly, Hearts On Fire is a brand that is for and about women … and Hearts On Fire is here to celebrate life's most precious moments with women around the world.
What metal do you recommend for an engagement ring? 
We believe that any choice of metal is a great choice, but we do recommend platinum for a few reasons. Platinum is a stronger precious metal that generally does not wear as much as gold over time – so while both white gold and platinum will require occasional polishing to retain their dazzle, white gold will require the Rhodium finish to be re-done over time.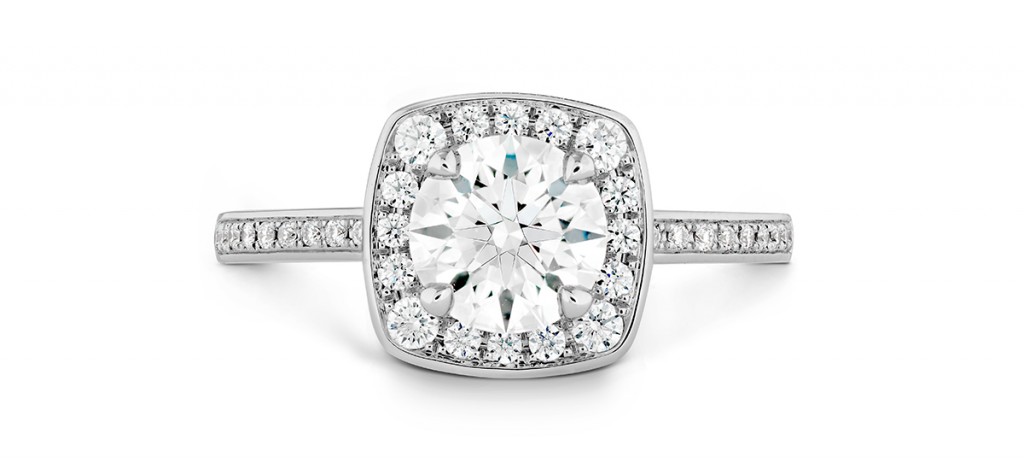 What is your favorite platinum design in the current collection and why?
We have so many favorites, but we currently are loving the HOF Hexagonal Engagement Ring. It has a slight twist on a traditional style, with a unique, fashion forward shape – yet, it still maintains the brilliance and timeless appeal of the round and Dream (square cut) style diamonds that HOF is known for. Even more special, the Hexagon shape is actually created by perfectly cur round diamonds, so the center stone has the same big sparkle of any brilliant round HOF diamond.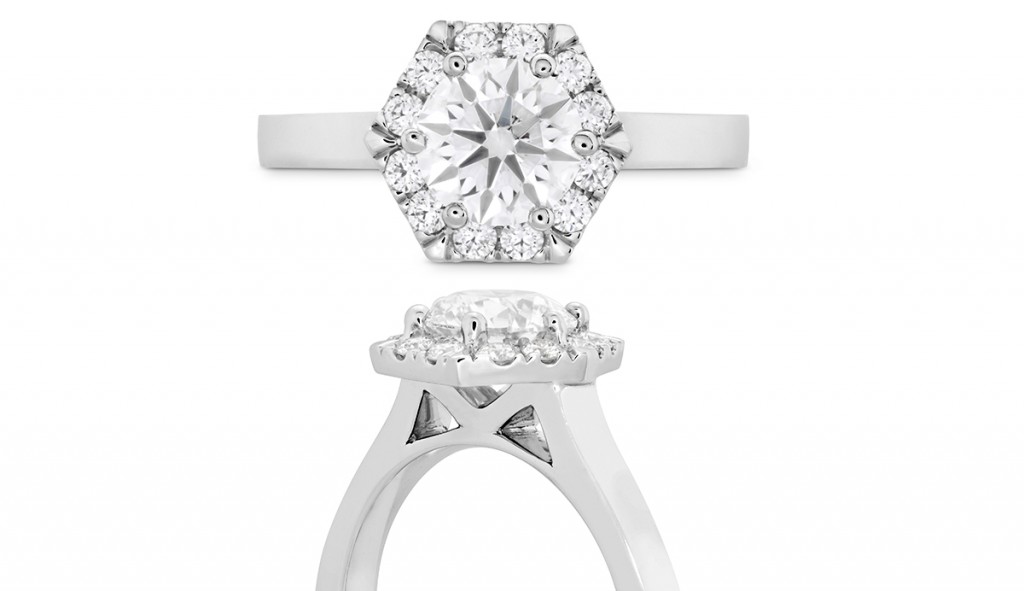 What are the first three words that come to mind when you think of platinum?
Brilliant, Timeless, Elegant.
Thanks to Angie Kielt, P.R. senior manager at Hearts on Fire, for taking the time to answer our questions.
To learn more about Hearts on Fire, click here.
To learn more about platinum, visit the website of our partner Platinum Jewelry .