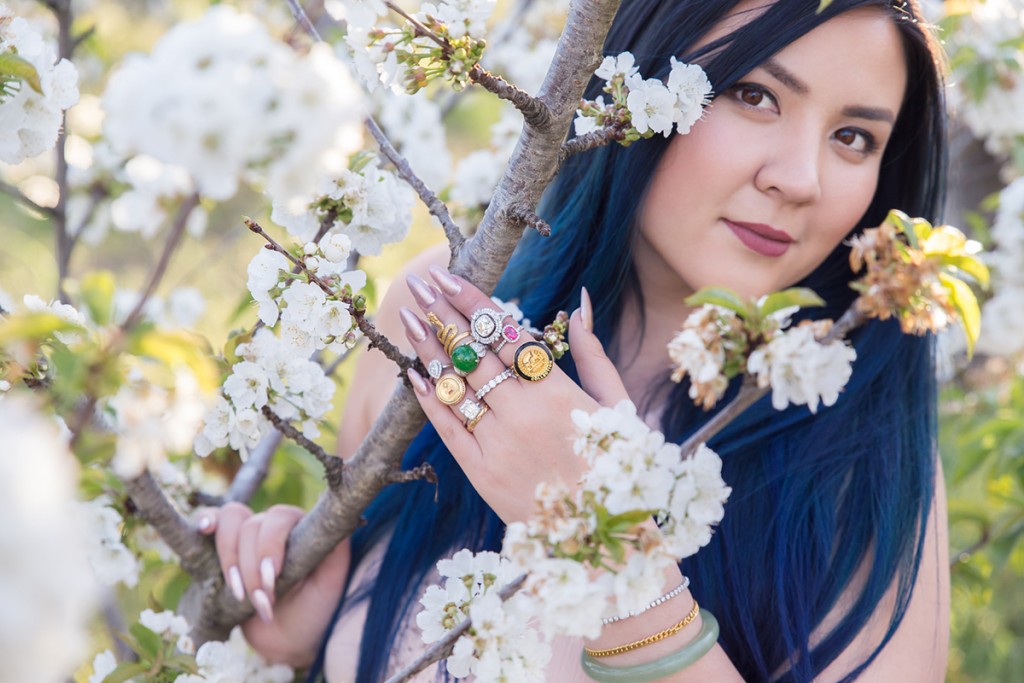 In the past couple of years, Instagram has been invaded by a lot of new jewelry "influencers " or "collaborators" accounts, some with blogs and e-commerce stores. Buying jewelry is not like buying a T-shirt. You can get ripped off, especially online. So be careful and do your research before trusting a jewelry social media account as a resource to buy jewelry. When it comes to finding inspiration and ideas, make sure you know the difference between image curators, genuine jewelers and bloggers/influencers who create original content. Curators are re-post accounts and might just be publishing stolen or "borrowed" images, non disclosed ad posts or selling bad knock-offs of the rings pictured. You should also learn the difference between stylists who know how to make jewelry look good (do make sure you follow accounts in this category that disclose when they have been paid to feature a brand) and jewelry experts who have in-depth knowledge of the manufacturing process, metals and stones. One of the newer influencer I can recommend is Vivian of The Jewel Diary. She kindly asked me if I could mentor her after this interview. It will be my honor. I love that she doesn't pretend to be a jewelry industry professional and takes her millennial audience on her own journey of jewelry  collecting with all its ups and downs. She also creates original content and photo-shoots which is hard work!
What made you decide to invest time and efforts blogging and creating social media content? 
I sort of fell into it. I started my Instagram account first as a place to share my shameless amounts of ring selfies with other jewelry addicted consumers, and needed a private place to share it with them. I couldn't freely post them on my Facebook wall without annoying the masses that are not into jewelry.
I started focusing on content creation in 2016 after I moved to the Bay Area and left all my friends behind in LA as a way for me to keep busy. I enjoyed putting effort into making visuals that are more appealing than lesser quality cell phone camera pictures. I started to go in front of the camera and show my true self and personality beyond the sparkles shortly after I realized my presence was what a lot of my feedback and real conversations were sparked from.
As a consumer and aficionado, I have a lot to share about jewelry from this side of the cash register. It's connected me to many friends, both consumers and jewelers alike. I will always come from the perspective of the consumer, and I think that message is important. Industry people should know what a consumer feels or thinks, and other jewelry addicts should have a safe place to ask questions without feeling like the answer is biased for the bottom dollar. Most new friends are intrigued when I say I am a jewelry blogger and lover, but mention feeling uncomfortable while shopping for jewelry. I'm trying to bridge that gap of uncertainty.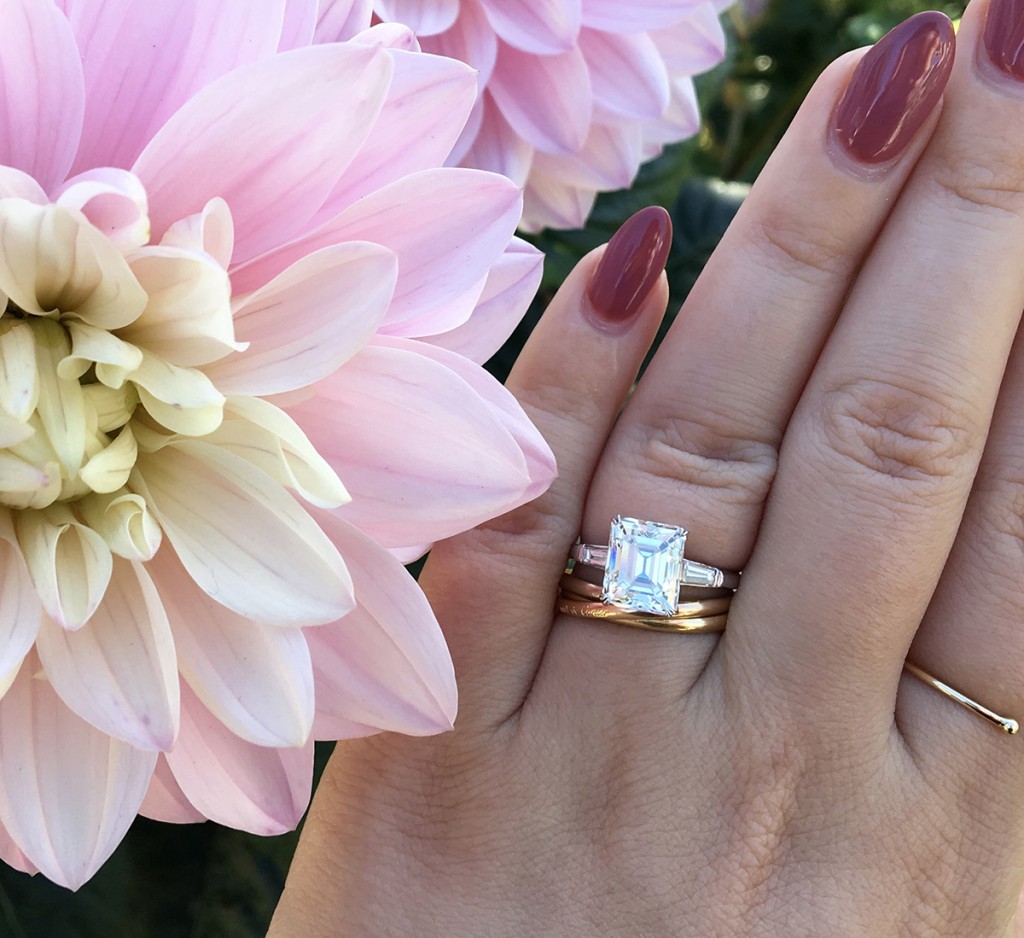 You feature prominently two rings on your Instagram page. Your engagement ring and a bold vintage piece. Tell us more about these awesome finds.
I can't take any credit for my engagement ring, Emmaline! My husband actually surprised me with her. Can you believe the amount of pressure he had to be in to buy something for someone so picky? Luckily, he had a  two page .pdf document I provided him, and a few jewelry-loving friends to support him on his shopping journey. It's a 4.08 carat vintage emerald cut diamond with a higher crown and a little open culet from the 1930s-40s. It came in its original vintage setting that has since broken, so I just designed something brand new for it!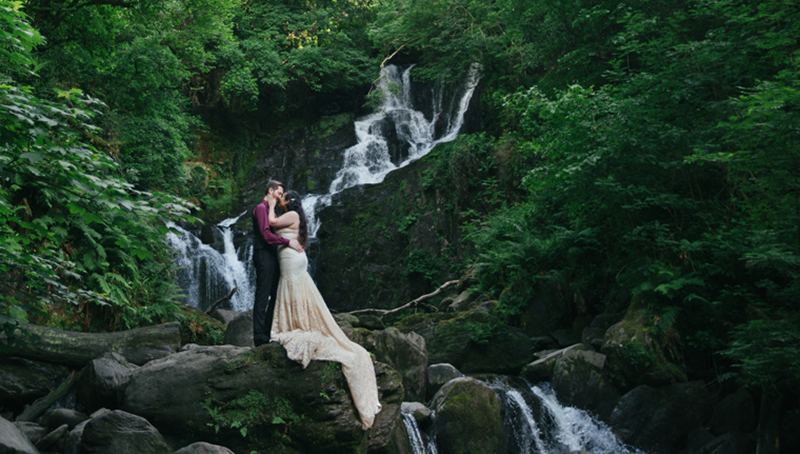 Margeaux is a 4 carat antique cushion cut diamond that I designed a setting for using four little lotus designs with baby pear cut diamonds. Lotus is my Chinese name, and represents strength through adversity. At that time I was designing Margeaux's setting, I was recovering from a broken engagement with an abusive ex-boyfriend. I was at one of my lowest times in my life, so I decided to make my own self-gagement ring as solidarity to my own self-love. It was my way of internal healing. It's a large ring that I will wear often on my engagement ring finger to remind myself that loving myself is the most important love of all.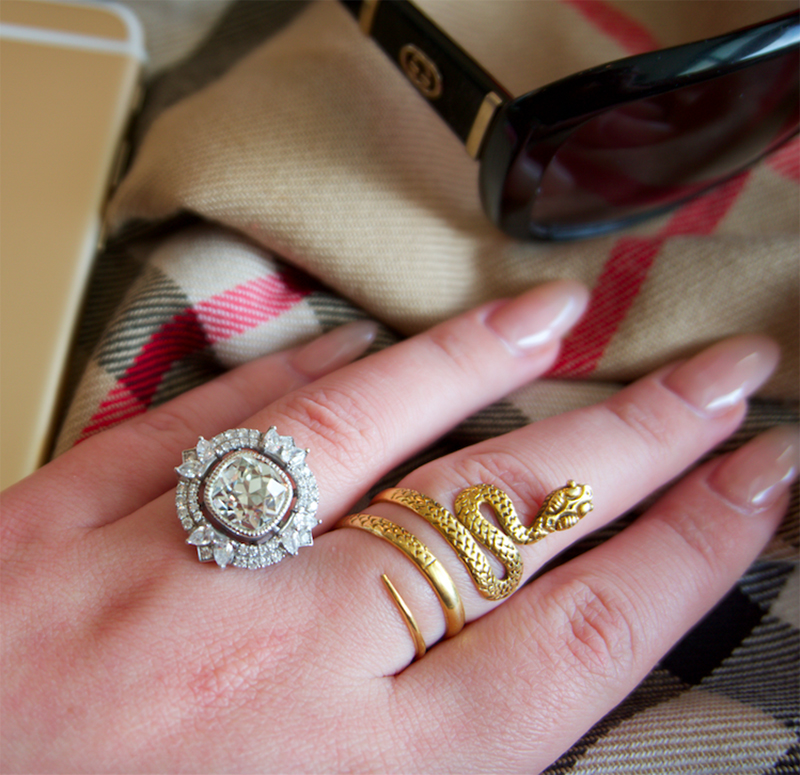 Word on the street is that millennials are not into buying fine jewelry that much. Then I look at you and this fantastic hub of young jewelers and influencers out of North California and I am thinking, that can't be true. What is your take on that?
Of my social circle outside of friends who I've met through the jewelry community, I am the only fine jewelry lover. So I agree that it is something that is no longer popular to buy amongst my same-aged peers.
I think this is a result of many things. Firstly, millennials became adults during the Great Recession, the worst global financial crisis in history. We turned 18 during a time when our parents lost their jobs, grandparents lost their retirement, and we couldn't find jobs nor the space in overly packed colleges and universities. It was a very bad time to grow up in, so we as a generation are weary of spending money on things that are not guaranteed value. Considering the value of a fine jewelry piece can fluctuate significantly between different jewelers, shoppers are often feel confused. A Chanel flap bag costs the same amount at any retailer or authorized reseller, but the cost of a one carat diamond costs can vary so much.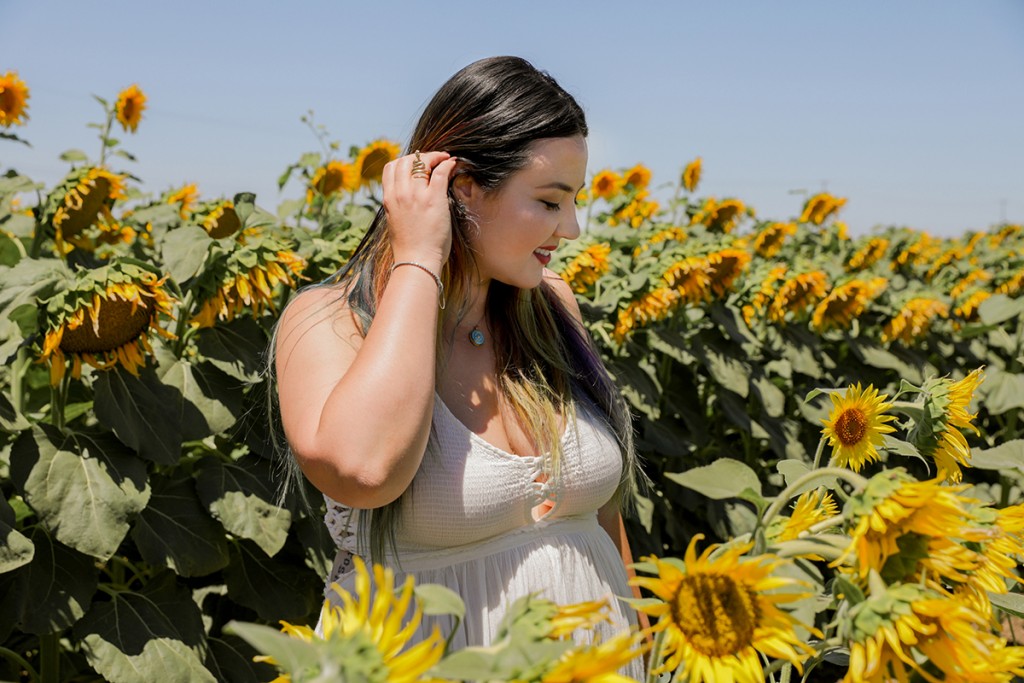 Millennials also grew up in a time of online reviews from strangers. Negative news travels much faster than positive news, and almost everyone I know has shared an objectionable experience they have heard of regarding shopping for fine jewelry. I'm often asked, "how do you know if a jeweler fixing your ring won't switch out your diamond for a CZ?" or "how do I know I'm not getting ripped off?", or other similar questions. To me, a person who is well-polished in things that sparkle, it sounds paranoid. But these concerns are genuine. The distrust is there. Whether or not it is true, it needs to be addressed.
The economy is now back with a bang, and as a result millennials are spending more than ever. I hope to be a voice that encourages them to invest in fine jewelry fashion staples instead of only spending on purses and shoes — and addresses concerns regarding the distrust that is there.
For young women starting to build their jewelry collection, what are your tips and essentials?
Buy jewelry that is important and meaningful to you. Create memories in these pieces. Ask yourself, what are you celebrating with this piece? And will it bring you happy feelings every time you wear it, forever?
Do your research and talk to jewelers. Jewelers who are willing to teach you versus talk to you only to pressure a sale are my favorite. I've learned so much from jewelers who were willing to spend time with me sharing their love and knowledge. From these conversations, I discover their personalities and know who I can trustingly spend my money with.
And when it comes to an engagement ring, please veer from what is considered to be traditional and be open and honest about what you want with your future partner. I've been sent so many "secret" Pinterest boards from helpless men showing me photos of engagement rings that  their girlfriends have collected over the years. The styles are all over the place and it is really disorienting. Just have a conversation. There's nothing worse than an engagement ring you don't really love that he has spent five figures or more on. We are a new generation of strong, feminist women, so be brave and tell him what you like.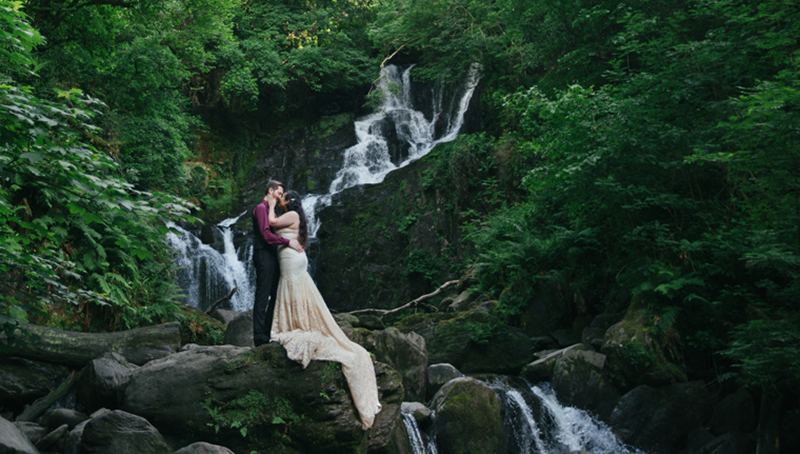 Being a curvy lady myself, I face a few challenges when picking jewelry. Is there any type of jewelry that doesn't work on you?
The average woman in the U.S. is now a size 16, so I wish the industry would start showing jewelry on  these sizes. I typically see jewelry on much smaller and thinner women, and it just doesn't translate for me. Something super trendy in the last few years were long, layered necklaces. Those just do not work on larger chests. The chains will either awkwardly go in between my cleavage, or will bounce around hitting me over and over.
Rings are my favorite type of jewelry, and the super trendy stackers also don't flatter me. My plumper fingers do not look good with more than 3 stacks on. It visually shortens the length of my fingers, and  squeeze them into a "muffin top". It isn't a cute look. I also get frustrated at the stock size 5 and 6 that all jewelers carry. I can rarely fit any piece in a jewelry store, and am left feeling ashamed instead of excited. I hope jewelers start to carry larger sizes in stores. No potential bride or shopper wants to feel fat before handing over thousands of dollars.
You just created a closed  group of followers so you can chat about topics within a more intimate platform. Where did that idea come from and give me some examples of some of the secret topics that you have talked about. I am curious also to know why you picked Facebook and not Instagram or Snapchat.
The idea came from all my other Facebook friendship groups. I've made so many friends via Facebook groups, and I thought it would be a nicer platform to move to off of Instagram. Instagram allows public discourse on photos that get lost amongst the seas of posts, and isn't conducive to longer or more serious conversations. It also started to  feel less personal for me when trying to create genuine connections with people whose name and face are a mystery to me. I felt detached, and wanted to feel more of a friendship and connection to those I speak with more regularly.
One of my favorite topics this past week was, "Has anyone ever bought fine jewelry online?" Clearly, that question was posed from a place from concern over internet purchases (again, that aforementioned distrust.) Another favorite is our ongoing Jewelry of the Day post, where people share what they are wearing that day. I love seeing people share their important personal pieces that I otherwise wouldn't be able to see via Instagram. My feed gets cluttered by jeweler accounts with larger followings and access to giant and expensive pieces.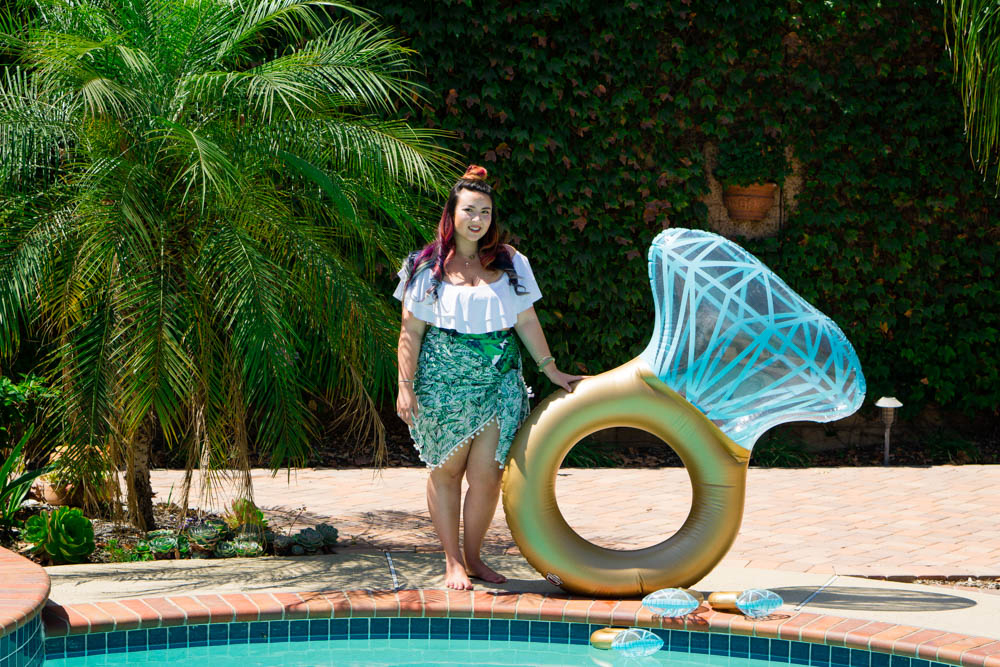 What are your goals for your blog and can you imagine quitting your day job to focus on it full time?
My goals are to connect with everyday people who are just like me — curious and addicted to sparkly– as well as industry folks who may not understand the perspective of a millennial shopper. I hope to inspire consumers to learn more about the industry and feel more comfortable shopping. It's a fun addiction to have, and I love it when friends squeal with excitement over a new piece. I share that excitement with them.
I do not imagine quitting my career completely to focus on The Jewel Diary. I'm a multi-faceted woman (yes, I snort-laughed here… I like to be punny). I am a speech-language pathologist, and I love what I do and the lives I help. I will always do that. But I will also always be a jewelry aficionado. I don't think either needs to be exclusive of one another. I just think there needs to be balance between my analytical therapist side and my fun sparkly side. They're my yin and yang, and make me very balanced.
Follow Vivian on Instagram.