Jewelry week in Las Vegas is a lot of things. It's wonderful because you get to see in the flesh friends, designers and colleagues. It's magical as you get to hold and wear some of  the most amazing  jewelry in the world. It's also challenging as you try to fit in as many lines to review and events to attend as possible… There's never enough time. No matter how prepared you try to be, it is intense physically. You walk miles carrying your loads of brochures and equipment in fancy shoes, eat poorly, your body is fighting jet-lag and desert weather…You see so much art and sparkle  that it can get overwhelming. It usually takes me time to digest and figure out the trends I think will be popular next engagement/holiday season. Here is what I have so far but still digging!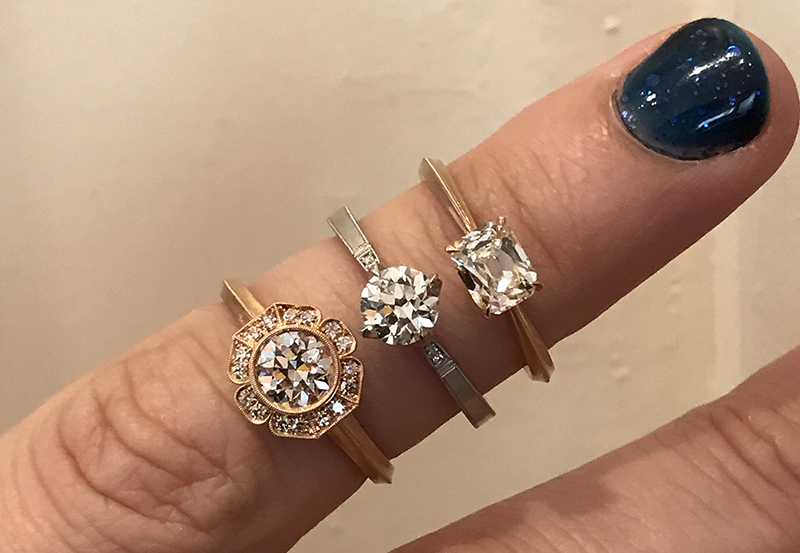 We all wish for a big budget to get the ring of our dreams and no creative limits. For most of us, reality kicks in and we find out that engagement rings and diamonds can get really pricey. I was excited to see that several designers created petite versions of their best selling rings to make sure any couple who loves their work and designs could afford them. Such as  Erika Winters who created mini versions of her Caroline and Laurel solitaires with her signature brushed finish .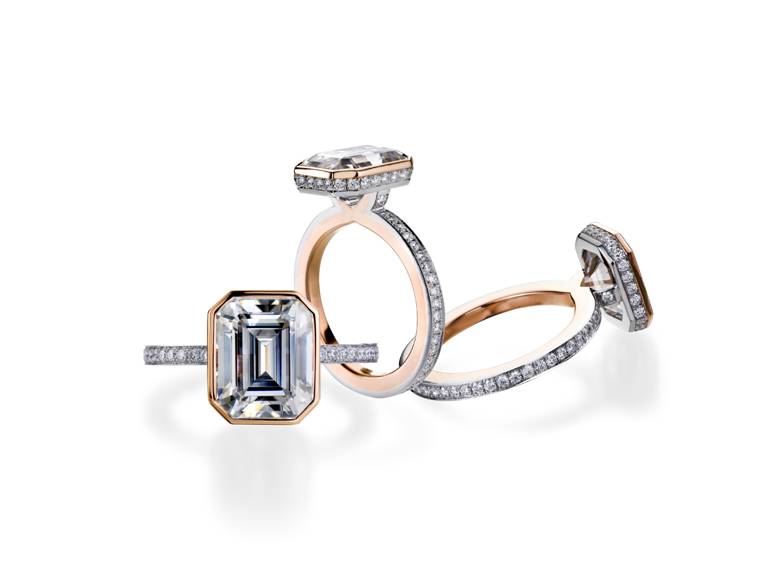 Mark Patterson rings with platinum and rose gold fused together
This trend is strong both in the Gent's band category and in the engagement ring category. Two-tone and mixed metal rings allow the wearer to get a wedding ring with a versatile look. Rose gold looks good on many skin tones but it is not pure so it will lose its color overtime. It also tends to give your center diamond a pink hue which takes away from its natural whiteness.  White gold will turn into yellow gold overtime. So my advice and that of many designers this season is to embrace the trend of two-tone engagement rings  yet make sure one of the metal is platinum for its strength, purity and stability. If you really want a rose gold ring, designers are able to customize your ring with just a hint of platinum where it counts .  At the very least make sure that the prongs or the bezel are in platinum. Your diamond will be very secured and will always look its whitest.

Collecting stackable rings is a trend here to stay. When it comes to wedding sets, matchy matchy is not your only option. When pairing your engagement ring and wedding band, mixing and matching colors, textures and shapes is the number 1 trend of 2017. Truth be told, committing to a single style of engagement ring for a lifetime is hard. Stackable bands can totally change the look of your engagement ring on a daily basis. Building a band collection is much more affordable than updating and upgrading your engagement ring.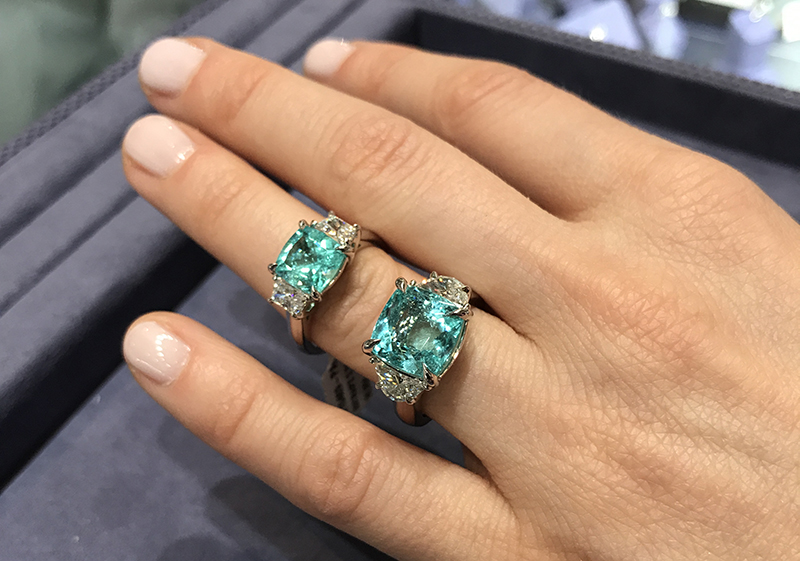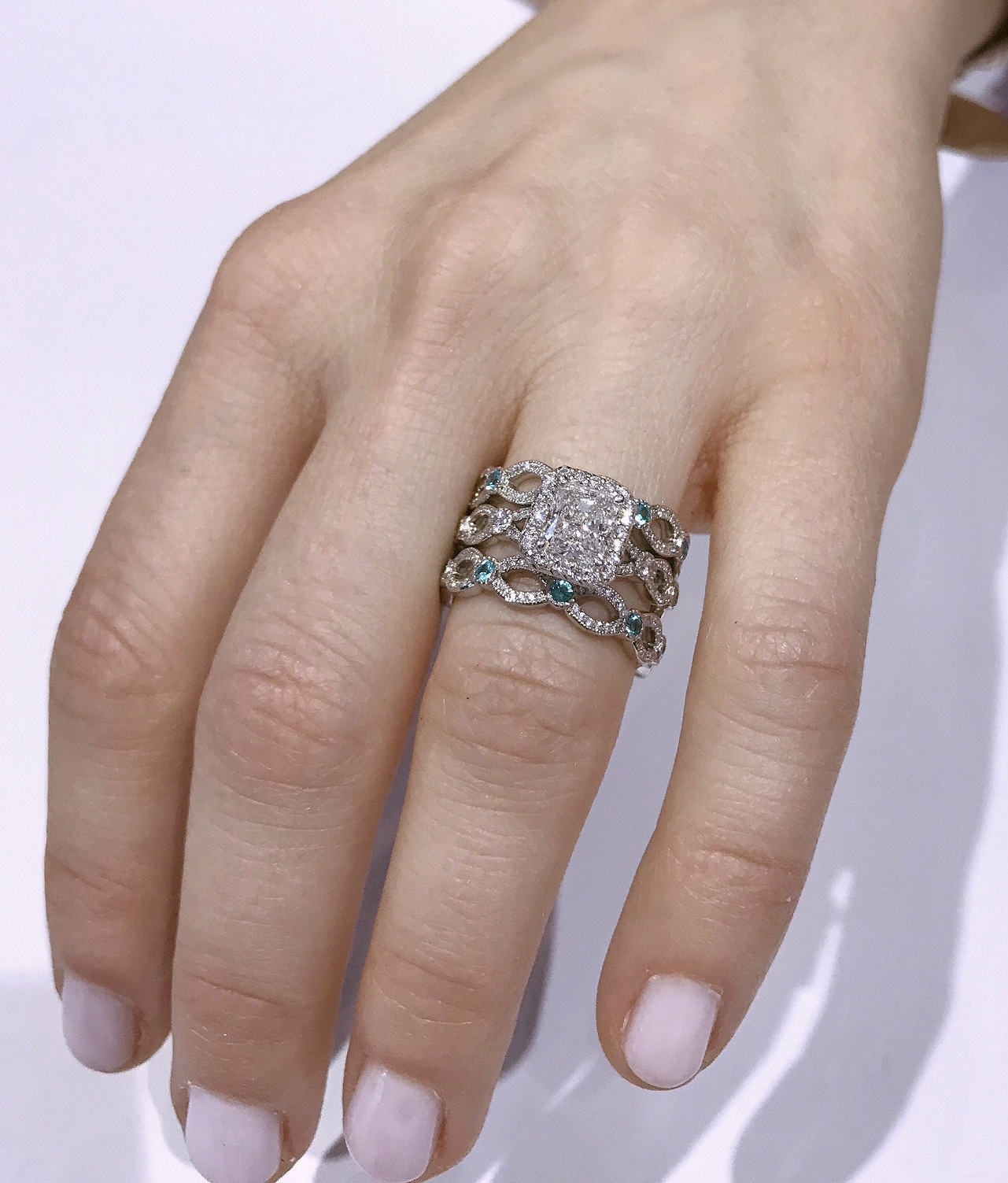 Paraiba tourmalines are rare and simply gorgeous.  Their unique green hue and glow remind me of unicorns and fantasy tales. If you pick one of these stunning Coast Diamond rings with bold Paraiba centers, keep in mind they are not as hard as diamonds, so you will need to remove them when cleaning, hiking or doing crafts. They are precious cargo! A more practical and realistic option is to just add Paraiba accents to your setting as you can see in this lovely Erica Courtney stack.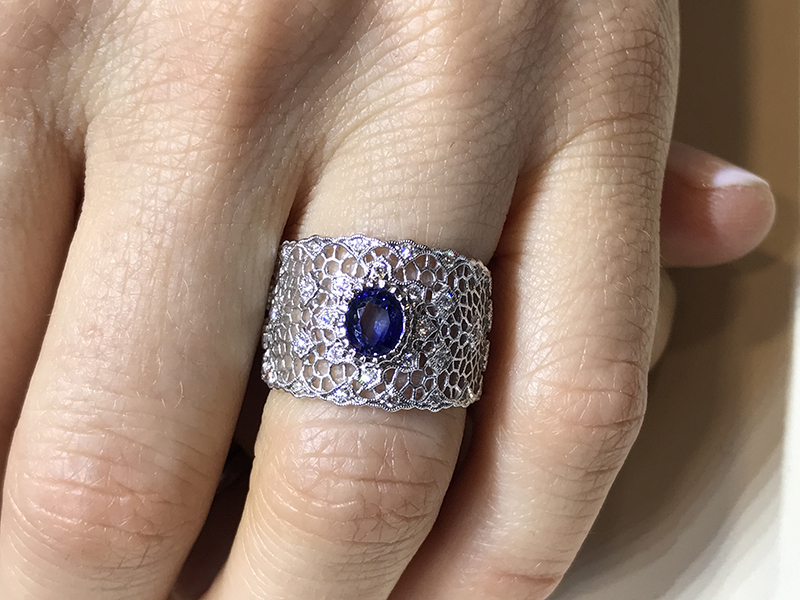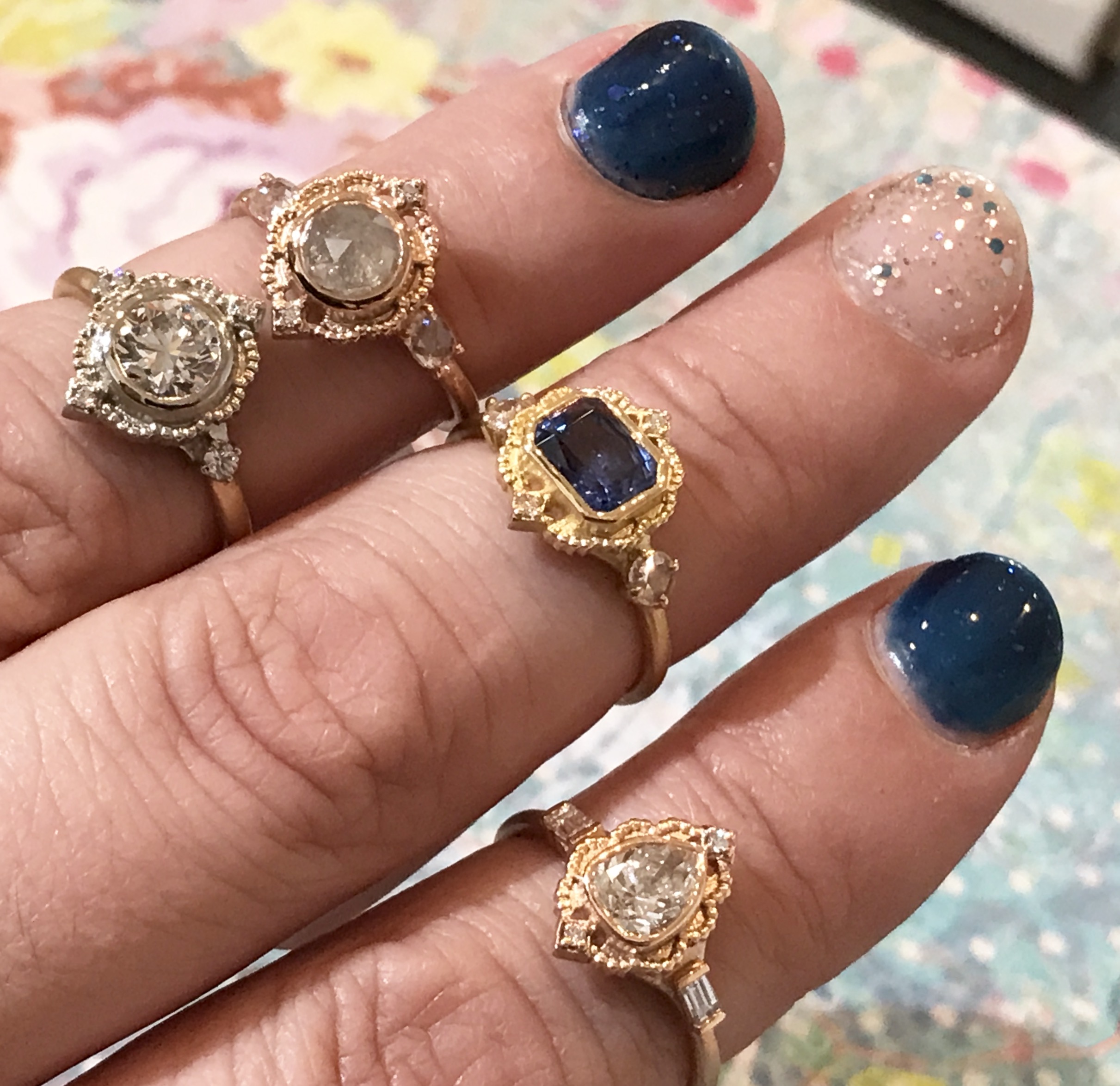 I  saw a lot of lacy and intricate bands  such as this beauty featuring a sapphire by Beverly K. These type of rings can be worn alone or stacked depending on the width. Megan Thorne has always been inspired by lace and her new Venetian collection is specifically an homage to Venetian lace.  They are all so pretty but I think the pear is very special.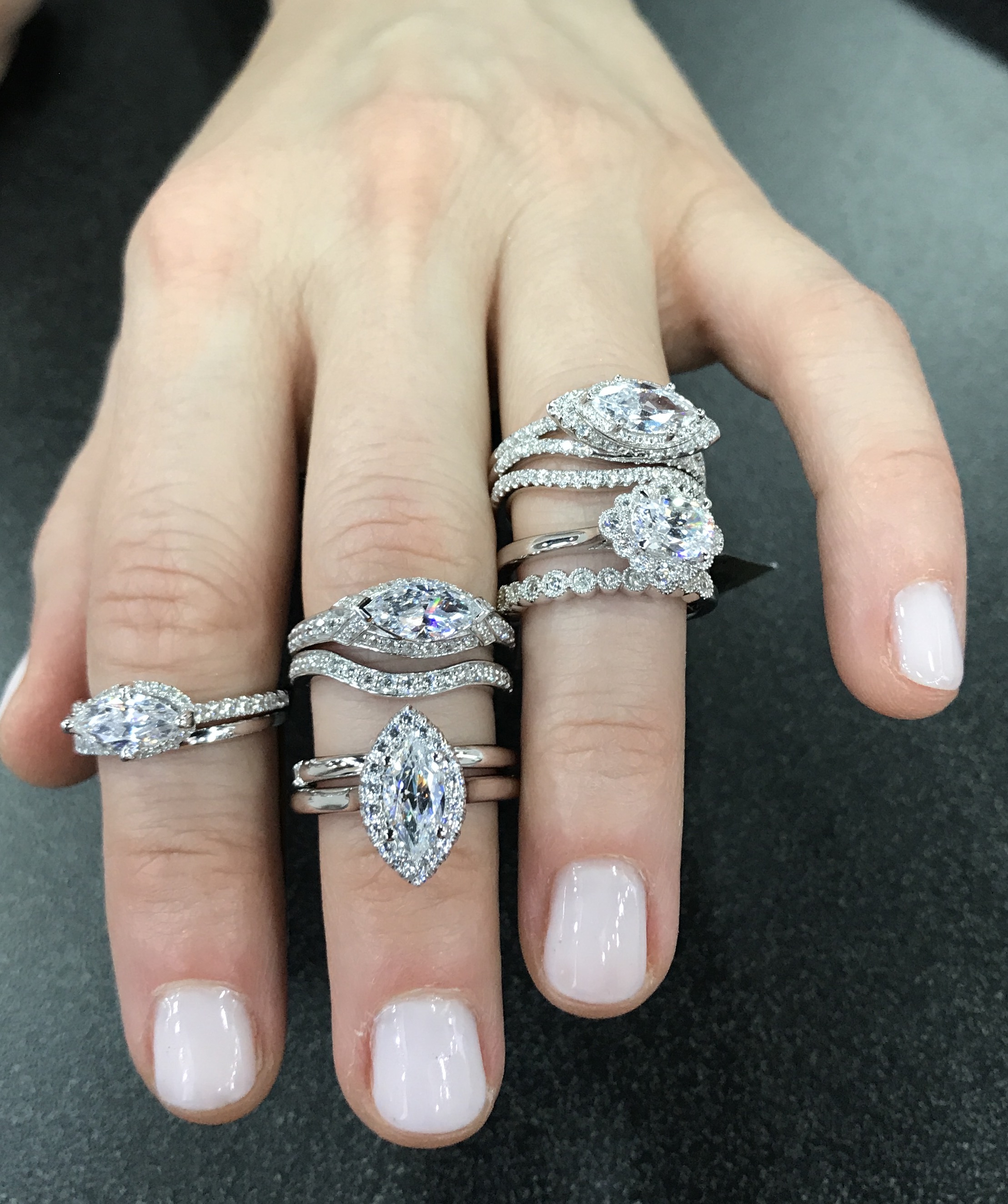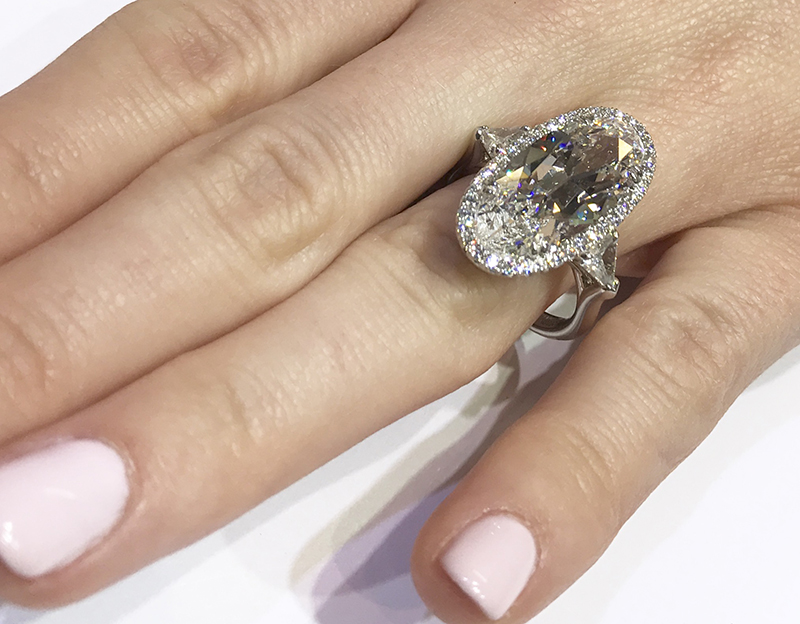 Engagement rings with oval centers were a major trend last engagement season. They have become very popular for two reasons. First they elongate any finger shapes. Then they look larger than the same carat weight for a round brilliant cut. This jewelry week, I saw a lot of marquise engagement rings . Marquise diamonds are basically elongated ovals with sharp corners and were inspired by the lips of a French king's mistress. I love this group of East-West and classically set marquis rings by the Romance Collection. I am also in awe of the new Rahaminov engagement ring collection featuring elongated  ovals called movals. The one featured above is quite large but they also have a unique halo setting that makes a 2-carat moval look like  4 or 5 carats on the finger.

Flat at the bottom, rose cut diamonds have a very unique and subtle sheen. Several  designers are offering new preset engagement ring options with rose cut centers so you don't have to pick the stone yourself, it is already included in the price. Preset engagement rings are a new trend that is meeting your expectations of an easier online buying process.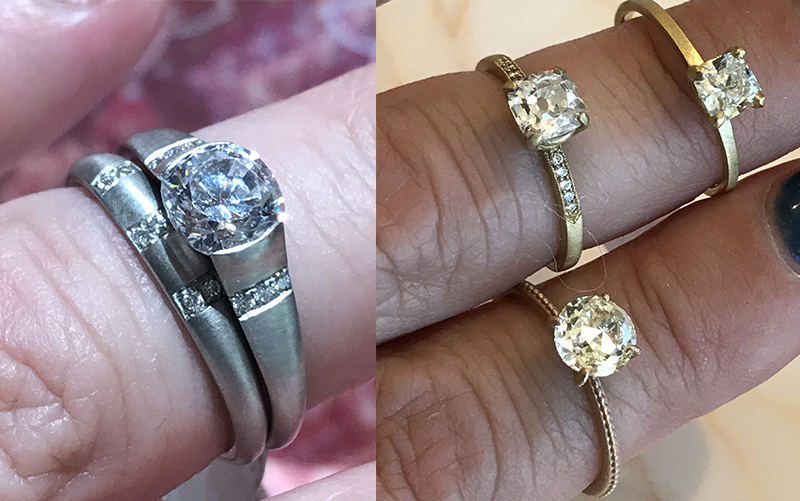 It was  great to see many designers such as Alishan (left) and Jennifer Dawes (right) introduce new settings with a matte finish in platinum or gold. It instantly gives a ring a more vintage and artistic flair.
Just the tip of the iceberg when it comes to new trends, stay tuned!
Sev
Severine Ferrari AKA Sev is the editor and writer of this blog and the online magazine Engagement 101. Sev was born and raised in Paris and has lived in New York City for over 20 years. Her blogging style still includes elements of her French writing style and humor. We recommend reading it with a glass of champagne and a French accent.