It's summer time! Well, technically we still have 12 days to go, but we're close. Memorial Day Weekend has passed and vacations have started. You know what that means, don't you? It's time to hit up your nearest beach!
It's clearly not uncommon to propose with the sand and the waves this time of year. People are out getting their tan on and enjoying all the sunshine has to offer. Why not make it even more special with a proposal? Here are some ideas for you!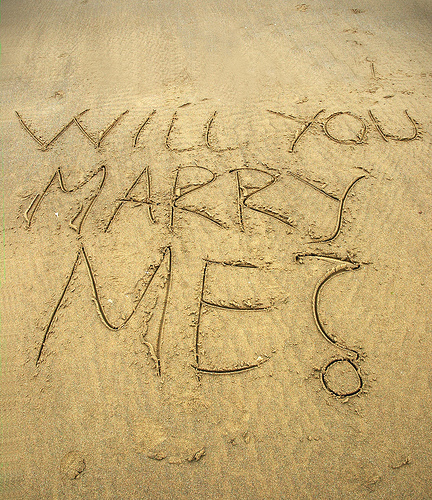 1. Buried Treasure. Build a sand castle and when her head is turned, place the ring on top of it. Make sure she's returning immediately to your project. You wouldn't want someone else coming along and finding a diamond, that's for sure! Still, make her "queen for the day" or "queen of your life". Too cheesy? Maybe. But I bet her reaction will still be priceless! Not a sandcastle couple? Take up some space and write your message in the sand!
2. Picnic at Sunset/Sunrise. What girl hasn't dreamt about "walks along the beach" at sunset or sunrise? Make it even more special and plan a picnic. Doing sunset? Pack her favorite desserts and some champagne or hot chocolate. Planning for sunrise? Pack some coffee to be followed by mimosas or another celebratory breakfast treat, with some fruit and something easy to pack (like bagels or homemade muffins).
3. In or On the Water. There are plenty of ways you could do this one. Take her out sailing and propose. Go snorkling and hold the ring (tightly) under the water for her to see before coming up to propose. If you surf, go out and propose while waiting for a wave. So many opportunities! Just make sure you have a good hold on your ring, or even save the ring for after your proposal.
As always, make this proposal about your relationship. If the beach has a special significance or is one of her favorite places, then where better to propose?
Emily