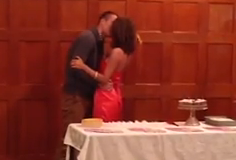 Boy meets girl. Boy joins marines. It's one of those love stories that's riddled with the hardship of long distance relationships. But this marine, who has been serving for four years so far and had just finished a 7 month tour in Afghanistan, knew his heart belonged to his girl.
Apparently, every birthday, his girlfriend's wish is for him to come home safely. She thought he was away for training this time and wasn't expecting him to be there in person at all. He planned an amazing birthday party for her without her suspecting a thing.
But the best part? He waited until she blew out her birthday candles to walk in. That way, he really did get to grant her wish this year. And after giving her the surprise of her life, he topped it with a beautiful ring and a promise for a very happy life together.
Does this not make your heart melt?