John was shocked when his mother offered him a ring to propose with. It was truly unique, but Anita wanted a very simple solitaire, and he wasn't sure of how to proceed. He needed help. That's when he met Rita Fusaro.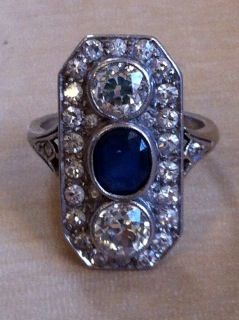 "The ring had been given to my grandmother by my grandfather when they were young.  My mother called it a "dinner ring."  It was beautiful! It had a blue sapphire between two diamonds in a beautiful base with lots of tiny diamonds surrounding it. But because it was so unique, I still labored over the notion over whether or not to buy a "normal" engagement ring.  
I know Anita loved the ring because my mother had showed it to her when they first met, even before I laid eyes on it.
I spoke to jeweler after jeweler, but couldn't find a solution. I definitely needed help.
I set an appointment with Rita Fusaro at her home, which happened to be very close to mine at the time.   During our visit, she showed me all kinds of designs and explained a lot to me. She'd spent a good amount of time dealing with me.  and yet, she came back to her original idea:  "I'll clean this ring up, re-size it, and you propose with it.  If you decide afterwards that you want something else, then we'll go from there.  But this is really unique, really special.  It's worth a try."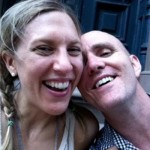 I never considered the role any jeweler would play in making this moment (and process) so memorable and special.  But I'm so incredibly grateful that for having experienced it.  Rita set the whole trajectory of my proposal, wedding, marriage and life on a particular course."
See more Fusaro engagement rings>>