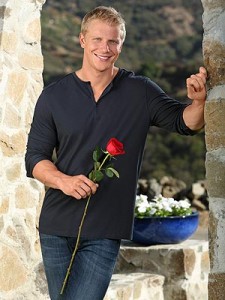 With the epic season of The Bachelor nearing yet another end, it's hard not to get wrapped up in the drama with Sean Lowe and his chance at love. After all, People Magazine even touted that he was one of the best bachelor's the show has ever had. Their reasoning? He seems genuine, he's easily smitten, and he has a group of great ladies as co-stars.
And who doesn't love all these crazy, larger-than-life dates Sean get's to court his potential brides with? But as a magazine that lives for and celebrates engagements 24-7, we have to ask ourselves– is it real?
Sure, the show sure thinks so and rumor has it that Sean will indeed propose to a lovely lady in Thailand very soon. But let's look at the track record here. Not many bachelor's and bachelorettes have maintained their engagements from the show. The ABC program has been on the air for 10 years, featuring 24 different couples. Of those couples, only THREE have gotten married. And of those three, one couple actually wasn't even the original winning couple (Jason Mesnik proposed to the runner up after dumping the initial winner on national TV. OUCH!).
So will Sean really find love? Only time will tell. For now, we're just excited to see the rumored  $76,000, 4.3 carat Neil Lane ring Life & Style has teased us about.
Do you think TV shows like the Bachelor work in finding true love OR are you just excited to see the ring too?
Nikki
Photo Credit: People Magazine