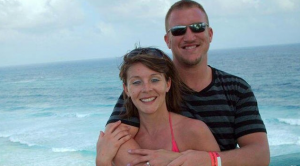 Ryan spent three months planning his perfect proposal. It would take place during a trip they took to a Mexican resort where they'd be the only couple on a pier for a sunset dinner.
Unfortunately, the hotel didn't pull through on their end of the deal. Not only did everything go wrong (music playing at wrong time and wait staff scrambling for their dinner service), but they weren't alone on the pier. Not only was it crowded, but the sunset view was blocked by a yacht with a man in a speedo standing on it.
Something happened where Ryan untied the yacht and then helped the speedo wearing man retie it. But by the end of the night (which they left their dinner early because it was so terrible), the Mexican police arrested him for "damaging" the yacht. He couldn't believe it and had to rush to get his future wife to take his valuables so he didn't have to take them with him into the jail. She reached into his coat like he asked and felt the ring. She gasped, pulling it from the safety pin that attached it to his inner coat and accidently dropped it off the pier and into the ocean as he was dragged away to jail.
Yeah. Talk about WORST CASE SCENARIO.
Turns out it all worked all right. He was let go and hotel apologized profusely and compensated them by putting the couple in the penthouse suite and offering to host their wedding and honeymoon for free. Luckily, Ryan is a SCUBA diver and was able to retrieve the ring and propose on the pier, in the dark, still soaked and wearing his wetsuit.
Of course she said "YES!" after all of that. And they're actually considering taking the hotel up on their free wedding offer. One thing's for sure. They deserve a drama free marriage after starting it off like that!
Nikki
Photo Credit: ABCNews.com