With more states passing laws to support gay weddings, we are hoping to see more and more romantic same sex proposals in 2013. We sat down last week  with designer Rony Tennenbaum to ask him a few questions.
Are gay couples getting engaged as often as straight couples, is it a common step towards a wedding?
I strongly believe that the engagement process has been a missing link in LGBT relationships.  Keeping in mind it has only been 10 years since the right to marry was first extended to same-sex couples in 2003. To date, only eight states have legalized that right. With so much focus on marriage, little attention has been paid in the community to the engagement process. However, I believe that is changing as the number of states legalizing gay marriages increases. Personally, I promote and encourage engagement!
Why do you think the engagement period is such an important step in this day and age in any committed couple's life?
Commitment is a journey with defined milestones that keep the momentum and helps solidify a relationship.  The engagement helps define the beginning of the formal commitment period and the marriage ceremony is both the culmination of that period and the beginning of formal life together as a wedded couple. While the laws legalizing gay marriage have promoted the wedding milestone, I believe the significance of an engagement is essential to the intimate journey a couple goes through together.
What are your favorite trends and pieces for man-engagement rings? 
Solitaires are one of my favorite trends in mens' engagement rings. It is a positive reflection of what is purchased most often in the general population. At the same time, since an engagement ring is a symbol of love between two people and an exchange of a promise, I do believe it should have more significance than any other ring.  I believe there needs to be either some kind of symbolism in the design without being stereotypical, or it should stand out as a unique and fresh design. My WED COLLECTION is a good example. These unique pieces exude masculinity yet are a modern take on solitaire rings.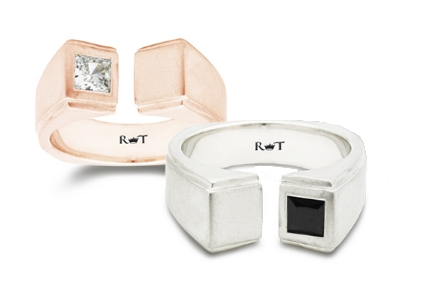 What is the most romantic proposal story you have recently witnessed or heard of?
My favorite experience took place about a year ago, when a male couple came into my store to select engagement rings. They chose complimentary rings, unique to each of their tastes, but did not make the purchase on the spot. A week later, the first partner called and told me he was going out of town for three months, but wanted to place an order for the ring his partner had lovingly chosen. While he was away, his partner called separately to put his order in for the other ring. Neither knew the other had ordered their ring. The second partner confided his plan to fly up for a surprise proposal. He flew halfway across the country and waited outside his partner's office on a park bench. When lunchtime came, his partner exited the building and there was the love of his life waiting for him, box in hand, down on one knee. Through an emotional proposal, with tears in their eyes, the first partner accepted. The second half of the story took place three months later with the other proposal, which was equally romantic.  The couple was happily married this past October.

Learn more about Rony Tennenbaum >>