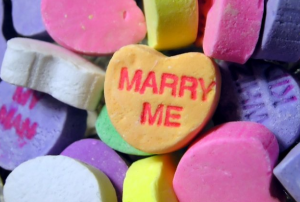 While Valentine's Day is a prime day to propose– that's also the problem. Because its such a romantic day where proposals are quite popular, it's harder make the proposal a huge surprise. After all, she is already expecting you to be romantic that day regardless of whether or not she's expecting a proposal (just FYI, some girls DO expect a proposal on Valentine's Day). You don't just want to make it easy for her or give her something she expects, right? Don't worry. We've got you covered. Here are some ways to make sure your Valentine's Day proposal happens when she least expects it.
1. While Dancing
When I saw this video, I couldn't believe how smooth this guy was. Not only do a lot of girls enjoy dancing and would probably enjoy it as a date on Valentine's Day, but he seamlessly worked his proposal in after a smooth spin move. (Check out minute 1:30!). So take your girl dancing if that's her thing or get a dance class together and work with the instructor ahead of time to show you how to do a cool move to lead into the proposal. She'll never see it coming.
\
2. At Her Work
Think about it. She already expects your amazing Valentine's Day dinner plans later in the evening, so why not catch her completely off guard while she's at work? This guy did just that. He hired some musicians to make a fake singing telegram (it's a guitarist, singer and a tuba player). At the very end of the song he comes in and starts singing to her himself. She was completely blown away by that surprise and was happy as can be. Imagine her head exploding as he pulled out the ring. She definitely had no clue it was happening then. Speed ahead to minute 4:00 to see how it went down.
3. Propose at midnight, the night before
Most people will be making plans for their incredible, romantic dates in the evening, so maybe to really get an edge on the proposal scene it would be best to start earlier. MUCH earlier. Many people already propose at midnight for the start of the New Year– why not have a late night date the day before Valentine's Day, and as soon as the clock chimes midnight, pop the question! Not only will she be surprised but now you can enjoy every minute of Valentine's Day this year as fiances (and she'll think that's super romantic!).