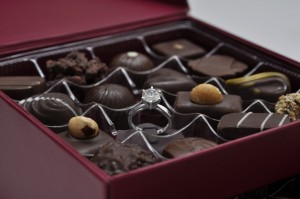 Chocolates are an iconic part of Valentine's Day. And, if your lady love is like most of the women of the world, chocolate is also something she probably loves just as much as you. So why not work chocolate into your proposal in such a clever way, she'll HAVE to say "YES!"
1. Life is Like a Box of Chocolates
Who doesn't like an assortment of chocolates? Get one of those big chocolate hearts and remove enough chocolates to make enough room for the ring (if you're lucky, it'll only take removing one). Rewrap it so it looks like it was never opened. When she gets it, she'll think it's a cute, typical Valentine's Day gift and not have her hopes up. So, when she opens it– BOY! Won't she be surprised. I guess Forest Gump was right. You'll never know what you'll get.
2. Take her to a Literal "Candy Land"
If your lady LOVES chocolate, then she'll love a weekend getaway to Hershey Park in Hershey, PA. A theme park completely dedicated to chocolate, she won't even know where to look! Here you'll have tons of opportunities to propose, like at the top of a roller coaster, right before the picture is taken at the Hershey Factory Tour Ride, or if you want to be REALLY romantic— on top of the "Kissing Tower" (which is shaped like a Hershey Kiss). There's nothing quite like indulging your inner child to make a girl really appreciate how awesome you are.
3. Craft Her a Chocolate Card
There are many personalized chocolate companies who can literally whip up a custom-made chocolate creation for you. "Will You Marry Me" would look stunning on a chocolate card or plaque. Talk about a gift she'll never forget! Only problem is….do you eat it after the proposal? Check out custom chocolate places like Sweet Impressions  to see what can be done with chocolate.
Nikki
Photo Credit: Arabia Weddings