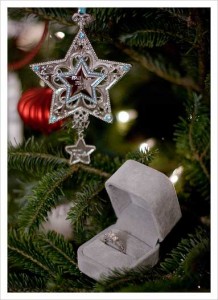 Happy first day of December! With the last month of the year beginning in full force, it's hard not to get caught up in the romance of it all. According to the USA Today,  39 percent of proposals occur between November and February. Nineteen percent of those happen in December.
Are you planning to join the December proposal club? Here are some ideas to get your creative juices flowing.
1) Plan a fun day with "winter sports"
Different facilities have different seasonal opening times, but chances are at this point– they are all open. So grab your sweetheart and head for the hills (or mountains if you choose skiing). Ice skating, sledding, and more is available now, so why not take advantage? Outdoor ice skating rinks are extra romantic, especially if there's a huge bon fire nearby (love those!).
2) Plan a romantic day in on a cold day
Snuggling under blanket with some hot cocoa? Baking cookies together just for the heck of it? Low key can make beautiful memories, so plan a surprise, romantic day where she doesn't even have to get out of her favorite fuzzy pajama pants. She'll never see it coming but completely love it.
 3) Taking a walk or carriage ride to see Christmas lights
Sure, it may seem simple, but who is going to say no to a romantic walk around downtown or a particularly decked out neighborhood? Plus, with the cold weather, you can complete do an old school move and offer her your jacket. If you really want to amp up the game, then coordinate some carolers to sing for her and surprise her with a song about her.
4) Propose under the mistletoe
Kissing under the mistletoe is romantic, sure– but popping the question is even better. Put some strategically placed  mistletoe someplace special and as she leans in for the kiss, stop her with a beautiful speech about how much she means to you and drop on one knee.
How would you propose in December?
Nikki 
Photo Credit: Catholic Match