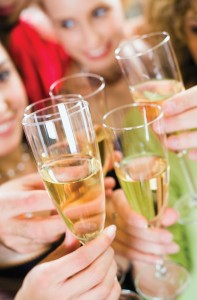 One of the biggest misconceptions about engagement parties is that they're little mini wedding receptions. An engagement party is just a little get together to celebrate the engagement. Stuff like gifts and fancy dinners should be left for the wedding, as one Miss Manners reader learned.
The reader asked Miss Manners:
I received an invitation to an engagement party/dinner. In the envelope, a small card was inserted reading, "We kindly request that you leave the choice of the gift to the engaged couple."

How exactly should I take this? I always thought that when you get engaged you do not get a gift. When you get married you get a gift, and what happens if the wedding is called off?

I was thrown off by what feels like a rude way of asking for money! Please help me in my understanding of this.
Miss Manners advised the reader that her friends were rude and deserved no money at all. But if you ever find yourself in a similar conundrum, buying the couple a nice bottle of wine or a tray of hor'dourves will please them without you having to dig deep into your wallet. Leave wedding-related gifts for the wedding.
Do you think it's rude to ask for gifts at an engagement party?