The Dancing with the Stars contestant has been engaged to boyfriend Luke Worrall for a year, but earlier this week she revealed a newer, sparklier engagement ring.
"Luke got me this ring [the first ring] when he decided he wanted to marry me," she told OK! Magazine. "And he waited awhile and saved up and got me this [the second ring]. I was like aaaah! It's my real, proper, grown-up engagement ring. I love it!"
.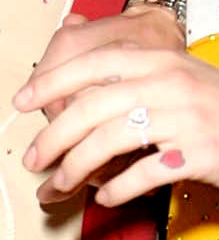 The ring is a heart shaped diamond on a white gold band (pictured). The reality star is currently rocking both engagement rings, but has not set a date for the wedding yet.